Newquay's Christmas Music and Ale Festival
Fore Street Car Park
Newquay
Cornwall
TR7 1LP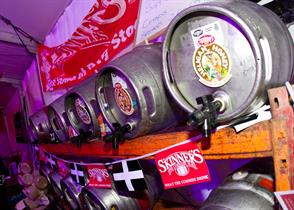 There will be Sipping and Swaying as Newquay's Music and Ale Festival Returns in time for Christmas
Friday 27th November – Sunday 29th November 2015
Thanks to Newquay Business Improvement District (BID) and organisers of Little Orchard Cider & Music Festival, the much loved Music & Ale Festival is set to return with on Friday 27th November. The family friendly event will run until Sunday 29th November and is sure to get toes tapping. The event will kick off at 11am each day and will be keeping the crowds entertained until 11pm Friday and Saturday and 10am on Sunday.
The Festival will once again be on its new location on Fore Street Car park complete with craft stalls from 11am till 6pm each day to start that Christmas shopping.
Festival-goers will be protected from the elements under a large marquee where they can enjoy the musical entertainment of bands such as Black Friday, Rudi's Message, Backbeat Sound System and Cyderfex along with an array of talented street performers. See below for a full list of times and performances, plus there are a still more to be announced.
Friday 27th Nov
10 - 11pm - Black Friday
9 - 9.45pm - Rudi's Message
8 - 8.45 - Echo Town
7 - 7.45pm - Beachfield
11am - 8pm - local bands and acoustic musicians
Saturday 28th November
10 - 11pm - BackBeat SoundSystem
9 - 9.45pm - Antimatador
8 - 8.45pm - Ten Bob Notes
7 - 7.45pm - The Big Sets
6 - 6.45pm - Shadowmen
5 - 5.45 - The Hawks
11am - 5pm - local bands and acoustic musicians
Sunday 29th November
9 - 10pm - Andy Quick Music - (Land of the Giants)
8 - 8.45pm - Cyderfex
7 - 7.45pm - Adam Parfait
6 - 6.45pm - Belfast Busker
5 - 5.45pm - TBA
4 - 4.45pm - Newquay Rowing Club Singers
11am - 4pm - local bands and acoustic musicians
Event Organiser, Ian Whittaker said: "We had such a great time at last years' Music and Ale Festival, we can't wait for this one. We have lined up some amazing local talent to play, and will be stocking the bar with delicious ales and ciders. It was lovely to see so many local faces at last years event, can't wait to see everyone again at this festive time.
Make sure you check out the Newquay BID Music and Ale Festival Facebook page for regular updates about the event. For more information about Newquay's Christmas programme, people can pick up a copy of the Festive Events Guide which lists details of all local events up until New Year's Eve which will be free in next week's Newquay Voice.
Opening Times
Sorry, this event has passed
What's Nearby
Towan Beach is the most central of Newquay's beaches lying just below the Killacourt and Beach Road...

0.17 miles away

CALLING ALL PIRATES!

Always wanted to sail the seven seas and come face to face with smugglers,...

0.18 miles away

Blue Reef is part of an exciting new generation of aquarium attractions designed to inspire deeper...

0.24 miles away

Great Western is a popular family beach lying just north of Towan beach. It is comprised of several...

0.26 miles away
The Harbour sounds like an unlikely spot to have a beach, however at low tide this sheltered cove...

0.3 miles away

Tolcarne Beach nestles in a beautiful crescent shaped bay set against a background of cliffs. The...

0.55 miles away

If you fancy a day away from the beach then Trenance Leisure Park is the perfect solution, with...

0.58 miles away

In Newquay, the Gannel Estuary provides a glimpse of the towns seafaring past - and you can explore...

0.58 miles away

Fistral Beach is Newquay's iconic beach, quite simply one of the most consistent and best surfing...

0.7 miles away

Get Closer at Cornwall's Biggest Zoo!We have over 130 species at award winning Newquay Zoo. See the...

0.75 miles away

Leave the hustle and bustle of everyday life behind you, kick off your socks and shoes and feel the...

1.14 miles away

Porth Beach is a fairly sheltered expansive sandy beach with headlands on both sides acting as...

1.42 miles away

Porth Beach is a lovely sandy beach with a sheltered aspect being protected by headlands on both...

1.42 miles away

Porth Beach is a fairly sheltered expansive sandy beach with headlands on both sides acting as...

1.42 miles away

Although there are steep steps to negotiate this beach is worth visiting at low tide as there is...

1.53 miles away

Crantock beach is an expansive sandy beach at the mouth of the River Gannel estuary, boardered by...

1.61 miles away
Previous
Next