Top 10 Reasons to #VisitNqy
15th March 2018
Are you trying to figure out where you should go on your next family holiday? Maybe you're stuck between going abroad or staying in the UK? Or perhaps you just can't choose where in Cornwall you would like to visit most?
Well, at Visit Newquay we understand how hard it is to make a decision with so many options to choose from nowadays. So, we thought we might give you a little nudge in the right direction and tell you some reasons why we think you should choose Newquay!
We know it won't take a lot of persuading, but here are our top 10 reasons to visit Newquay.
1. The Picturesque Coastline and Beaches
If you're planning a trip to Cornwall, you've probably already heard about the spectacular Cornish coastline. Over 400 miles of impressive cliffs, coves and bays surround the county, with 158 miles designated as heritage coast. So, it's no wonder you're interested in spending some time off here!
In Newquay, we've also been blessed with breath-taking cliff-top views and stunningly beautiful beaches! The South West Coast Path runs all through Newquay, with panoramic sea views every which way you turn.
Cornwall's beaches are also rated amongst the best in the world, and wherever you stay in Newquay, you'll never be far from one of it's seven golden sandy beaches. Click here to have a look at all of Newquay's amazing beaches.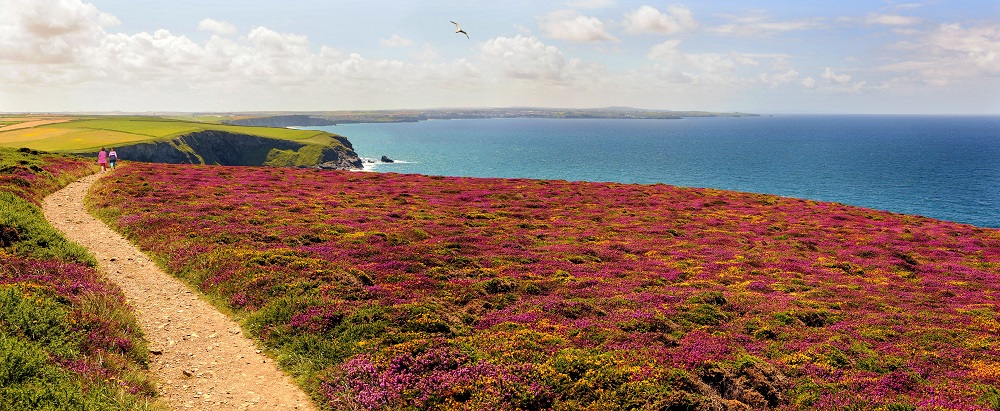 2. The Laid Back, Surfer Vibe
Sure, Newquay is famous for it's beaches and clifftop views, but there is one thing it is truly famous for worldwide – and that's surfing. Every time you look out to sea you're sure to see a few surfers catching some waves, or even just walking through the streets of Newquay you're more than likely to see people in wetsuits jogging to the beach, surfboard in hand and no shoes on!
With the surfing comes a real laid back, chilled vibe. The roads are quiet (except in summer when all the lovely visitors arrive 😊), the locals are relaxed and friendly, and there is a real sense of community. Ask any local for help and they're sure to do their best and tell you how nice it is to live here!

3. Idyllic Places to Stay
One of the first things you look at when you're booking your holiday is usually the perfect accommodation, and we've got plenty of options for you for your stay in Newquay. From glistening hotels, to family holiday parks, to camping and glamping! Newquay has it all, and it's one of the many wonderful reasons to come here. One of our top accommodation picks for you all is Hepworth Guest House. It's award winning breakfast menu and central location make it a popular choice for people coming to visit the town. Hendra Holiday Park is another great place for families, with Oasis Fun Pools on sight! If these don't take your fancy though, you can always click here to view all of our accommodation providers and you'll surely find one that caters to your every need.

4. Great Places to Eat
We love the fact that there's so many great places to eat out in Newquay – and so many different types of food to please any palate! Just walking through the town centre your head will be turned by a variety of restaurants, cafes and good old fashioned British pubs. You'll also be able to find plenty of vegan, veggie and gluten free options on most of the menu's, so you'll never be disappointed. Here's some places in particular that we love… Rick Stein's is perfect if you want proper fish 'n' chips overlooking Fistral Beach. Or if you would like to eat scrumptious food with a view definitely try the Lewinnick Lodge (or click here to check out our top places to eat with a view!). Silks Bistro is also a top recommendation of ours if you're looking to impress! Your friends will be full of food envy once they hear about all the delicious food you've eaten on your trip. Yum.

5. Exciting Events
One of our favourite things about Newquay is that there's always something going on! World famous events take place right on our door step, such as Boardmasters Festival, which attracts thousands of people from across the globe every year. There's surf competitions at Fistral Beach, live music from world-class acts at Watergate Bay, plus lots of other exciting stuff such as BMX and skate boarding displays, yoga classes, food stalls, clothing stalls, and more. We also have the Newquay Fish Festival every September at Newquay Harbour, which features classes from top chefs, and fresh local fish cooked to your taste or bought so you can cook it at home. We also have Night Surfs, Polo on the Beach, Art8 Festival, Newquay Carnival, the list goes on… You really will never get bored in Newquay.

6. Loads of Fun Things To Do!
In Newquay we take pride in the fact that we have so many wonderful, fun, family friendly things to do that everyone will enjoy, come rain or shine. You'll always find something to do or somewhere to go to keep the kids (or the adults!) occupied. There's even something to please every type of person or interest. One of our most loved attractions is of course Newquay Zoo. Yes, we are home to the only zoo in Cornwall!
If that doesn't keep you on your toes, there's also a variety of water sports that you can try your hand at. You can take a surf lesson with Escape Surf School! Or Vertical Descents offers all sorts of activities such as coasteering, caving and guided adventure packages.
There's also Oasis fun pools, Newquay's Blue Reef Aquarium, Flambards Theme Park… There's too much for us to write about! But you can always click here to look at everything we've missed, and you'll definitely be able to pack out your itinerary for your upcoming Newquay trip.

7. The History
Some people like to learn a bit about the history and the culture of the places that they visit, and Newquay has plenty of that to sink your teeth into. At Newquay Heritage & Archive Museum (located on Manor Road close to the bus station) you can find out all about the town's past, view the exhibitions and chat with the museum's helpful volunteers. If you like to get stuck in you can always go straight to Newquay's Historical Harbour, which has many hidden secrets, along with the Huer's Hut – a symbol of Newquay's fishing history. There's also Trenance Cottages which dates back to the 1800's. Inside this fascinating building you can read all the history and see old pictures of how the cottages used to look and most importantly you can have the chance to try one of the most delicious Cornish Cream Teas around! If you want something more interactive, there's the Pirate's Quest! Think Cornish History, think live walk through experience, think excitement and entertainment, and you won't be disappointed!

8. The Countryside
Newquay is very much famous for it's beautiful coast, but what about the gorgeous rolling countryside that encompasses the county? Wherever you go, you're surrounded by it, and whatever the season, you're sure to love it. In the spring, head to the Bowgie Inn for a bite to eat, then you can walk the food off by heading to the poppy fields just behind. It's truly mesmerising with the panoramic coastal views in the distance. Colan Woods, located just outside of Newquay, is also great for dog walking and exploring!
There's plenty of options to stay in the countryside too! You can stay on a working farm and see the animals and learn how a farm works up close, or you can relax in a cosy countryside cottage, surrounded by nothing but greenery. Pure bliss!

9. The Perfect Base
If you want to see more of Cornwall, Newquay can be the perfect base. There is frequent public transport that will take you along some beautiful coastal routes, to bigger towns and cities such as Truro and St Austell, or to quaint little Cornish villages like Crantock , St Mawgan or Padstow. You can also take day tours with MMT Tours, where you can visit places such as Tintagel, St Ives, and see the filming locations of Poldark and Doc Martin! So you get all the perks of staying in Newquay, but you can still get out and about and get to know Cornwall.

10. There's Something for Everyone
In Newquay we're proud that we cater to absolutely everyone. Whether you're looking for a family holiday, a romantic getaway, a weekend with friends, or you simply want to get away from it all, you're sure to find everything you need here. For families there's plenty of attractions to wear the kids out! You could take them for a day out at Camel Creek Adventure Park, or for the teenagers how about go karting at Cornwall Karting? For romantic getaways many of our hotels offer spa breaks, and for something a little different there's always glamping! For groups or trips with friends, you can book an adventure with Newquay Water Sports, or a surf lesson with Escape Surf School. The possiblities are endless here in Newquay.

That's all our top reasons for visiting Newquay! If you've got any you'd like to add, leave us a message on our Facebook page and maybe you'll be in with a chance of being featured on one of our future blogs! Or if you'd like to submit something completely different that's absolutely fine too!
We hope this page has helped you make your mind up, and even if we aren't your number one choice for this year's holiday... We hope to see you here another time! x