A Morning with Escape Surf School
23rd August 2018

A few weeks ago, the lovely staff over at Escape Surf School kindly invited one of the Visit Newquay team to spend a morning with one of their instructors learning to surf. Of course, we jumped at the chance! So, we sent Stefanie on her way for a group 2-hour surf lesson at Fistral Beach. Keep reading to find out how she got on!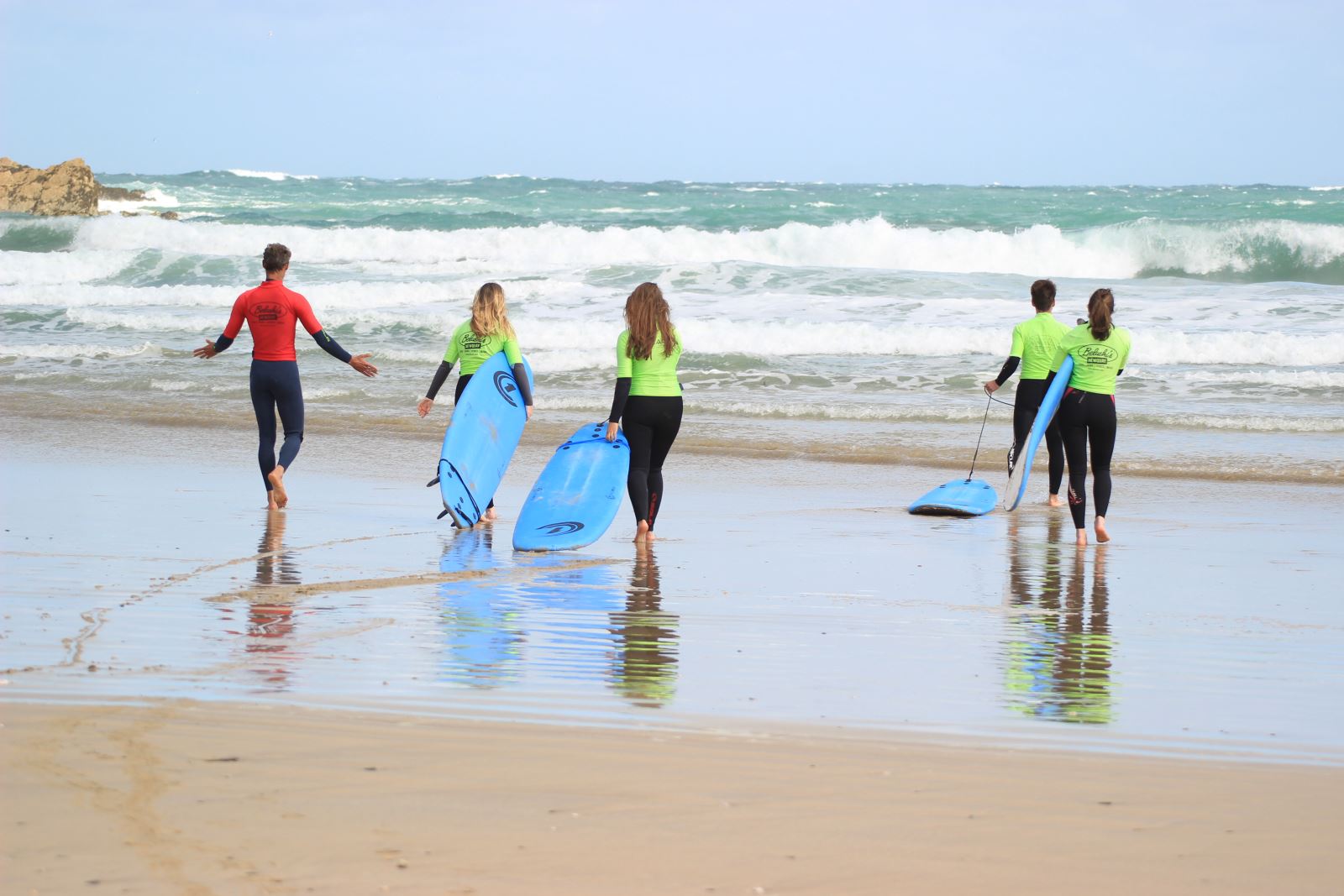 A Morning with Escape Surf School
Newquay is the surfing capital of the UK, it's home to one of the most famous surfing beaches in the world, beaches are round every corner, there's surf schools and shops on every beach… So, after having lived in Newquay my whole life, you'd think that I would have tried my hand at surfing before, right? Wrong. I know… There's no excuse! But I'm going to give you mine anyway. When I was younger I used to go body boarding, but as I got older I began working throughout the summer and never had 'time.' Or it was too cold. Most of my friends are the same and I actually only know a handful of Newquay locals who surf! So when Escape Surf School offered me a proper surfing lesson I was so excited. I have always wanted to take a lesson, but I've never got round to actually doing it. So, here goes. I even got to bring a friend who had never surfed before either!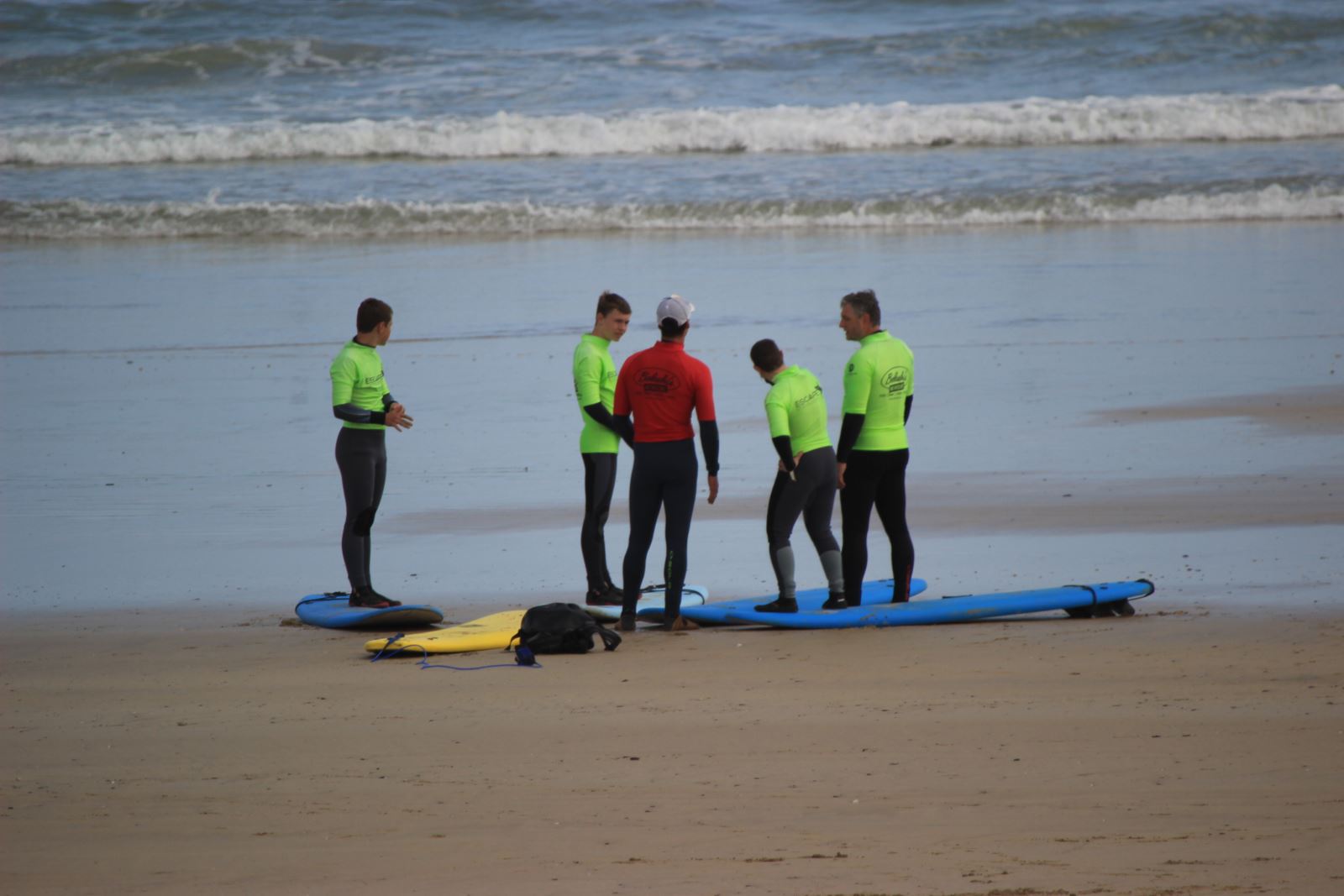 Arriving at the School
When we arrived at the Escape Surf School on Fore Street, we were greeted by the friendly staff and given some wetsuits. After a lot of struggling, mirror selfies and about 10 minutes later we were outside in our suits, looking the shape of Newquay's resident grey seal, but ready to hit the waves. After a little introduction to our fellow surf students, and a brief chat about how England had just been kicked out of the world cup and that everyone was feeling a little worse for wear, we were paired up, given our surfboards and we made our way down to Fistral Beach.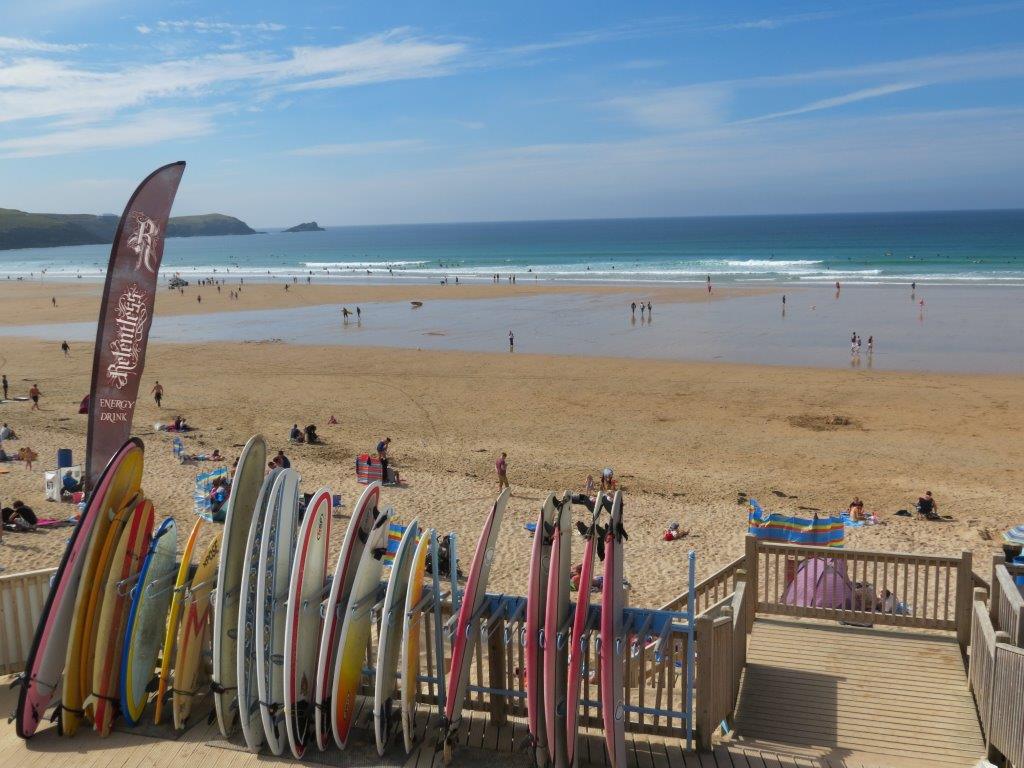 Safety Talks
Before getting in the water, our instructor gave us some safety information about what to do if we get caught in a rip tide, what all the different flags meant and the hand signals he would use to guide us. Then it was time to learn the technique. We learnt how to get on our boards, how to paddle out and the 6 motions we should use to get ourselves standing on the board. Our instructor made it look so easy! Well it's not as easy as it looks I'll tell you that, but it's also not as difficult as I thought it would be.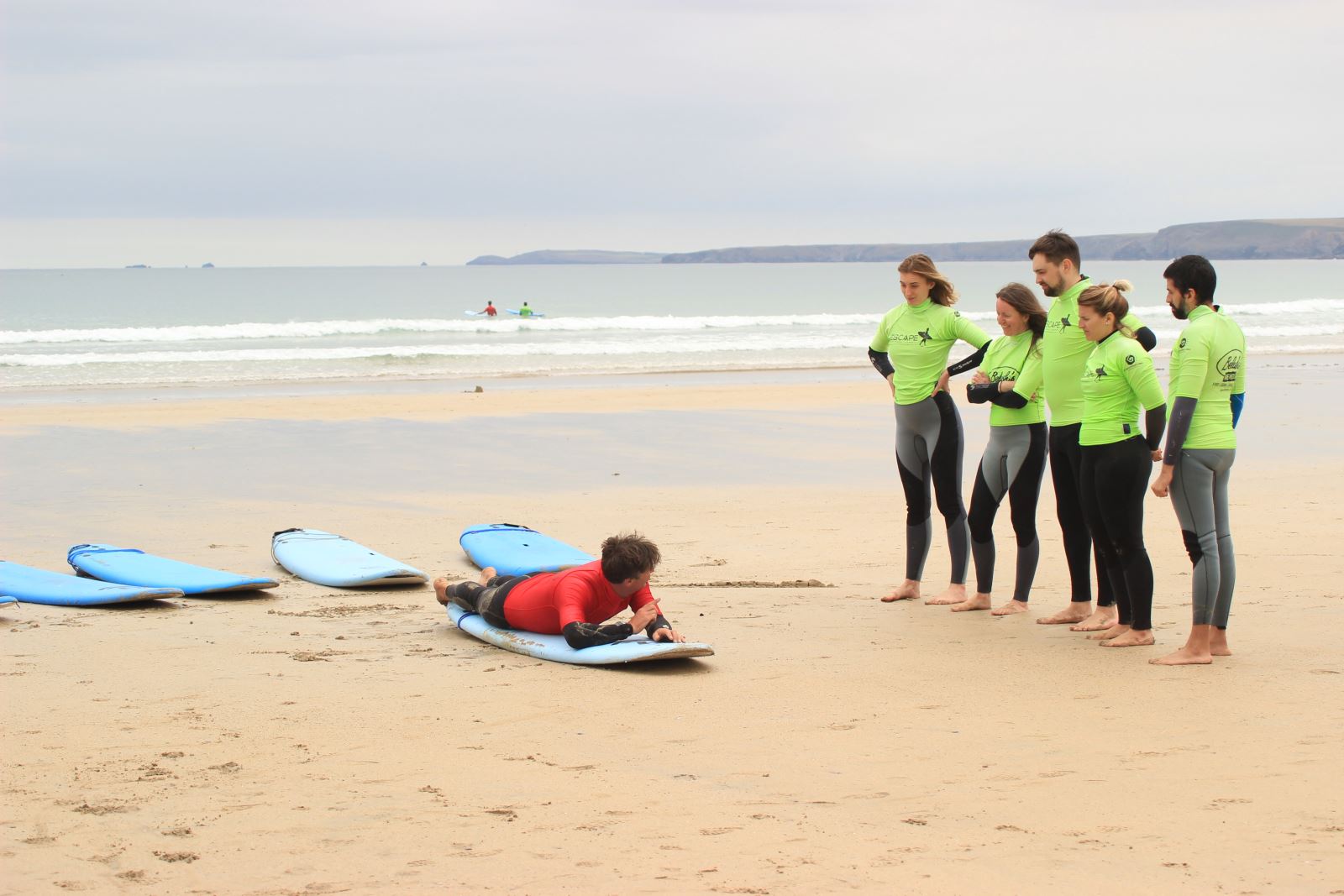 Getting Stuck In
It was time to get in the water! We were so lucky because we chose a day in the height of the UK heat wave. There wasn't a cloud in the sky, it was about 25 degrees and the water was actually warm! Especially with our snug winter wetsuits on. The first half of the lesson we spent practicing catching waves and getting half way up. I managed to do it pretty quickly, and our instructor was super supportive! We were in a group of 6, so it was easy for him to go in between each of us and give us some pointers on how to improve our (questionable) skills.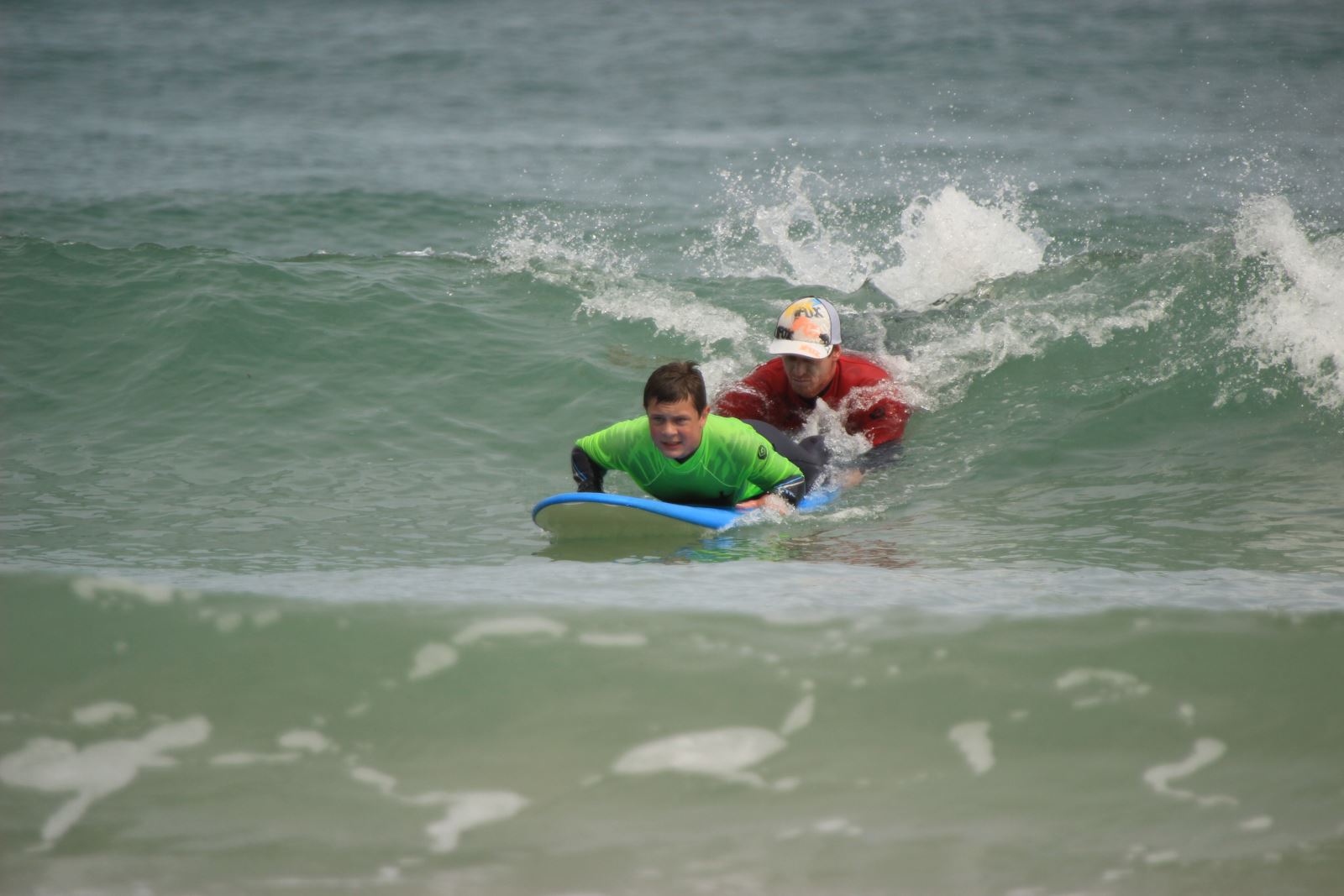 Time to Stand Up!
Our instructor called us in, and told us it was time for us all to (gulp) stand up. After another short talk on the best techniques to use, we were back in the water. Fistral Beach is world-renowned for it's surf, so sometimes the waves can get really big and scary. But again, we were very lucky as they weren't too big but weren't too small either! It was perfect. Once we were in, I was actually one of the first people to stand up I was so proud! Although our instructor did sort of get on the back of my board… But for the rest of the lesson I ended up standing up 3 times, and our instructor even told me he thought I could be pretty good if I practiced some more!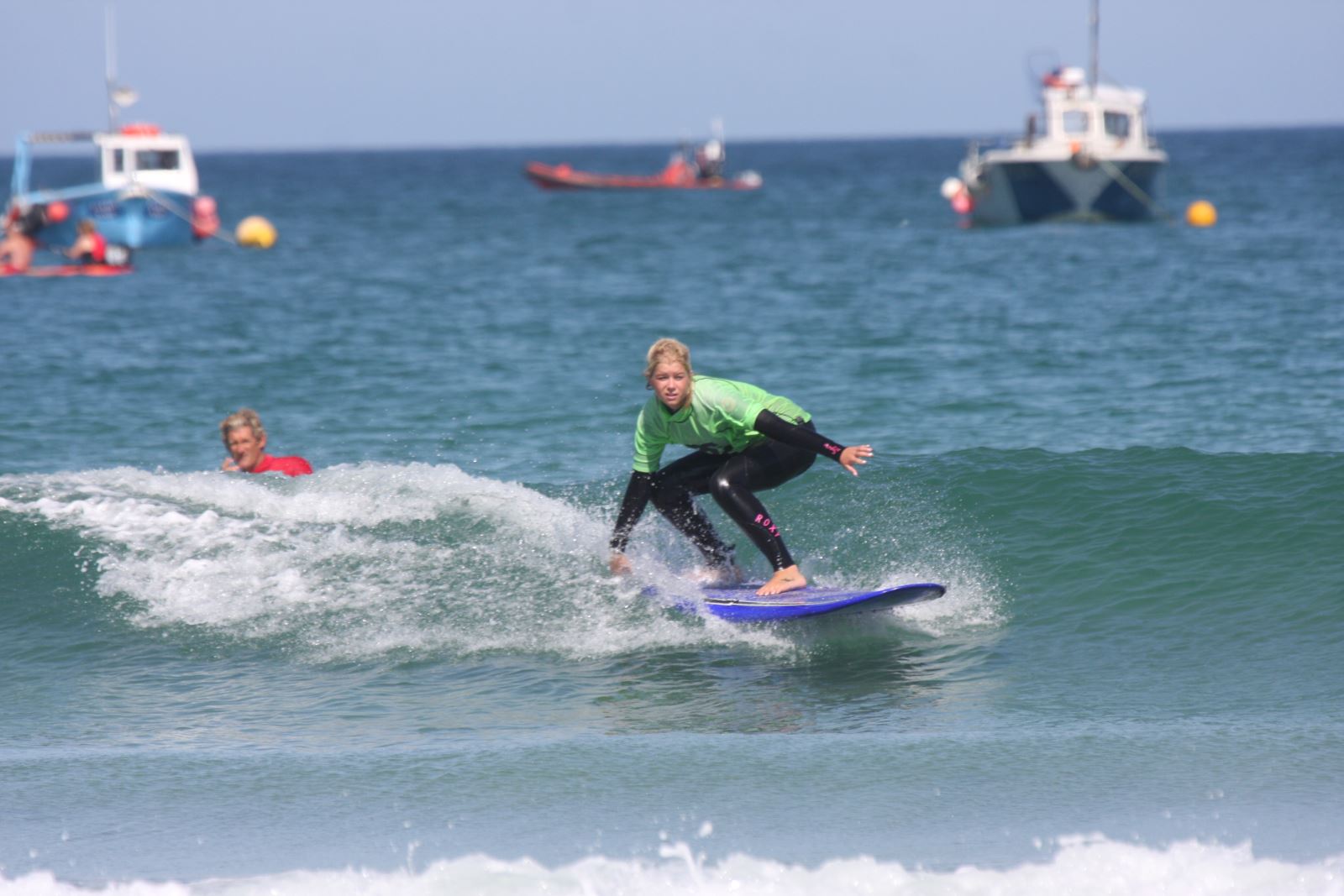 Time to Dry Off!
At about midday our instructor called us back onto the beach and we finished our lesson. 2 hours doesn't sound like much but it was so tiring! You need to have a fairly good level of fitness to be a surfer, including a strong core to pull yourself up and strong arms to paddle out. My ability to stand up on the board was getting worse and worse by the end as I was so tired, so we weren't so disappointed when the lesson was over!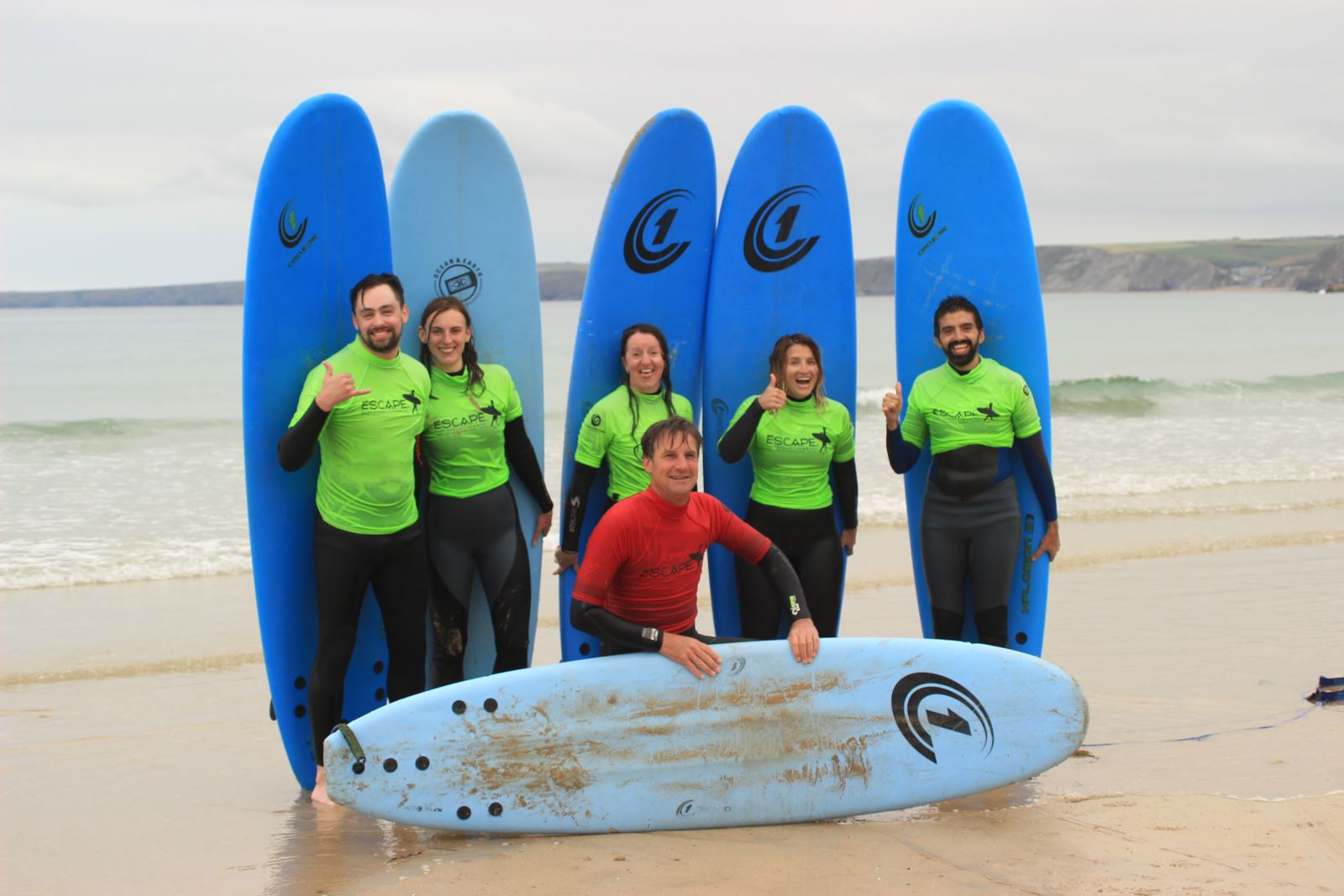 Thank you to Escape Surf School
Once we were all out, we wrapped our leads round our boards, paired back up and carried our boards back up through the dunes to the surf school. They had plenty of warm showers so we washed the sand off ourselves and peeled ourselves out of our wetsuits. We had such a fun morning and I'm so glad that I finally took a surf lesson after 25 years of living in the surf capital of the UK! I just want to say thank you to Escape Surf School. All of the staff and our instructor were so friendly, helpful and easy to talk to, and it made the experience so much more personal.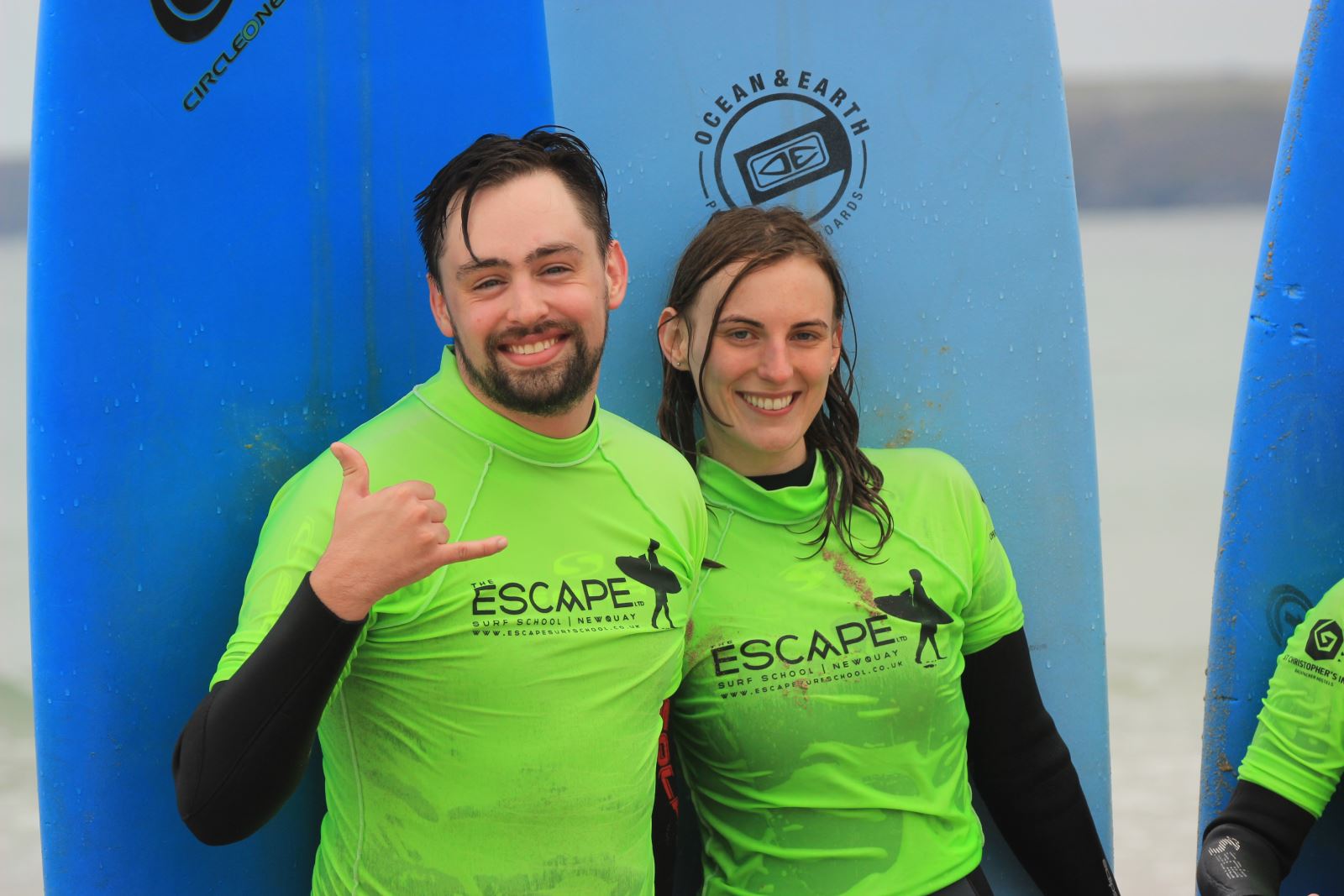 Go For It!
Finally, I just want to say that if you're in Newquay – you simply have to take a surf lesson! Don't be like me and leave it another 25 years! It will definitely complete your trip to Newquay and it's such good fun, even if you are a little bit rubbish.
Stef x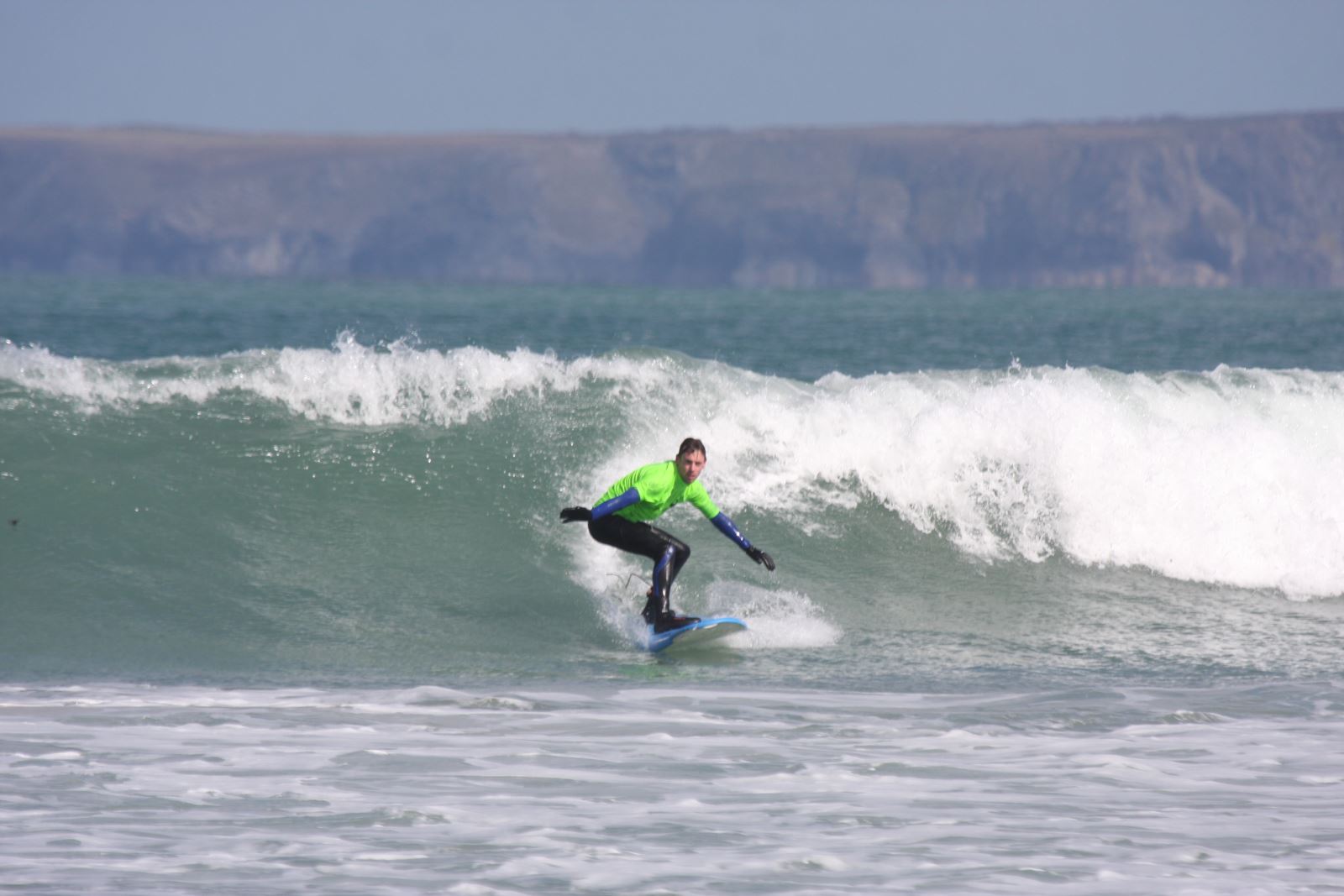 The Escape Surf School is based at the centre of UK surfing; Newquay in Cornwall and has been teaching people to surf for over 12 years. As well as being one of the longest running UK Surf Schools we are also one of the only schools in Newquay with a 35 year Pro Surfer as Head Coach (our very own Mike Young - Surf Guru!). We love teaching complete beginners but we also teach intermediate and advanced coaching and are the only school in Newquay offering outback, progressive lessons on a daily basis. We are open 12 months of the year, 7 days a week, so if you want to learn to surf or improve your surfing, then look no further.