Newquay Town Council will showcase its new exhibition trailer at the Royal Cornwall Show
16th April 2019
Newquay Town Council recently purchased its own exhibition trailer to aid the Visit Newquay team in promoting Newquay as a visitor destination. They also hope to use the trailer at future events to promote the Town Council and its services.
Visit Newquay is the Tourist Information Centre and the official marketing for the town. Each year they attend events and shows such as Boardmasters, Newquay Fish Festival, Cornwall Pride, and the Travel & Tourism Show and Caravan & Camping show at the NEC in Birmingham. Their aim is always to promote Newquay and its businesses and to give out local information to visitors.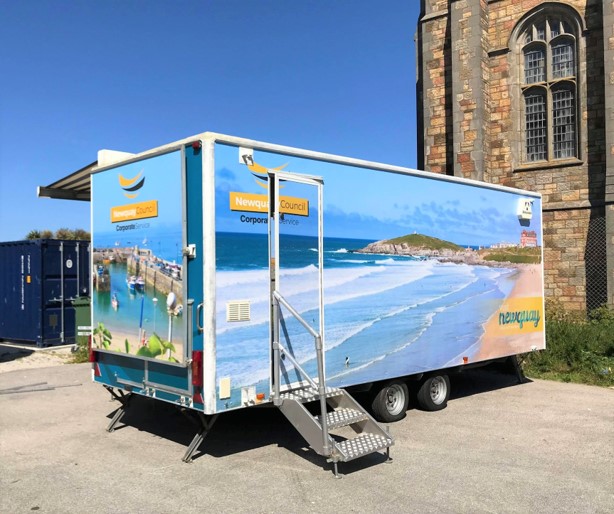 Previously, Visit Newquay have only had a small presence at the shows, with a table and chairs and some maps and guides. The new exhibition trailer will enable the Visit Newquay team to stand out from the crowd, to attract interest and inevitably draw more visitors to the town. The trailer boasts a sleek and modern style, wrapped with the Visit Newquay team's best images of the town, which is sure to attract attention. It opens out at a staggering 9.4m in length, with a balcony and canopy to match.
A spokesperson from Visit Newquay commented, "We are really pleased with the new trailer, it looks great! It means we are going to have a bigger presence at the events we attend and will enable us to promote Newquay in a positive way. "
Deputy Mayor, Louis Gardner, also added, "The exhibition trailer is a fantastic new asset to Newquay Town Council and the Visit Newquay team. This will allow us to promote Newquay as a destination on a regional and national scale. We are now devising a schedule of events for the forthcoming year where we can attract a greater number of visitors to the town and help to promote local businesses. Newquay Town Council are committed to the promotion of businesses within the town and an asset like this will especially benefit the members of the Visit Newquay Membership Scheme."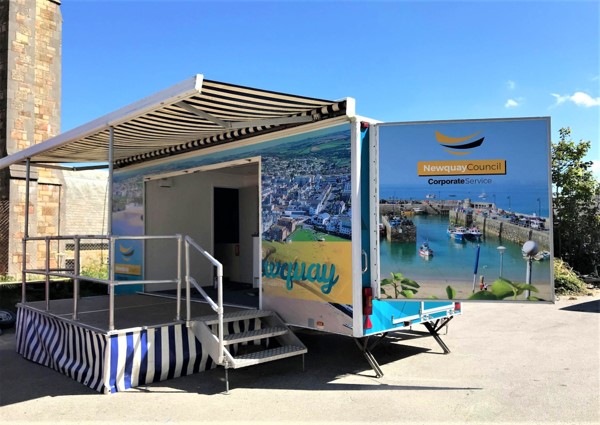 The exhibition trailer's first showcase will be at this years Royal Cornwall Show, which takes place from the 6th – 8th June. The hope is that the trailer will enable the Visit Newquay team to promote the town to people from across the country and beyond, but also to people who live in other towns in Cornwall.
If you would like to meet the Visit Newquay team and see the exhibition trailer at this year's Royal Cornwall Show, pop in and see them located close to the Dog Show arena. They will be on hand with maps, guides, souvenirs and key information about "one of the nation's favourite seaside holidays" - Newquay.