Visit Newquay Promote the Town at the Royal Cornwall Show
12th June 2019
The Visit Newquay team attended the Royal Cornwall Show in style last weekend in their brand-new exhibition trailer.
Visit Newquay is the Tourist Information Centre and the official marketing for the town. Each year they attend events and shows such as Boardmasters, Newquay Fish Festival, Cornwall Pride, and the Travel & Tourism Show and Caravan & Camping show at the NEC in Birmingham. Their aim is always to promote Newquay and its businesses and to give out local information to visitors.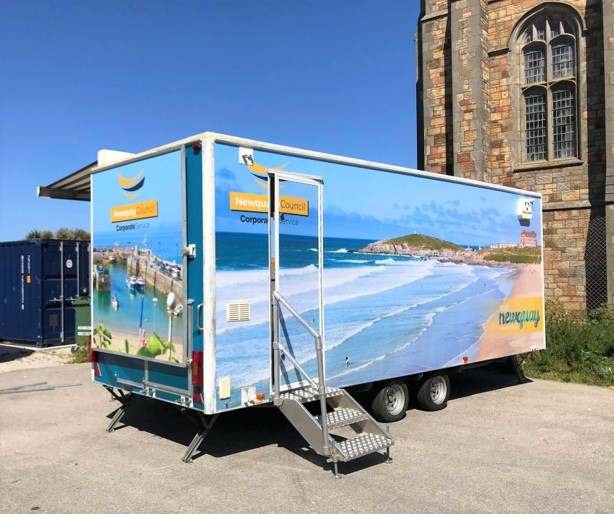 Newquay Town Council recently purchased its own exhibition trailer to aid the Visit Newquay team in promoting Newquay as a visitor destination. It was the exhibition trailer's first showcase at Royal Cornwall, which took place from the 6th – 8th June. The hope was that the trailer would enable the Visit Newquay team to promote Newquay to people from across the country and beyond, but also to people who live in other towns in Cornwall.
The Visit Newquay team were located close to the Dog Show arena, and were on hand with maps, guides, souvenirs and key information about "one of the nation's favourite seaside holidays." They also had free goody bags, free dog treats, and a £1 charity raffle with proceeds going towards the Mayor's charities this year – the RNLI and the Mermaid Centre at Treliske.
They managed to raise over £170 for the charities, with the draw taking place on Monday 10th June. The Visit Newquay team were even lucky enough to have Oll an Gwella perform one of their Newquay songs - 'Surfs up at Fistral' in front of the trailer which certainly drew attention to them.