Newquay's Tourist Information Centre is Officially Opened by Mayor Rachel Craze
2nd August 2019
The Visit Newquay Tourist Information Centre has been under refurbishment over the last few weeks and had its 'Grand Opening' on Thursday 1st August, with Mayor Rachel Craze who cut the official ribbon.
After a decade of minimal works, the Visit Newquay shop on Marcus Hill has finally received some much-deserved TLC. The Tourist Information Centre is many visitors first impression of Newquay, and Newquay Town Council recognised that the shop looked dated and needed a re-vamp in order to better represent Newquay. The new shop boasts a modern design in-keeping with the Visit Newquay theme, with new flooring, units and touch-screen TV's. It is now the reception area for Newquay Town Council and features exhibition space for local groups. The space currently features photography artwork from Newquay Tretherras students.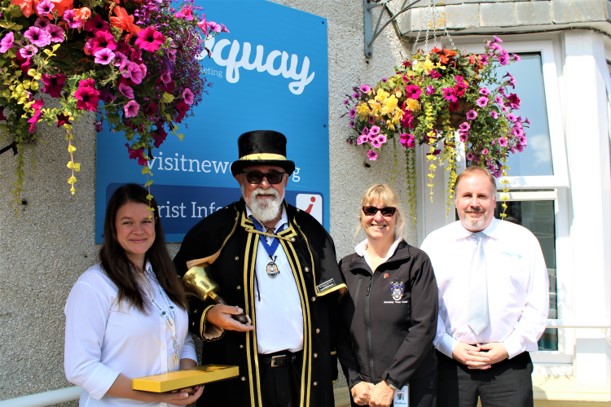 On Thursday 1st August, Mayor of Newquay, Rachel Craze, came to cut the ribbon and officially open the shop to the public. There were also announcements from Dave Bradshaw, Newquay's Town Crier, and the opportunity for people to browse and enjoy free refreshments.
Mayor Rachel Craze commented: 'I was delighted and honoured to have cut the ribbon for today's official opening of the refurbished Visit Newquay Tourist Information Service.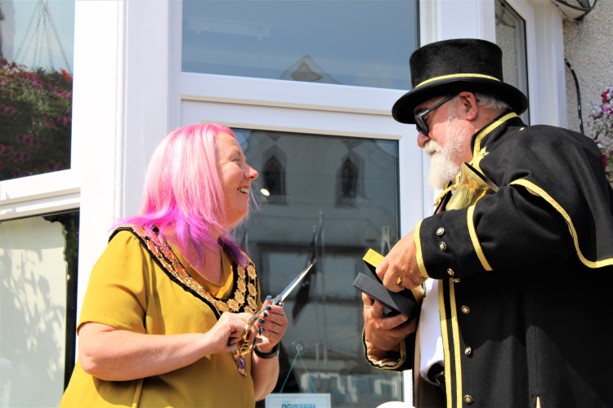 Newquay Town Council taking ownership of the Marcus Hill building last September combined with Cllr Louis Gardner's energy and enthusiasm as Chair of the Tourism & Leisure committee has seen Newquay's TIC transformed into a bright, modern and welcoming facility for visitors and residents alike.'
If you couldn't make it to the Grand Opening don't worry, the Visit Newquay Tourist Information Centre is open 7 days a week, 9:15am – 5:30pm throughout the week, and 10am – 4pm on weekends throughout the summer. Opening times are reduced in the winter, please go to visitnewquay.org for more information.