How to Plan a Successful Newquay Vacation
27th May 2022
This weeks blog has been kindly written by Hannah over at VEED.IO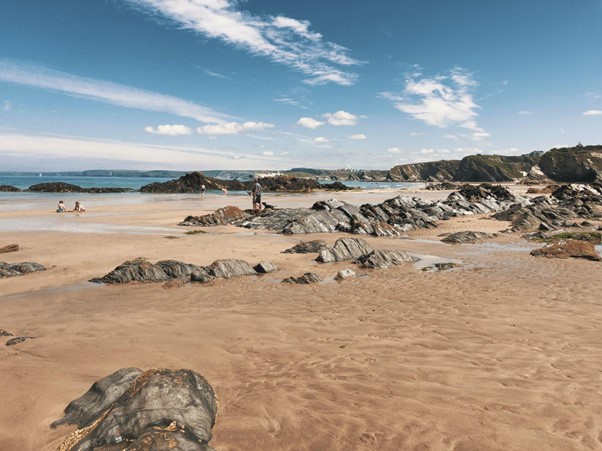 No matter what time of year it is, there's always a great place to go on vacation. If you're looking for an exciting and beautiful location, consider Newquay, England. This town is famous for its stunning coastal views and amazing surfing spots. Whether you're a beginner or an experienced surfer, Newquay has something for everyone. You'll also find plenty of great restaurants and pubs in town for you to enjoy the local culture.
So, If you're ready to get away from it all, keep reading for some advice on how to organize a trip to this quaint coastal town.
Choose your dates carefully
One of the most important decisions you'll make when planning a vacation is when to go. Picking the wrong dates can ruin your trip, but choosing the right ones can make it unforgettable.
If you're looking to escape the cold winter weather, consider going during the summer months. Conversely, if you're looking to avoid the heat and humidity, then winter may be a better time to travel. If you don't want to deal with huge crowds or price hikes, try avoiding holidays and important occasions. Due to the excellent weather conditions, the best time to visit Newquay is from June to September, and you may even find that the cost of flights and accommodations is lower than if you travel during the peak holiday seasons.
Figure Out Your Budget
Going on vacation is a great way to get away from the stresses of daily life and relax. However, if you're not careful, it can also be a costly experience. If you want to have a successful vacation without breaking the bank, it's vital to set a reasonable budget and stick to it.
Decide how much money you can afford to spend and stick to that amount. Be realistic about what you can afford. Just because you see a cheaper deal on airfare or hotels doesn't mean you should automatically buy into it. Plan your itinerary in advance and ensure all your activities are within your budget.
Compare Prices for the Best Deals
Price comparisons are the key to a successful vacation. By doing a little research upfront, you can find the best deals and avoid overspending on your trip. Whether you're looking for plane tickets, hotels, or excursions, there are plenty of ways to save money without compromising on quality.
Use online resources like price comparison websites or travel agents that will help you find great deals on hotels, amusement park tickets, airline travel, and other services. Some excellent resources are Google Flights, Groupon Getaways, Tripadvisor, Expedia, and Kayak.
Plan Out Activities
Planning a vacation can be stressful, but it doesn't have to be. If you take the time to plan your activities in advance, you'll have a much more enjoyable and stress-free trip.
Decide what type of vacation you want. Do you want to relax on the beach, explore new cities, or visit family and friends? Once you know what type of vacation you want, start narrowing down your options based on your budget and interests. Next, create a rough itinerary outlining what days you will be doing what activities. This will help make sure that everything fits into your schedule and that you're not trying to do too many things at the same time.
List What You Need to Bring
Don't overpack for your vacation. You'll only end up lugging around heavy suitcases and will have to find a place to store them when you're not using them. Instead, pack lightly and strategically so that you can easily access the items you need while on vacation.
Make a list of what you need to take with you. Choose versatile clothing that can be mixed and matched. Bring clothes that you can wash in the hotel sink or laundry facilities. Don't pack bulky items like sweaters or jackets. If possible, try to limit yourself to one piece of luggage per person.
Prepare the Required Documents
Make sure to take care of some essential details before you go. One of the most important things is getting your documents in order.
Make copies of all your important documents and keep them in a safe place. That way, if something happens while you're away, you'll have a backup. If you're traveling outside of the country, make sure your passport is up-to-date and that you have any required visas or permits. And don't forget about travel insurance - it can really come in handy if something unexpected happens. By preparing the proper documents, you can minimize stress and ensure that your vacation goes smoothly.
Go and Enjoy Your Trip!
Take a break from the hustle and bustle of everyday life by spending your vacation in Newquay. This seaside town in Cornwall, England, is perfect for those who want to relax on the beach or explore the area's attractions. There are plenty of things to do in Newquay, so you're sure to have a good time during your stay.
Make your trip more memorable by making a video of it. By capturing your memories on video, you'll be able to revisit and share them with friends and family over and over again. There are many video ideas resources to help you if you don't know how to make a great travel video. Whether you're looking to relax on the beach or explore the local sights and sounds, recording your adventures on video will allow you to relive them for years to come.
Enjoy your time away from work and the everyday hustle and bustle of life. Vacations are supposed to be relaxing, so take advantage of that and forget about everything else for a while. Chill out and have fun on your vacation. Planning carefully will help make your trip more enjoyable.