Events
This page is always updated with the most exciting events happening in and around Newquay, making it easy for you to plan your days whilst you are here.
Click on the 'highlight' events above for more information, or alternatively you can use the search bar to find events on specific dates. You can even search all of the events happening in and around Newquay throughout the year!
Beach Events
Newquay is surrounded by twelve beautiful beaches, hence boasting some of the best and most impressive settings for events that you have ever laid your eyes on. Known as the surfing capital of England, it comes as no surprise that many of the surf events and adrenaline water sports championships, such as Boardmasters, English National Surfing Championships, Thundercat World Series and the Jet Ski Rider World championships are all held in Newquay.
Having the beaches as such a stunning back drop makes it easy to host amazing and memorable music events. I mean, just imagine having the sand between your toes, drink in hand, listening to live music, whilst the sun is setting in the back ground… Well here in Newquay we feel so lucky that this is a regular occurrence - especially throughout the summer!

Newquay Town Events
Although, not all of these events happen on the beach. There are many events that happen in and around the town centre, for instance the Newquay Carnival. Picture a week long of family events which usually takes place in July. Or New Years Eve celebrations where people dress up in fancy dress and meet at Central Square for the count down to begin. There's also Newquay's famous Zombie Crawl where the children (and some adults too!) dress up in their favourite Halloween costumes and stop at various locations in the town for spooktacular fun.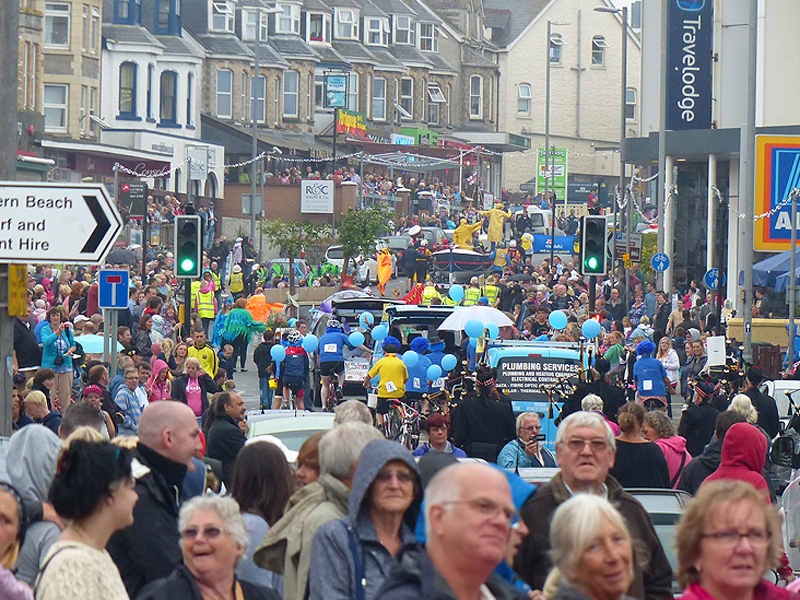 One of Cornwall's Best Event Venues
Throughout the year Newquay also plays host to some of Cornwall's largest events. From very popular festivals, such as the Newquay Fish Festival where many famous and local chefs show off their expertise in cooking demonstrations, to the big sporting events like Polo on the Beach or the Surf 7's Rugby Tournament. With such a wide choice of events happening all year round we are confident that you will find something for all age groups and interests.

Buy Newquay Events Tickets
For some of the events you can pre-purchase tickets online through this website. For tickets which are available please click here.
Newquay Events 2018
To see all of the events that are happening throughout the year please scroll down, or alternatively you can return to the main 'What's On' to view the event calendar for specific dates.

Number of results:
Number of results: 46
, currently showing 1 to 20.
Type

Type:

Competition/Game

The new Watergate Bay Speed Hillclimb, Cornwall's only motorsport event on a closed public road, will take place on the weekend of 15 & 16 September 2018!

Dates

From:

15 Sept 2018

to

16 Sept 2018

Head down to the stunning sea-view lawn at the Bedruthan Hotel for some award-winning theatre this August. There will be a BBQ, a well-stocked bar and, if you're lucky, a wonderful sunset to end the show.

Dates

From:

16 Aug 2018

Open 16:30 -

From:

23 Aug 2018

Open 16:30 -

Type

Type:

Participatory Event

Hundreds of local surfers will flock to Watergate Bay to run free surf taster sessions for people with disabilities at the Wave Project Summer Surf Challenge 2018.

Dates

From:

7 July 2018

to

8 July 2018

The SkyBar will be at Watergate Bay on Friday 22nd and Saturday 23rd June 2018!

Dates

From:

22 June 2018

to

23 June 2018

Located at Roskear Farm, near Wadebridge, Rock Oyster Festival is one of the leading artisan food festivals in Cornwall.

Dates

From:

6 July 2018

to

7 July 2018

Head down to the Lane Theatre on Saturday 22nd September 2018 and see Raymond Froggatt and his Frog Band! 

Run, walk or jog the happiest 5k, through colourful explosions of powder paint! Anyone over 5 years can take part and the sponsorships you raise all go towards three children's hospices in the South West, helping children living with limiting conditions and their families enjoy precious times...

Dates

From:

24 June 2018

Open 13:00 -

It's here... Our 2018 'Creating Memories Tour!!'

Dates

From:

12 July 2018

to

8 Sept 2018

Type

Type:

Competition/Game

When the sun sets on Fistral Beach and the day visitors have long since headed home, a group of intrepid international surfers will be suiting up and diving into the dark, moonlit waves.

Dates

From:

6 July 2018

to

7 July 2018

Type

Type:

Participatory Event

Bring your bucket and spades Newquay Lion's are holding a sandcastle competition down on Towan Beach. Everyone is invited to go down and build a sandcastle or a sculture. Prizes for the best one!

Venue

Dates

From:

15 July 2018

Open 12:30 - 15:30

From:

12 Aug 2018

Open 12:30 - 15:30

Enter this year's Newquay in Bloom Garden Competition!

Dates

From:

27 June 2018

to

29 June 2018

Type

Type:

Competition/Game

Newquay Harbour Sports Day – a Family Fun Day!

One of Cornwall's celebrated seafood and crafts weekends gives Newquay an opportunity to showcase one of its hidden gems, 'the fishing harbour' with a dazzling menu of delicious dishes cooked on the quay by local Chefs

Dates

From:

7 Sept 2018

to

9 Sept 2018

Newquay Towan Blystra Lions have announced that their popular charity Beer Festival will return in September 2018. Now in it's sixth year, Newquay Beer Festival returns to Hendra Holiday Park on Friday, Saturday and Sunday the 21st, 22nd and 23rd September 2018....


Dates

From:

21 Sept 2018

to

23 Sept 2018

Popular trip-hop 90s band Morcheeba will headline Lusty Glaze's 2018 Sundowner Sessions!

Dates

From:

22 July 2018

Open 18:00 -

Head down to Treviglas School on 29th June at 7.00pm for the Miracle Theatre's production of 'The Cherry Orchard.' Bill Scott's new adaptation treads a tragicomic tightrope, bringing out all the humour and pathos of Chekhov's masterpiece which, more than a century after it was written is as popular...

Dates

From:

29 June 2018

Open 19:00 -

Newquay Dramatic Society are thrilled to announce their next play - 'Lucky Balls' by Louise Roach. Directed by Susie Bundy, the play will run every Tuesday and Wednesday Evening from Tuesday 12th June - Wednesday 25th July. Auditions are also set to take place on Sunday 28th January at 2pm at the...

Dates

From:

12 June 2018

to

25 July 2018

An annual five day event celebrating the distinctive heritage of Cornwall's traditional music, dance, songs, storytelling and the county's links Brittany, Ireland, the Isle of Man and Scotland.

Dates

From:

1 Nov 2018

to

4 Nov 2018

Whiskers is a great venue for live acts and performances. From music to comedy, charity events to regular open mic nights.

Dates

From:

20 June 2018

From:

21 June 2018

From:

22 June 2018

From:

23 June 2018

From:

27 June 2018

From:

29 June 2018

From:

30 June 2018

Newquay Rowing Club will play host to a variety of live entertainment over the next few weeks!