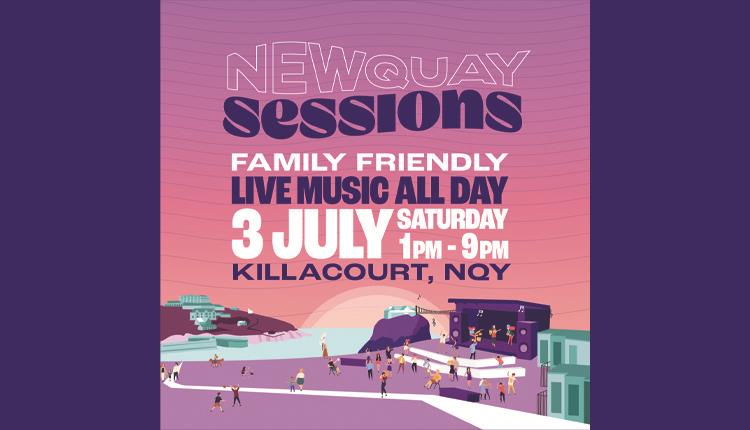 About
The opening weekend of Newquay Town Council's Newquay Sessions will take place on Saturday 3rd July from 1:00pm – 9:00pm and Sunday 4th July from 12 noon at the Killacourt in Newquay.
Newquay Town Council are proud to host a weekend jam packed with live music in the bandstand. The Newquay Sessions Launch is the first of many musical weekends at the Killacourt this summer, with musicians from across Cornwall and beyond coming to entertain the people of Newquay. Best of all, all of this is completely free!
Saturday Line Up
The fantastic line-up for the opening weekend includes Joe Hurworth, Ashley Height, Roguey Roads, Paige Forster, C-Bone and headliners the Penny Eyes band, who are all standout performers in the Newquay music scene.
Joe Hurworth is an acoustic indie soul singer/songwriter from Newquay. He plays warm catchy original music and a variety of different covers of soulful classics.
Paige Forster – Currently performing both solo and as a duo with two acoustic guitars that meld and intertwine in exciting and intricate ways, Cornwall's beautiful landscapes, forests and folk tales inspire the songs that she writes. Paige is also influenced by a variety of artists such as Joni Mitchell, Stevie Nicks with a vocal tone likened to that of Bonnie Raitt.
Ashley Height is a virtuoso guitarist, innovative songwriter, and outstanding live performer. He has worked with major artists such as Bonobo, The XX and Martha Tilson. Think John Martyn meets King Sunny Ade with West-African and contemporary jazz elements effortlessly incorporated within both acoustic guitar and lap-steel guitar driven compositions.
Roguey Roads – Charismatic, refreshing, and groovy. This loveable brother duo, Roguey Roads, radiates these qualities and more while putting a twist on contemporary music, blurring the lines between, pop, funk, and soft rock. With years of experience in writing, performing, and recording they combine their effortless genetic dynamic with a raw, powerful energy that makes these guys irresistible.
C-Bone has been a street musician consistently throughout his musical career whilst playing alongside bands such as The Big Sets. Expect a wide array of music through the ages when C-Bone plays solo.
Penny Eyes are an indie pop/rock band made up of four mates from Newquay who will be performing songs from their new album. Throughout 2019 the boys played at some fantastic gigs and festivals, from the iconic Louisiana in Bristol to BBC introducing stage, the response was overwhelming with one of their songs 'Real This Time' as the BBC Introducing 'fav find' of the week.
Sunday Line Up
Loveny Male Voice Choir are based in the beautiful Cornish village of St Neot, through which the Loveny river flows and their choir is named after.
Oll an Gwella are a rehearsed, a cappella, male chorus with a repertoire consisting of over 100 songs including Shanties, Cornish folk, 1960s classics, seasonal & sacred music.
The two groups will take it in turns to sing their enchanting traditional Cornish songs and much more.
In the coming weeks, Newquay Town Council will be announcing more exciting acts due to perform at the Newquay Sessions music events this summer. Keep an eye on their Facebook page to find out the amazing line ups every weekend at the Killacourt bandstand: www.facebook.com/NQYEvents
Book Tickets