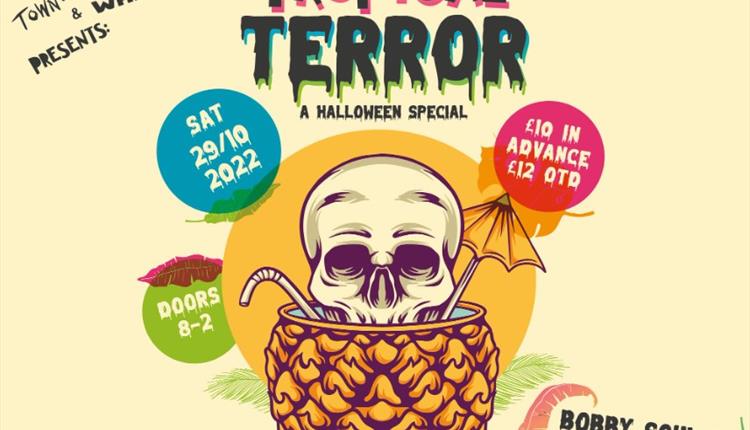 About
Calling all Jungle Boogie Monsters!
We are putting together a Whiskers Halloween special on Saturday the 29th of October 2022 with live music from Town of Cats, Psychadelephant and DJ's till late!
Expect to leave with your booty absolutely 100% SHOOK.
THEME: TROPICAL TERROR- It's sometime in an apocalyptic future and humans are long gone. Some kind of virus (too soon?) has seen Animals of the Jungle mutating, taking on anthropomorphic qualities. Elephant Folk? Parrot Pirates? Tyrannous Tiger Tribes? Zombie Zebras?
Whatever they are, they live and lurk deep within the remains of the Jungle…Funnily enough it looks a lot like Whiskers…
How do they live? how do they look? How do they dance?
Well, that's up to you...
Get Animal, Get weird, get dancing! Don't miss this Whiskers Halloween Special!
Who's playing?
TOWN OF CATS
Town of Cats are an ever-mutating municipality of musical misfits, grown in Brighton's grubby and fertile Petri dish. To hear them is to be transported by the transformative power of the best parties. The ones that set fire to your zero-hour contract and remind you that change, real change, can come from the most ordinary of places.
Wordplay careens between raised-brow punnage and righteous indignation at the state of the nation. Funk rhythms dare you not to dance, coloured by boiling blasts of brass and a guitar that warps from crystalline chicken- scratch to face-melting prog. Whether the keys belong to some sleazy lounge act or the Mothers of Invention is up for debate.
Come on Cornwall, you know these guys by now!
https://www.facebook.com/townofcats
What to watch:
PSYCHADELEPHANT
Psychadelephant are an intoxicating and explosive funk/rock/soul 4 piece based in the UK.
Expert lyricism and story telling from the brain of a bard and the heart of an activist is framed by an incredibly tight band with an artillery of psychedelic & funky grooves ready to shake up both brain and booty!
https://www.facebook.com/psychadelephant
What to watch:
DJs Bobby Soul & DJ Shmarkle will be supplying the dance floor with some of the finest Latin & Afrobeat to take those hips back to bed all loose and lovely!
Better make like a crocodile and get those tickets snapped up!
£10 in Adv
£12 OTD
Book Tickets
Map & Directions