SproutSpoken - IT'S YOUR SHOUT at the Huer's Hut!
Huer's Hut Dane Road
NEWQUAY
Cornwall
TR7 1EN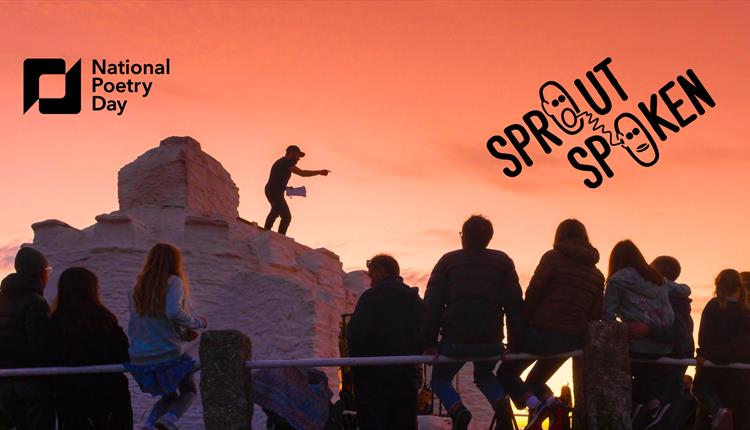 About
SproutSpoken invites you to a very special gathering of community, creativity and connection at one of the town's favourite places: The Huer's Hut. Running in conjunction with National Poetry Day, we'll be honouring this iconic Newquay landmark with songs, poetry and spoken word that conjure up the spirit of the Huer at this special place.
What do you want to shout about?
IT'S YOUR SHOUT is your opportunity to tell the world through your crafted words at the top of the cliff, at the top of your voice! Get involved - bring your voice, your words... and maybe an instrument!
Tickets are free but you need to book one to ensure your spot on the site as capacity is strictly limited.
IF YOU HAVE BOOKED TICKETS, PLEASE ARRIVE BY 6.45 OTHERWISE YOUR TICKETS WILL BE RE-ALLOCATED. LATECOMERS WILL ONLY BE ADMITTED IF THERE IS STILL CAPACITY.
Tickets: bit.ly/Huers-Hut
Parking: there is none on site but Dane Road Car Park is a few minutes walk away. Please be mindful of cars on King Edward Crescent when accessing the Hut.
Please note: the ground around the hut is not always level in places, so please wear sensible footwear. The location is also exposed and the event will continue despite the weather, so please dress ready!
ABOUT THE HUER'S HUT
This small Grade II listed building perched high above the sea at Towan Head is of uncertain age. Some estimates put its origins as early as the 14th century however the current building is probably mid 19th century. It may have originally been used as a hermitage. Named after the Huer, an important figure in the pilchard fishing industry that once thrived in Newquay. The Huer would watch out from his high vantage point for the shoals of fish to arrive in the bay and then call out to the town by shouting 'Heva, Heva'. The seine boats with their long nets would be launched at once but then had to rely upon the Huer for directions. Holding 'Furze bushes' in his hands the Huer would direct the boats so they could first locate and then surround the fish.
ABOUT NATIONAL POETRY DAY
National Poetry Day is the annual mass celebration on the first Thursday of October that encourages all to enjoy, discover and share poetry. It generates an explosion of activity nationwide, thousands of amazing events across the UK – on doorsteps and at kitchen tables, in gardens and streets, in schools, libraries and public spaces both online and offline – all celebrating poetry's power to bring people together. The Day starts conversations, it encourages love of language – and best of all, it's open to absolutely everyone to join in, quietly or noisily in rewarding and enjoyable ways. As the artform's most visible moment, it showcases the ways in which poetry adds value to society.
Book Tickets
Map & Directions