Events
This page is always updated with the most exciting events happening in and around Newquay, making it easy for you to plan your days whilst you are here.
Click on the 'highlight' events above for more information, or alternatively you can use the search bar to find events on specific dates. You can even search all of the events happening in and around Newquay throughout the year!
Beach Events
Newquay is surrounded by twelve beautiful beaches, hence boasting some of the best and most impressive settings for events that you have ever laid your eyes on. Known as the surfing capital of England, it comes as no surprise that many of the surf events and adrenaline water sports championships, such as Boardmasters, English National Surfing Championships, Thundercat World Series and the Jet Ski Rider World championships are all held in Newquay.
Having the beaches as such a stunning back drop makes it easy to host amazing and memorable music events. I mean, just imagine having the sand between your toes, drink in hand, listening to live music, whilst the sun is setting in the back ground… Well here in Newquay we feel so lucky that this is a regular occurrence - especially throughout the summer!

Newquay Town Events
Although, not all of these events happen on the beach. There are many events that happen in and around the town centre, for instance the Newquay Carnival. Picture a week long of family events which usually takes place in July. Or New Years Eve celebrations where people dress up in fancy dress and meet at Central Square for the count down to begin. There's also Newquay's famous Zombie Crawl where the children (and some adults too!) dress up in their favourite Halloween costumes and stop at various locations in the town for spooktacular fun.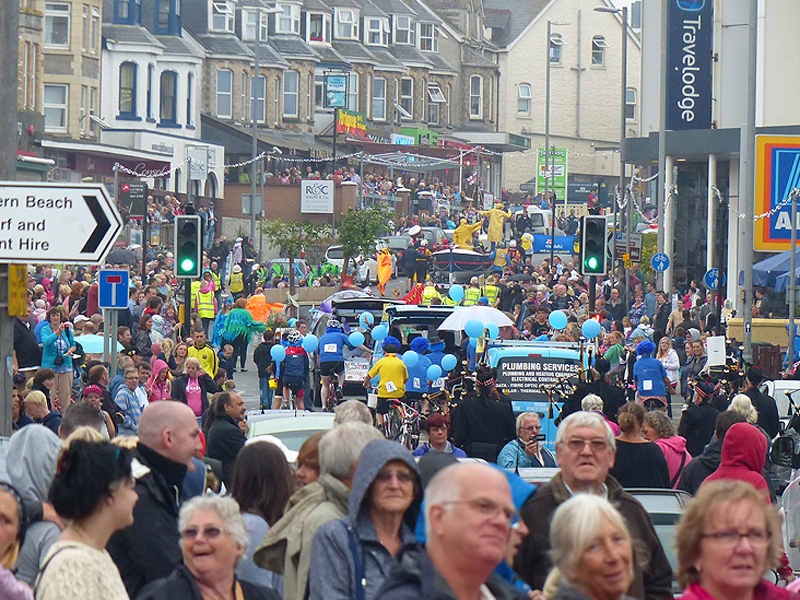 One of Cornwall's Best Event Venues
Throughout the year Newquay also plays host to some of Cornwall's largest events. From very popular festivals, such as the Newquay Fish Festival where many famous and local chefs show off their expertise in cooking demonstrations, to the big sporting events like Polo on the Beach or the Surf 7's Rugby Tournament. With such a wide choice of events happening all year round we are confident that you will find something for all age groups and interests.

Buy Newquay Events Tickets
For some of the events you can pre-purchase tickets online through this website. For tickets which are available please click here.
Newquay Events 2020
To see all of the events that are happening throughout the year please scroll down, or alternatively you can return to the main 'What's On' to view the event calendar for specific dates.

Number of results:
Number of results: 45
, currently showing 1 to 20.
Grab your broomsticks and join us at Newquay Zoo for some frighteningly good Halloween half term fun, every day from Monday 18th to Sunday 31st October. 

Venue

Dates

From:

18 Oct 2021

to

31 Oct 2021

Matricks Illusion, as seen on ITV & the @sidemen Show bring their Grand Illusion show to Cornwall at Newquay's Tall Trees Cabaret Bar. Playing throughout August and September for all the family.

Dates

From:

22 Oct 2021

to

23 Oct 2021

Greetings ghoulish guests! For an entire week during half term the colourful characters at The Box and Barn will be bringing you halloween celebrations for all your families!

Dates

From:

23 Oct 2021

to

31 Oct 2021

See the award-winning Bakehouse Factory's bespoke show, created especially for Eden and based around their fabulous 3m tall owl, taking place daily in our Citrus Grove.

Dates

From:

23 Oct 2021

to

31 Oct 2021

Type

Type:

School Holiday

This October half term get creative with nature and make wild art on the parade ground.

Venue

Dates

From:

23 Oct 2021

to

31 Oct 2021

Many discounts at Cornwall Gold during October Half Term

Venue

Dates

From:

23 Oct 2021

to

31 Oct 2021

Type

Type:

Food and Drink

Gather your friends and families and let's make cooking memories!

Dates

From:

23 Oct 2021

From:

20 Nov 2021

There's a host of fantastic family fun on offer at Flambards throughout the October Half Term holidays (Saturday, 23rd – Sunday, 31st October 2021).

Dates

From:

23 Oct 2021

to

31 Oct 2021

Halloweek at Camel Creek - from 23rd - 31st October 2021!
Get ready for a spooktacular week of Halloween fun and terrifying thrills at Camel Creek this October half-term as they prepare for the best Halloween event yet. 

Venue

Dates

From:

23 Oct 2021

to

31 Oct 2021

Over October Half Term there will be lots of spooky goings on for Halloween at Dairyland Farm World!


Venue

Dates

From:

23 Oct 2021

to

31 Oct 2021

Newquay Rowing Club are holding a Harvest Festival on Sunday 24th October 2021 at 5pm – Auction of Goods and all are welcome! 

Type

Type:

Participatory Event

Come along and learn about the critters that share our shores. Our resident experts will guide you through the rockpools as part of the Shoresearch Project

Dates

From:

25 Oct 2021

Open 13:30 - 15:30

Children's Halloween Disco at The Royal British Legion on Monday 25th October from 7pm. Fancy dress and party games!


Come and see Peppa Pig at Lappa Valley. Tuesday 26th  & Wednesday 27th October 2021

Venue

Dates

From:

26 Oct 2021

to

27 Oct 2021

On Wednesday, October 27th the theme park is staying open late to stage its famous Halloween Tricks & Treats Firework Spectacular.

Newquay Stage Company are proud to bring to the stage another original production:  'Sing to Me'! 27th-30th October 2021. Lane Theatre. Tickets £12.00

Dates

From:

27 Oct 2021

to

30 Oct 2021

Open 19:30 - 10:00

Having had to postpone our 90th Anniversary event due to extended Covid restrictions and inclement weather on the Sunday, it's now time to move on and bring you up to date on future plans and shows.


Dates

From:

27 Oct 2021

to

30 Oct 2021

From:

5 Nov 2021

From:

12 Nov 2021

From:

19 Nov 2021

From:

20 Nov 2021

From:

16 Dec 2021

Join us on Thursday 28th for our Terror Trail and Horror Emporium!

Dates

From:

28 Oct 2021

Open 17:00 - 19:30

Thursday 28th October - Kids' Monster Ball Disco + Dinner

Dress up in your favourite Halloween costume and join them for a fun Monster Ball in The Kitchen By The Beach restaurant - £10 per child including a Spooky Monster dinner meal.

Dates

From:

28 Oct 2021

Open 17:00 - 20:00

There will be music, party games, competitions, trick or treat & overall fun for all ages.