Events
This page is always updated with the most exciting events happening in and around Newquay, making it easy for you to plan your days whilst you are here.
Click on the 'highlight' events above for more information, or alternatively you can use the search bar to find events on specific dates. You can even search all of the events happening in and around Newquay throughout the year!
Beach Events
Newquay is surrounded by twelve beautiful beaches, hence boasting some of the best and most impressive settings for events that you have ever laid your eyes on. Known as the surfing capital of England, it comes as no surprise that many of the surf events and adrenaline water sports championships, such as Boardmasters, English National Surfing Championships, Thundercat World Series and the Jet Ski Rider World championships are all held in Newquay.
Having the beaches as such a stunning back drop makes it easy to host amazing and memorable music events. I mean, just imagine having the sand between your toes, drink in hand, listening to live music, whilst the sun is setting in the back ground… Well here in Newquay we feel so lucky that this is a regular occurrence - especially throughout the summer!

Newquay Town Events
Although, not all of these events happen on the beach. There are many events that happen in and around the town centre, for instance the Newquay Carnival. Picture a week long of family events which usually takes place in July. Or New Years Eve celebrations where people dress up in fancy dress and meet at Central Square for the count down to begin. There's also Newquay's famous Zombie Crawl where the children (and some adults too!) dress up in their favourite Halloween costumes and stop at various locations in the town for spooktacular fun.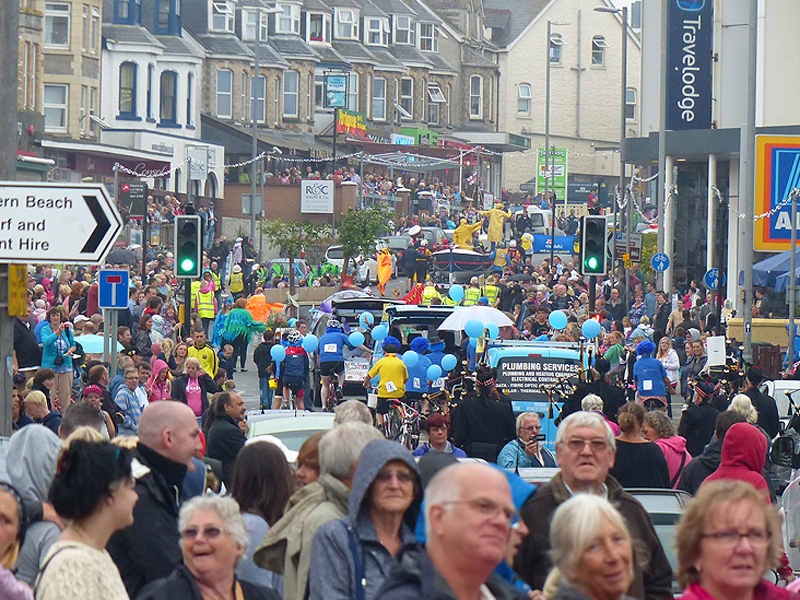 One of Cornwall's Best Event Venues
Throughout the year Newquay also plays host to some of Cornwall's largest events. From very popular festivals, such as the Newquay Fish Festival where many famous and local chefs show off their expertise in cooking demonstrations, to the big sporting events like Polo on the Beach or the Surf 7's Rugby Tournament. With such a wide choice of events happening all year round we are confident that you will find something for all age groups and interests.

Buy Newquay Events Tickets
For some of the events you can pre-purchase tickets online through this website. For tickets which are available please click here.
Newquay Events 2020
To see all of the events that are happening throughout the year please scroll down, or alternatively you can return to the main 'What's On' to view the event calendar for specific dates.

Number of results:
Number of results: 10
Get ready to join Zog on his latest forest adventure with a brand-new family activity trail and free interactive app!


Dates

From:

30 Jan 2023

to

31 Dec 2023

For 3 jam-packed days at the beginning of June each year, enjoy the best in entertainment, shopping, competition, and of course, food and farming.

Dates

From:

8 June 2023

to

10 June 2023

We're very excited to welcome back The Mum Club to The Boathouse this June for their second Mum's Night Out with us.

Dates

From:

9 June 2023

Open 19:30 - 22:00

Just turn up to join in ~ all equipment is provided ~ under 18's must be accompanied by an adult ~ dogs very welcome!

Dates

From:

11 June 2023

From:

9 July 2023

From:

9 Aug 2023

From:

2 Sept 2023

From:

1 Oct 2023

From:

26 Nov 2023

From:

16 Dec 2023

to

26 Dec 2023

Join Team Rainbow. Calling all the fun seekers, memory makers and smile creators!

Cilla & the Swinging 60s is a highly entertaining show, stylishly celebrating the life & music of the legendary Cilla Black as well as a handpicked selection of her well known contemporaries including Dusty Springfield, Lulu, Petula Clark, The Beatles and many more

Dates

From:

5 July 2023

Open 19:30 - 21:45

This summer, Lane Theatre plays host to a spectacular summer residency of live music on Mondays, Wednesdays and Thursdays.

Dates

From:

24 July 2023

to

31 Aug 2023

A celebration of the work of the RNLI with demonstrations, rescues, a chance to board the boats and meet the RNLI volunteers. Great day for all the family.


Boardmasters 9th – 13th August 2023

Venue

Dates

From:

9 Aug 2023

to

13 Aug 2023

Welcome to Newquay's Christmas Lights Switch On 2023!