Events
This page is always updated with the most exciting events happening in and around Newquay, making it easy for you to plan your days whilst you are here.
Click on the 'highlight' events above for more information, or alternatively you can use the search bar to find events on specific dates. You can even search all of the events happening in and around Newquay throughout the year!
Beach Events
Newquay is surrounded by twelve beautiful beaches, hence boasting some of the best and most impressive settings for events that you have ever laid your eyes on. Known as the surfing capital of England, it comes as no surprise that many of the surf events and adrenaline water sports championships, such as Boardmasters, English National Surfing Championships, Thundercat World Series and the Jet Ski Rider World championships are all held in Newquay.
Having the beaches as such a stunning back drop makes it easy to host amazing and memorable music events. I mean, just imagine having the sand between your toes, drink in hand, listening to live music, whilst the sun is setting in the back ground… Well here in Newquay we feel so lucky that this is a regular occurrence - especially throughout the summer!

Newquay Town Events
Although, not all of these events happen on the beach. There are many events that happen in and around the town centre, for instance the Newquay Carnival. Picture a week long of family events which usually takes place in July. Or New Years Eve celebrations where people dress up in fancy dress and meet at Central Square for the count down to begin. There's also Newquay's famous Zombie Crawl where the children (and some adults too!) dress up in their favourite Halloween costumes and stop at various locations in the town for spooktacular fun.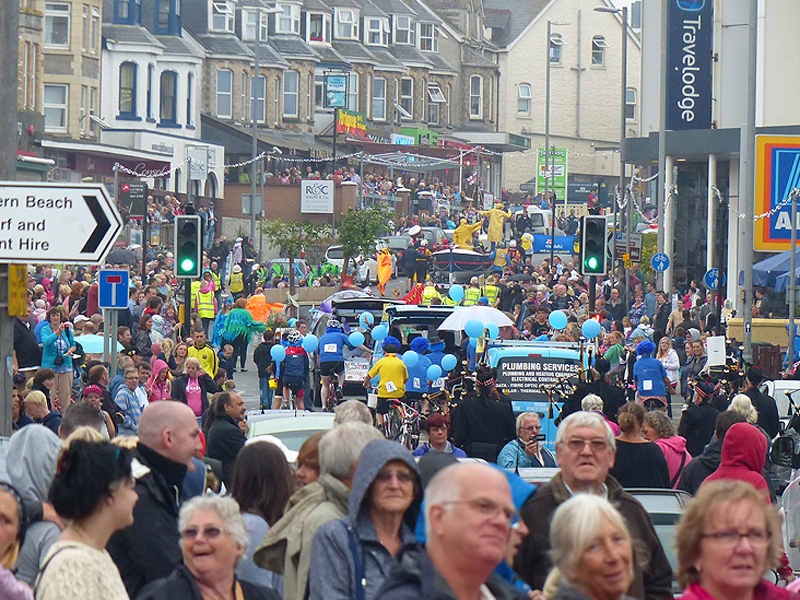 One of Cornwall's Best Event Venues
Throughout the year Newquay also plays host to some of Cornwall's largest events. From very popular festivals, such as the Newquay Fish Festival where many famous and local chefs show off their expertise in cooking demonstrations, to the big sporting events like Polo on the Beach or the Surf 7's Rugby Tournament. With such a wide choice of events happening all year round we are confident that you will find something for all age groups and interests.

Buy Newquay Events Tickets
For some of the events you can pre-purchase tickets online through this website. For tickets which are available please click here.
Newquay Events 2020
To see all of the events that are happening throughout the year please scroll down, or alternatively you can return to the main 'What's On' to view the event calendar for specific dates.

Number of results:
Number of results: 32
, currently showing 1 to 20.
Welcome to the Queen's Jubilee Storytrail! If this is your first of our QR code / Augmented Reality trails please expand and read the 'How to Play' below to get started. 

Dates

From:

30 Apr 2022

to

12 June 2022

Type

Type:

Jubilee events

No Platinum Jubilee party is complete without a photobooth to immortalise the Royal celebration and the Queen's love of pearls. So, replica pearls and crown on, sceptre in hand, strike a regal pose in our 'Betty Booth'

Venue

Dates

From:

17 May 2022

to

5 June 2022

Type

Type:

Jubilee events

The Queen has maintained a lifelong love affair with pearls and is rarely seen without them. To celebrate 70 years of HRH Queen Elizabeth II's reign, we've created an exhibition of seven replica pearl necklaces that she's worn over the decades and everyone is invited to try them on.

Venue

Dates

From:

17 May 2022

to

5 June 2022

RNLI Lifeboats 'Yellow Welly Trail' around Newquay Harbour from 28th May to 1st June. 

Dates

From:

18 May 2022

to

1 June 2022

Type

Type:

Food and Drink

There's a mouth watering set of traders lined up and ready to tickle Cornwall's taste buds! Running from 2nd June - 5th June 2022, over 25 of the best local and national street food traders will be ready to serve the hungry residents and holiday makers of Newquay.

Dates

From:

2 June 2022

to

5 June 2022

Type

Type:

Jubilee events

More than 2,022 beacons will be lit throughout the United Kingdom, Channel Islands, Isle of Man and UK Overseas Territories, and one in each of the capital cities of Commonwealth countries in recognition of The Queen's long and selfless service.

Type

Type:

Jubilee events

Roll up for a picnic extravaganza, where the tables, space and entertainment are provided - you just need to bring yourselves!! 

Type

Type:

Jubilee events

Treloggan Residents Association invites you to the Jubilee Big Lunch on Friday 3rd June between 12noon and 3pm on Doorstep Green. 

The SkyBar will be at Watergate Bay, Cornwall - Friday 3rd, Saturday 4th & Sunday 5th June

Dates

From:

3 June 2022

to

5 June 2022

Type

Type:

Jubilee events

Local musicians will be sharing their music throughout the day. 

Type

Type:

Jubilee events

Join Newquay Lions to celebrate the seven decades of the Queen's reign on Saturday 4th June at 6pm for the Queens Paltinum Jubilee Parade from Fore Street car park heading towards Narrowcliff. 

Type

Type:

Jubilee events

We're inviting the Newquay Community to come together for The Big Jubilee Lunch at Crantock Street Community Garden as part of the official celebrations for HM The Queen's Platinum Jubilee!

Dates

From:

4 June 2022

Open 12:00 - 15:00

Type

Type:

Jubilee events

Saturday 4th June you are invited to join Trenance Cottages to enjoy 'A Royal Jubilee Funday' from 11am – 4pm.

Type

Type:

Jubilee events

A place for the community to bring their own picnic lunch and enjoy live music and garden games.

Type

Type:

Participatory Event

Make Bank Holiday plans by rounding up your favourite people to come and join us for the ultimate Sunday Brunch.

Dates

From:

5 June 2022

From:

28 Aug 2022

Cornwall's most colourful 5k is back and better than ever! Join Children's Hospice South West on Saturday 18th June 2022 for a day of rainbow fun. You can run, skip, jog or walk through the different colour paint stations - it's up to you.  We can't wait to see all your smiley faces covered in the…

Drag Duo Marilyn Fockhard and Amanda Fockhard are so privileged to bring this amazing new show to you!! Join us for ABSOLUTELY DRAGULOUS - THE 2022 TOUR

Dates

From:

24 June 2022

Open 07:00 -

The opening weekend of Newquay Town Council's Newquay Sessions will take place on Saturday 2nd July from 1:00pm – 9:00pm and Sunday 3rd July from 12 noon at the Killacourt in Newquay.

Dates

From:

2 July 2022

to

3 July 2022

If your little ones are big fans of Peppa, and love to jump around in muddy puddles, come along to The Venue to see her in person!

Celebrating 20+ years of dance music anthems, brought to life by the raw power of a full orchestra to the pulse of a world renowned DJ. Classic club tracks performed live on the beach like you've never heard them before, accompanied by a dazzling light show... The party of the summer!