St Piran's Day
St Piran's Day (or Gool Peran in Cornish) is the national day of Cornwall. The name derives from one of the patron saints of Cornwall, Saint Piran, who was also the patron saint of tin miners.
The History of St Piran's Day
Legend tells that Piran was a 5th Century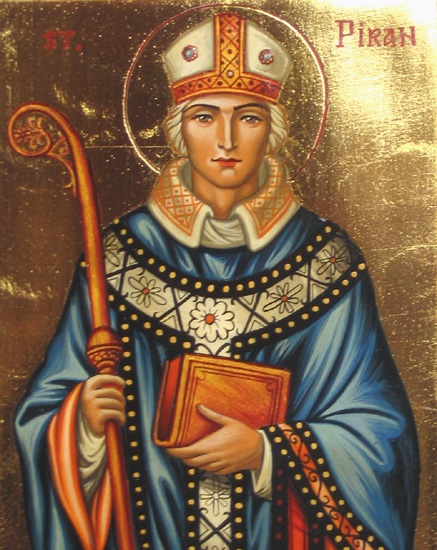 Cornish Abbot originally from Ireland. The Irish King was suspicious of his powers and cast him off a cliff and into the sea tied to a millstone. Piran survived the stormy seas and washed up in Perranporth, Cornwall, where he built an oratory to promote Christianity, and adopted disciples who were said to be a badger, a fox and a bear.
Piran then became famous for his accidental discovery of tin. A black stone on his fireplace got so hot that a white liquid leaked out of it, collecting in the shape of a cross. This became the first tin smelting and the St Piran's Flag (the white cross on the black background which is now the Cornish flag). This discovery earned Piran the title of 'Patron Saint of Tinners,' as tin mining then became the backbone of Cornish Industry.
According to legend, Piran was fond of a drink or two, but despite this he lived to the ripe old age of 206!
St Piran's Day Celebrations Today
In the late 19th and early 20th century Celtic revivalists sought to provide the people of Cornwall with a national day similar to those in other nations. Since the 1950s St Piran's Day celebrations became increasingly popular and since the start of the 21st century almost every Cornish community holds some sort of celebration to mark the event! The Saint Piran's Flag is also seen flying throughout Cornwall to this day. This year St Piran's Day will be held on the 5th March 2019, and will see many exuberant celebrations take place all over Cornwall to honour Saint Piran.
St Piran's Day in Newquay 2019
Newquay will play host to lots of Cornish celebrations this year! You can see the itinerary so far below:
Leading up to St Piran's Day
Friday 1st – Sunday 3rd March
• Exhibition 'Old Cubert' at Cubert Methodist Church with exhibits by local history enthusiasts and Newquay Old Cornwall Society.
Saturday 2nd March
• 2.00pm 'Illustrated Talk – Old Cubert' by NOCS at Cubert Methodist Church
• 4.00pm 'Old Newquay in Photos' by NOCS at The Cribbar
• 7.30pm 'Shout for St Piran' at Cribbar Inn with "Oll an Gwella", "Newquay Rowing Club Singers", "Alan Thain", "Fiddle me Timbers" and "Stamp and Go".
Sunday 3rd March
• 11.00am 'St Piran's Churches Together' Service at St Columb Minor Parish Church, with "Newquay Rowing Club Singers" and with Cornish Language (Kernewek + translations) in the service.
• 2.30pm 'Newquay As 'Twas' at Trenance Heritage Cottages - Chris Blount plays Newquay memories from his recorded archive.
Monday 4th March
• 7.00pm 'St Piran's Eve Concert' at St Michaels Church, featuring top International Celtic Duos "Davey & Dyer" and "MacQuarrie & Toms" with "Oll an Gwella"
Tuesday 5th March
• 4.00pm 'St Piran's Day Parade' (from Victoria Hotel to Cribbar in Gover Lane). Led by Cornish Piper Merv Davey, with the Gorsedd's Grand Bard (Elizabeth Carne), and Newquay Old Cornwall Society, supported by Schools, Councillors, 'Cornwall Pride' organisers and other community, music & dance groups. All welcome!
• 4.30-5.30pm 'Troyll Yowynk An Kriber' at Cribbar, a Cornish Ceilidh for Schools with performances of songs and dancing from local schools.
• 7.00pm 'Troyll Klub Revya' at Newquay Rowing Club with contributions comprising Cornish Singing, Cornish Dancing and Cornish History
Saturday 9th March
• 11.00am-1.00pm 'St Piran's Food Day' at the Griffin Hotel – Celebration of local Cornish Produce with Cooking Demonstrations and Pasty Making Competition (and auction), Cornish Singing + input from local WI groups and Schools.
In addition to the above, both Newquay Library and Newquay Heritage Museum will be offering exhibitions and displays throughout the Festival.
The Newquay St Piran's Festival Co-ordinating Group are delighted to confirm that with support from Newquay BID, Newquay TC, Newquay Lions and the 11th January 'Shout', all the events offered are "FREE ENTRY but RETIRING COLLECTION" with all money raised during the Festival being used to support local Cornish Charities.

Newquay - in the heart of Cornwall, celebrating all things Cornwall with one and all.