Eat Out to Help Out
Eat Out to Help Out offers diners 50% off meals when eating in from Monday to Wednesday throughout August (3rd to 31st August 2020). The discount is capped at £10 per head. Discounts will be on food and non-alcoholic drinks, and apply to both adults and children.
In Newquay we are currently aware of the following places to eat who have signed up to the Eat Out to Help Out scheme.
In almost all cases you will need to book ahead. We are adding new places all the time so check back to see who has signed up:
CLICK ON THE 'READ MORE' TAB BELOW FOR CURRENT LIST:
The Cornish Pantry at Cornwall Gold & Tolgus Mill. New Portreath Road, Portreath, Nr Redruth, Cornwall, TR16 4HN Tel: 01209 203280
With its award winning chefs, The Cornish Pantry doesn't disappoint with its imaginative menu, tasty Cornish products sourced within 20-mile and all round great value for money. From a full Cornish breakfast served on a traditional miners shovel, to our famous pasty platter, it's always a good time to visit the Cornish Pantry. Contact us on 01209 203284.
Bowgie Inn. West Pentire, Crantock, Newquay, Cornwall, TR8 5SE. Tel: 01637 830363
Situated in the heart of the West Pentire Headland, sandwiched between the unspoiled beaches of Crantock and Porth "Polly" Joke, the Bowgie Inn Pub is the perfect location in which to unwind after exploring the beautiful, natural surroundings.
The Lewinnick Lodge. Pentire headland, Newquay TR7 1QD. Tel: 01637 878117.
Escape to the edge of the Atlantic at Lewinnick Lodge. Nestled amongst the craggy cliffs of the stunning Pentire Headland, the Lodge boasts a stylish bar and brasserie that's long been a favourite with locals and those in the know.
Rick Stein Fistral: Fistral Beach Complex, Headland Rd, Newquay TR7 1HY. Tel: 01637 303103
Rick Stein Fistral overlooks the beach serving fish & chips as well as flavours from India and the Far East in their curry kitchen. Cod, haddock and lemon sole all feature as well as fish chilli burgers and Rick's famous homemade tartare sauce, aioli and authentic curry sauce.
Blue Reef Aquarium. Newquay, Towan Promenade, Cornwall, TR7 1DU 01637 872578
Blue Reef is part of an exciting new generation of aquarium attractions designed to inspire deeper understanding and appreciation of the natural world. Situated on Towan Beach in the centre of Newquay, opposite the famous island, the Newquay Blue Reef Aquarium is a stunning visit.
Senor Dicks Mexican Restaurant, East Street, Cornwall, TR7 1DB. Tel: 01637 859295
This unique venue was established over ten years ago in the heart of Newquay, and is now Cornwall's premiere Mexican restaurant and is highly regarded as the local's choice. We offer a huge range of tantalising Mexican food as well as a range of vegetarian dishes.
Hotel Victoria, East Street, Cornwall, TR7 1DB
The Esplanade Hotel. The Esplanade Hotel, Esplanade Road, Cornwall, TR7 1PS
Newquay Bay View Resort. Newquay View Resort, Trevelgue Rd, TR8 4AS
Hotel Bristol (Newquay) Ltd. Narrowcliff, Cornwall, TR7 2PQ
Hendra Holiday Park. Hendra Holiday Park, Lane, Cornwall, TR8 4NY
Dairyland Farm Park. Tresillian Barton, Summercourt, Cornwall, TR8 5AA
Newperran Holiday Park. Hendra Croft, Cornwall, TR8 5QJ
---

Steam Bar & Restaurant: 31-35 Cliff Rd, Newquay TR7 2NE. Tel: 01637 872010
Griffin Inn: Cliff Rd, Newquay TR7 1SP. Tel: 01637 874067
Wetherspoons Towan Blystra: 12-16 Cliff Rd, Newquay TR7 1SG. 01637 852970
Concho Lounge: 16 Bank St, Newquay TR7 1AY. Tel: 01637 871707
Central Inn: 11 Central Square, Newquay TR7 1EU. Tel: 01637 873810
Walkabout: The Crescent, Newquay TR7 1DS. Tel: 01637 853000
Slug & Lettuce: 11-19 Gover Ln, Newquay TR7 1ER. Tel: 01637 800564
Sailors Arms: 15 Fore St, Newquay TR7 1HB. Tel: 01637 872838
Red Lion: N Quay Hill, Newquay TR7 1HE. Tel: 01637 872195
Burger King: 4-5 Station Approach, Cliff Rd, Newquay TR7 2NG. Tel: 01637 872100
Costa Coffee. 31 Bank St, Newquay TR7 1DH. Tel: 01637 859128
Subway. 59 Bank Street, Cornwall, TR7 1DL
Bunters Cafe/Restaurant, 15C East Street, Cornwall, TR7 1DN
Niles bakery ltd. 42 Bank Street, Cornwall, TR7 1AX
Smoke 'n' Flames Burger House. 60 East Street, Cornwall, TR7 1BE
Miso Miso. 19 Bank Street, Cornwall, TR7 1DH. Senor Dicks Mexican Restaurant
Bertie O'Flannigans Irish Bar, East Street, Cornwall, TR7 1DB
The Griffin Hotel, 3/5 cliff rd, Cornwall, TR7 1SP
The Cod End 9 Cliff Road, Cornwall, TR7 2NE
Burger King Station Approach, Cornwall, TR7 2NG
Cafe Cloud 54 Fore Street, Cornwall, TR7 1LW
The Slope Beach Bar & Kitchen Great Western Beach, Cliff Road, Cornwall, TR7 2NE
Butchers Bistro. 26 Cliff Road, Cornwall, TR7 2ND
Kahuna restaurant, 4-6 Station approach, Cornwall, TR7 2NG
The Maharajah. 39 Cliff Road, Cornwall, TR7 2NE
Elseafood. South Quay Hill, Cornwall, TR7 1HT
The Wild Food Kitchen. South Quay Hill, Cornwall, TR7 1HT
El huichol. South Quay Hill, Cornwall, TR7 1HT
The Harbour Fish And Grill. The Harbour Hotel, North Quay Hill, Cornwall, TR7 1HF
Lakeside Cafe & Restaurant. Lakeside Cafe, Trenance Lane, Cornwall, TR7 2HX
Colonial. Tolcarne Beach, Narrowcliff, TR7 2QN
Sandy lodge hotel. 6-12, Hilgrove Road, Cornwall, TR7 2QY
Carnmarth Hotel. 22, Headland Road , Cornwall, TR7 1HN
Kilbirnie hotel. Kilbirnie Hotel , Cliff road, Cornwall, TR7 2RS
The Tavern Inn. The Tavern Inn , Mellanvrane Lane, Cornwall, TR7 2LQ
The Fistral Stable. Fistral Beach, Headland Rd, TR7 1HY
Fistral beach bar. HEADLAND ROAD, CORNWALL, TR7 1HY
The Fish House. Unit 5 International Surf Centre, , Fistral beach, Headland Road, Cornwall, TR7 1EW
The Headland Hotel Co Ltd. Headland Road, Cornwall, TR7 1EW
Craig's cafe. Unit 11c, Treloggan Industrial Estate, Cornwall, TR7 2SX
The Fistral Beach Hotel. Fistral Beach Hotel, Esplanade Road, Cornwall, TR7 1PT
McDonald's Restaurant Newquay. Treloggan Road, Cornwall, TR7 2BB
Pentire Hotel. Pentire Hotel, Pentire Avenue, Cornwall, TR7 1NU
The Mermaid Inn. Alexandra Road, Cornwall, TR7 3NB
Sands Resort Hotel. Sands resort hotel, Watergate Road, Cornwall, TR7 3LX
Shiva Cafe. 1 Chi Kresennik An Shoppa, Stret Kosti Veur Woles, Cornwall, TR8 4GZ
Farmers Arms. The Farmers Arms, Church Street, Cornwall, TR7 3EZ
CBay Cafe. Crantock Bay Apartments, West Pentire Crantock, Cornwall, TR8 5SE
Trewlawny Taverns Ltd. 2 North Way, Quintrell Downs, Cornwall, TR8 4LA
The Two Clomes. Two Clomes. Quintrell downs, Cornwall, tr8 4pd
The Anvil Restaurant, Holywell Road, Cornwall, TR8 5EQ
Woodys. Holywell bay fun park, holywell bay, cornwall, tr8 5pw
Whistlestop cafe. St. Newlyn East, Cornwall, TR8 5LX
The Treguth Inn. The Treguth Inn, Holywell Road, Cornwall, TR8 5PP
The Pheasant Inn. Churchtown, St. Newlyn East, Cornwall, TR8 5LJ
Catch Seafood Bar & Grill. Mawgan Porth, Cornwall, TR8 4BA
Walker Restaurants - The Club. Club Bar, Monkey Tree Holiday Park, Cornwall, TR8 5QR
Walker Restaurants - Summer Nights. Summers Nights-Monkey Tree Holiday Park, Hendra Croft, Scotland Rd, Rejerrah, Cornwall, TR8 5qr
The Kitchen by the Beach. Mawgan Porth, Cornwall, TR8 4BD
The Smugglers Inn, Carloggas, Cornwall, TR8 4EQ
Bay Tree Restaurant. Goonhavern Garden Centre, Newquay Road, Cornwall, TR4 9QQ
Darwin piran Meadow limited. Piran Meadow Resort, Whitecross, Cornwall, TR8 4LW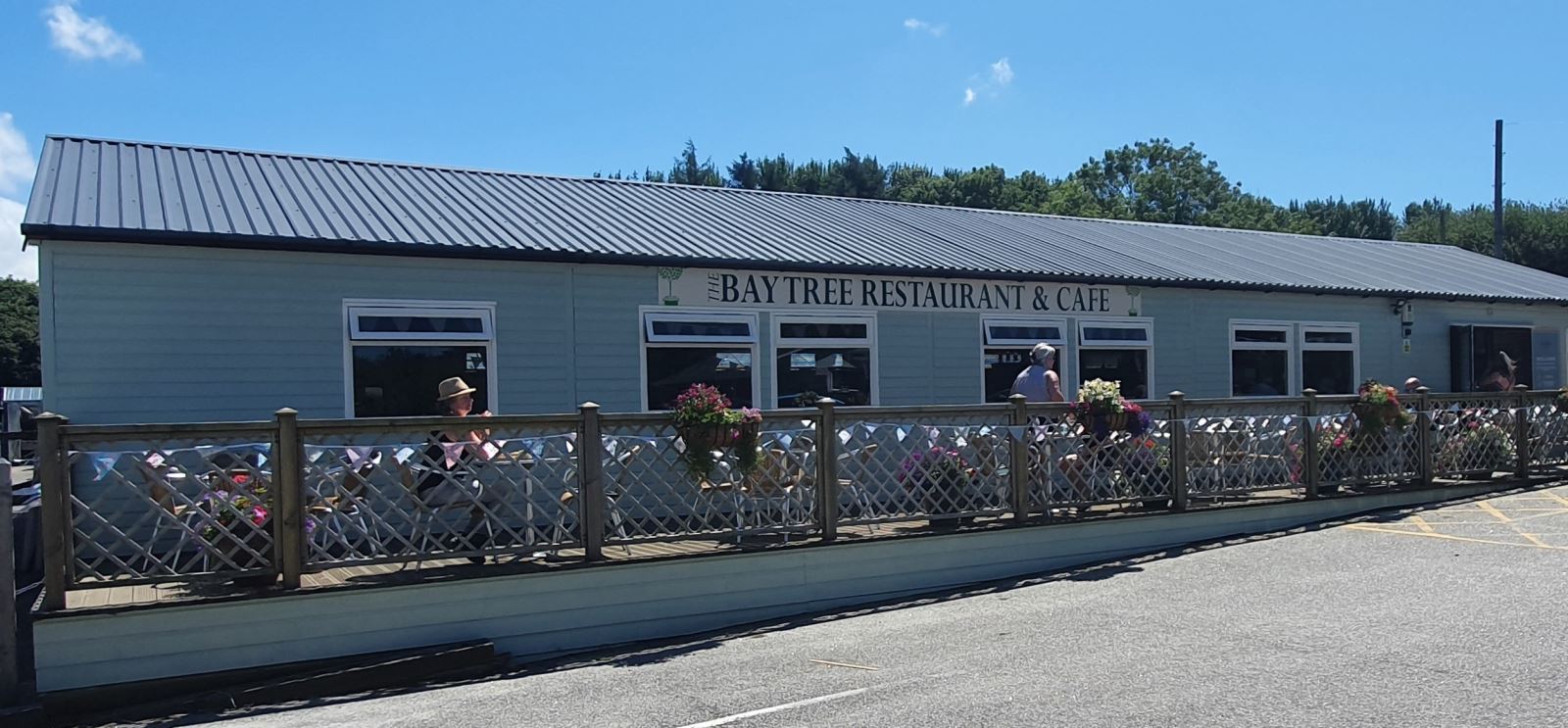 Bay Tree Restaurant: Newquay Rd, Goonhavern, Truro TR4 9QQ Tel; 01872 571611