Accessibility
Overview of Newquay's Accessibility
Newquay is a traditional Cornish seaside town situated on the North rugged coast with a harbour and golden sandy beaches. The town is surrounded by cliffs overlooking Newquay Bay and the absolute town centre itself is fairly flat and there are pedestrianised areas, pedestrian crossings and dropped curbs.
On this page you'll find an overview of accessibility in Newquay. You can also click on the links below to find out more about beach accessibility, scenic trails that are accessible for wheelchair and mobility scooter users and all about wheelchair hire with Visit Newquay.
Visit Newquay Tourist Information Centre Accessibility
Access to the Visit Newquay Tourist Information Centre: The Visit Newquay Tourist Information Centre is situated in the Municipal Building on Marcus Hill, TR7 1BD. The office entrance is located on a small flat area reached from the pavement by a gentle slope or several steps. The doorway is single width which is fine for wheelchairs and can be accessed by mobility scooters.
Access to our Tourist Information - Shallow slope to the left of the entrance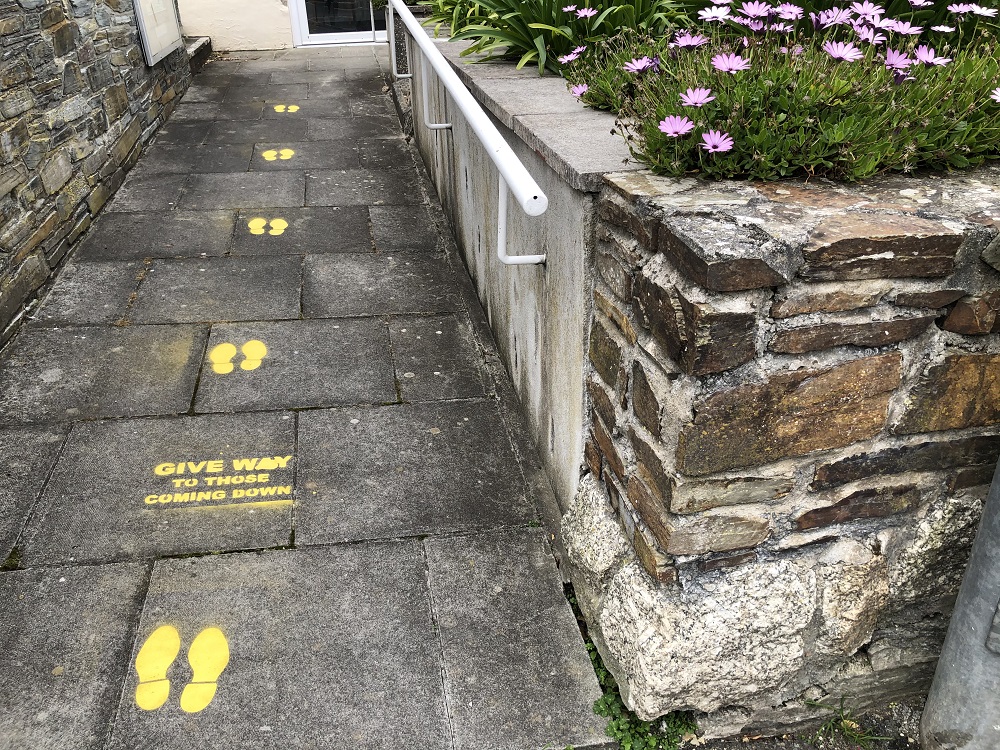 Access within the Tourist Information:
The shop is open plan with easy access for wheelchairs, powered wheelchairs and mobility scooters to move around. We have low desks ideal for visitors in wheelchairs and PC screens that can be turned to the customer for the easy reading of information. Much of the retail stock is accessible from a wheelchair but there are always staff on hand to reach any higher items.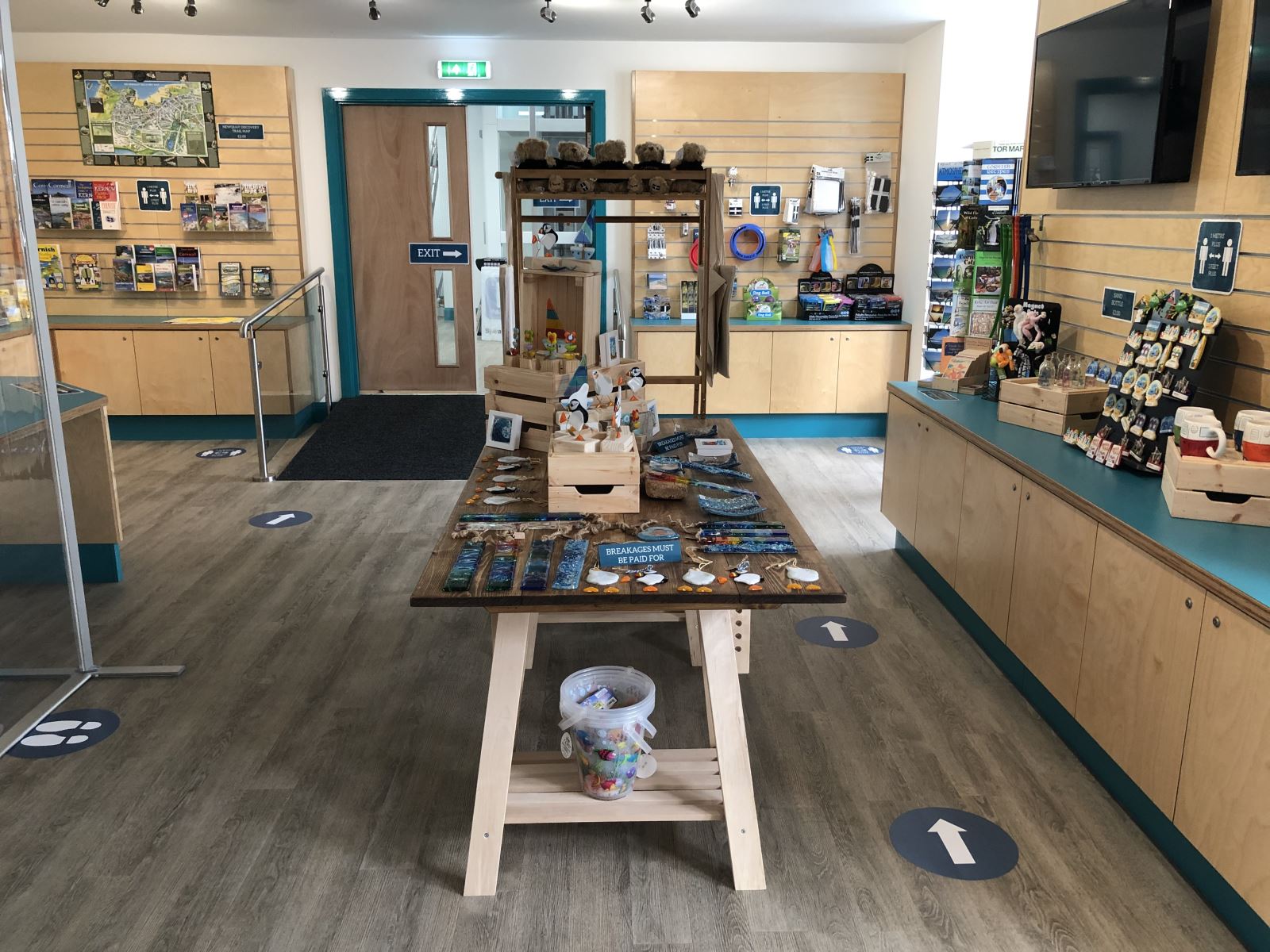 Disabled Toilets: Unfortunately the Visit Newquay Tourist Information Centre has no toilets available for use by the general public. The nearest Disabled Toilet is located approximately 100metres (about 100yds) from the Visit Newquay Tourist Information Centre.
Hearing Impaired Customers: There are no hearing loops in the Visit Newquay Tourist Information Centre but all service dogs are welcome. However, staff are always available to help and a substantial amount of information is available in print.
We use computers to find information for customers but are also able to run dual computer screens enabling the customer to easily see our screens. This has proved invaluable in non verbal communication and relaying information to those hearing impaired.
Visually Impaired Customers: The signs are not written in Braille but staff are more than happy to assist visitors with visual impairments. All dogs, and therefore all guide dogs are welcome in the Visit Newquay Tourist Information Centre. With the dual screen ability of our computers it does mean we can display information and zoom in for detail etc for those partially sighted.
Nearest Car parking: The Visit Newquay Tourist Information Centre does not have a car park. There is a public area on the other side of the road that can be used to pick up or drop off, including the wheelchairs which are for hire. The nearest car park is the Cornwall Council car park, The Manor on St Michael's Road, TR7 1BD. The Manor car park is a pay on leave car park with several disabled parking bays. Blue badge holders must pay the normal parking fees unless the vehicle is registered under Cornwall Council's exemption scheme or the vehicle is especially adapted for the benefit of the driver. Please remember that you do need to register your car with Cornwall Council beforehand. (Tel: 0300 1234 222) https://www.cornwall.gov.uk/ as the pay on leave car parks will need to recognise your car registration. There is one car entrance to the car park on St Michael's Road side of the car park plus two pedestrianised slopes to the car park at either end of the car park on the opposite, Manor Road, side. To visit the Visit Newquay Tourist Information Centre you can leave the car park by the car entrance on St Michael's road, turn left continuing on St Michael's Road for about 50m (50yds) until you reach Marcus Hill then turn left down Marcus Hill with the wall on your left, finally turning left again into the slope access immediately after the wall ends. Alternatively by going down the East side slope you can reach the Visit Newquay Tourist Information Centre by turning right and going up the hill.
Welcome for All: All staff have taken part in this customer service scheme.
Music Free Environment: The Visit Newquay Tourist Information Centre does not have background music or other intrusive background noises.
Wheelchair Hire: We do offer wheel chair hire service. Please see more details below.
Visit Newquay Street Map
Visit Newquay has a FREE Newquay Map available showing all the beaches, toilets, car parks and various other places of interest around the town. The map is available from the Visit Newquay Tourist Information Centre or if you would like one to be sent to you before your holiday then please give them a call where they will be happy to send you a copy – why not ask for the FREE Visit Newquay Destination Guide too! You can order your Visit Newquay Map and Destination Guide by clicking on the link below.
Beach Accessibility
The beaches have varying levels of accessibility- so please check details about each beach before visiting them. As a guide the beaches nearest the town centre are accessed by both steps and roadways. The most central beach, Towan Beach has a fairly steep roadway, whilst the roadways down to the Harbour, Tolcarne Beach and Great Western are a little steeper. Porth Beach is one of the most accessible beaches with a public car park on the end of the beach nearest Newquay and a shallow concrete slope down to the beach at the other. The popular surfing beaches Fistral Beach and Watergate Bay have car parks adjacent to them with access by shallow roadways. Lusty Glaze and Whipsiderry Beach only have access via steep steps.
Beach Wheelchair Hire
In normal times Fistral Beach and Towan Beach offered a beach Wheelchair Hire Service.
Trenance Gardens & Boating Lake Valley
Moving away from the main seafront, the town becomes hilly with some steep roads. Beyond that the hill gives way to one of Newquay's hidden gems - the very beautiful Trenance Valley. Here you will find Trenance Leisure Park, Newquay Zoo, Waterworld Leisure Centre, Trenance Gardens and Boating lake. Trenance Gardens is on the flat with concrete footpaths and it encircles the entire Boating Lake, a very scenic area. There are car parks available at Trenance Leisure Park, next to Newquay Zoo and Waterworld Leisure Centre.
Toilets
Most Public Toilets in Newquay are run by Newquay Council and each toilet block has an accessible toilet. Please note that Newquay does not operate a RADAR key scheme or anything similar. A Disabled Toilet is located approximately 100 metres (100yds) from the Visit Newquay Tourist Information Centre. Unfortunately the Visit Newquay Tourist Information Centre has no toilets available for use by the general public. The public toilets currently charge 20p, including the disabled ones. All public toilets in Newquay are marked on the free Visit Newquay Map.
Parking
Newquay has a mixture of privately owned car parks and car parks run by Cornwall County Council (our unitary authority). Private car parks have rules individual to each car park so attention must be given to all notices and information shown there. Blue Badge holders can park for up to 2 hours on roads as long as they are not causing any obstruction, are in loading bays or private permit areas. Badges must be displayed clearly and include the clock to show when parking started.
Please note that Newquay has several disabled parking bays for general use on Grovenor Avenue, Beachfield Avenue and at Newquay Harbour. You may also encounter isolated bays on some other roads that have been purchased for the use of a disabled resident who lives on that road.
Cornwall Council owned car parks allow Blue Badge holders to park for free if they have a vehicle that is adapted or they are registered on the Cornwall Council exemption scheme. The scheme normally applies to vehicles that are tax exempt. To register for this scheme you are required to submit a application in advance of your visit, for more information please click here or call 0300 1234 222. Please note this contact number is only available during normal office hours.
Please note. The Visit Newquay Tourist Information Centre no longer issues any kind of car park passes or the Rover seven day tickets.
For full details on parking in Newquay and Cornwall, or to register your car for free parking (conditions apply) then please visit Cornwall Council's website here:
https://www.cornwall.gov.uk/transport-and-streets/parking/disabled-parking/
Public Transport
Buses: The main bus station in Newquay is on Manor Road and has accessible public toilets about 200 Metres (~200 yards) from the bus enquiry office. The main bus station is a similar distance from the Visit Newquay Tourist Information Centre. First Kernow and Transport for Cornwall operate the main bus services to and from Newquay. It would be advisable to ensure a suitable bus is running on the journey you require.

Rail: Newquay Rail station is located on Cliff Road. It is a branch line with no ticketing services in the winter and limited ticketing services in the summer. There is an accessible toilet located there. The waiting area is directly accessible from the car park side with step free access to the single platform.
For further information please contact 03457 000 125.
Road Train: Newquay has a privately operated road train which is a good way of seeing the town. It also visits the towns surrounding areas such as Trenance Leisure Park, Trenance Gardens and Boating Lake. As the open sides allow access for most wheelchairs this can be an ideal way to reach various interesting parts of the town.
Taxi: Newquay has many Taxi companies running vehicles with various levels of accessibility.
Wheelchair Hire
Visit Newquay Tourist Information Centre has several standard sized, collapsible wheelchairs available for hire. Both large and small wheels. They are available on a first come, first served basis but can be pre-booked.
Please call 01637 838516 or email newquay.tic@newquay.town The charge is £7.00 per day or £35 per week. (Card or Cash) but also requires a £50 deposit (cash only).
The deposit can only be cash and is returned upon return of the wheelchair.
Wheelchairs can be collected and returned at the Visit Newquay Tourist Information Centre during normal opening hours:
SUMMER: Mon - Fri: 9.00am to 5.30pm, Sat/Sun & Bank holidays 10.00am to 4.00pm
WINTER: Mon - Fri: 9.00am to 5.00pm, Sat/Sun & Bank holidays 10.00am to 3.00pm.
Please check our opening hours by calling or emailing us as on occassion times may vary.
Visit Newquay Tourist Information Centre does not hire Mobility Scooters, Powered Wheelchairs or any other equipment.
Further Information
If you have a particular question to anything we haven't covered in the above or would like to know more about Newquay please contact us on the below details.
By telephone: 01637 838516
By email: newquay.tic@newquay.town
By post: Visit Newquay Tourist Information Centre, Municipal Buildings, Marcus Hill, Newquay, Cornwall. TR7 1BD
Last Updated 20th June 2022