See Newquay's Top Sights in a Day!
27th March 2018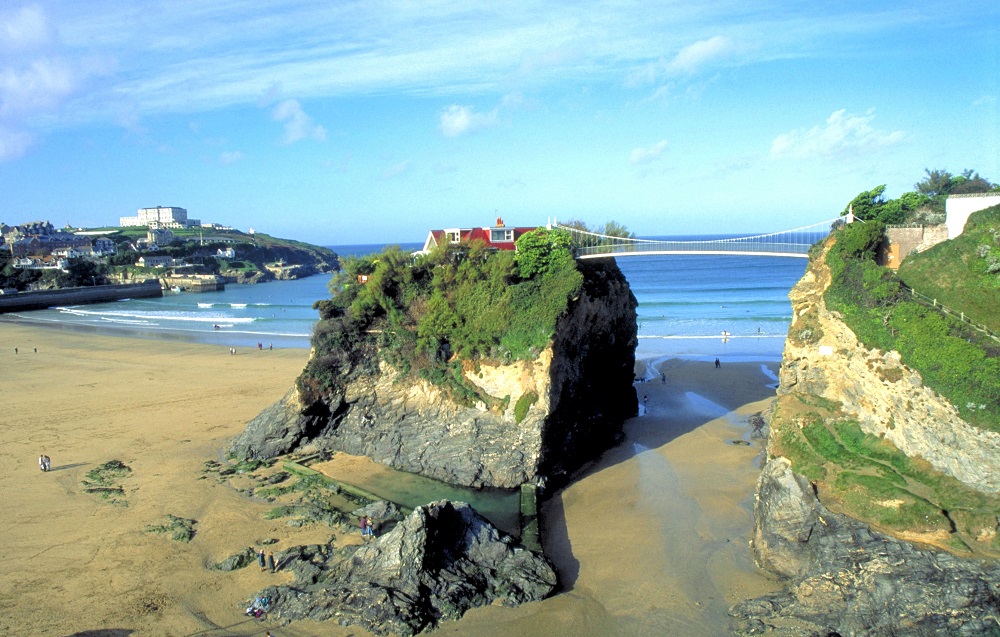 Are you just in Newquay for the day and want to make the most out of your time here? Perhaps you want to get all the sightseeing out of the way, so you can simply just relax for the rest of your holiday? Well, today is your lucky day!
We decided to make a little itinerary of how to spend one day seeing all of the top sights of Newquay, because we don't want you to miss a thing! Our itinerary includes a lot of walking along cliffs, paths and beaches, so you might like to do things a little differently. But however you prefer to get around and in whichever order you decide to take, make sure you include all of these in your own itinerary.
8.00am - Breakfast with a View
The early bird catches the worm and all that! We recommend starting the day off with a scrumptious breakfast at one of our favourite places to eat, the Lewinnick Lodge. The restaurant is perched on the craggy cliffs of the Pentire peninsula, so you can feast upon unrivalled views of the famous Fistral beach whilst you eat your delicious brekky.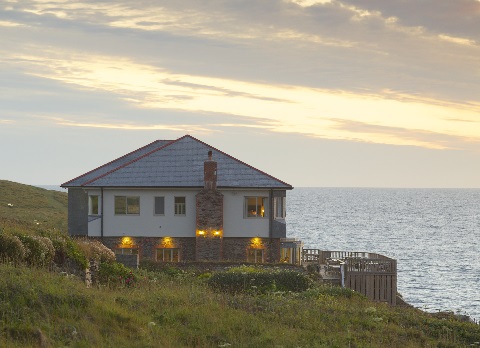 9.00am - Walk it off
Once you've finished eating, walk it all off by exploring the beautiful Pentire peninsula. On one side you've got striking views overlooking Fistral beach, and on the other you'll be able to see the impressive Crantock beach. You can also climb to the tip of Pentire point (don't worry it's not too steep!) and admire panoramic ocean views that will take your breath away.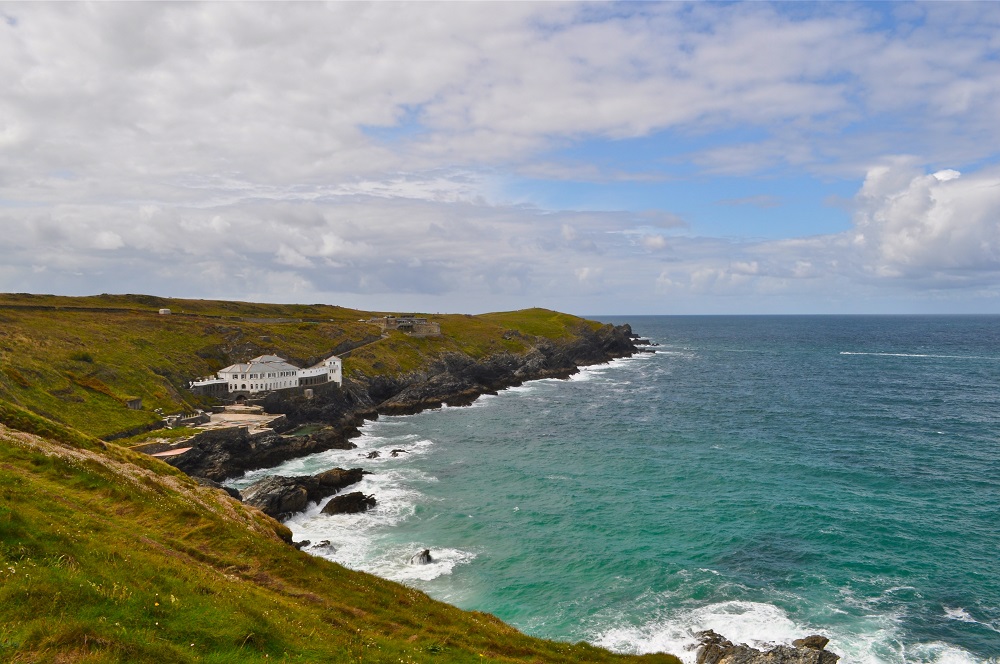 10.00am - Beach Stroll
For our next endeavour, you'll need to walk down to Newquay's iconic Fistral Beach. It's quite simply one of the most consistent and best surfing beaches in the UK and Europe, attracting thousands of visitors every year. It's also one of the venues for Newquay's Boardmasters Festival, where they hold surfing competitions, BMX and skateboarding displays, clothing and food stalls, and live music acts at the beginning of August every year.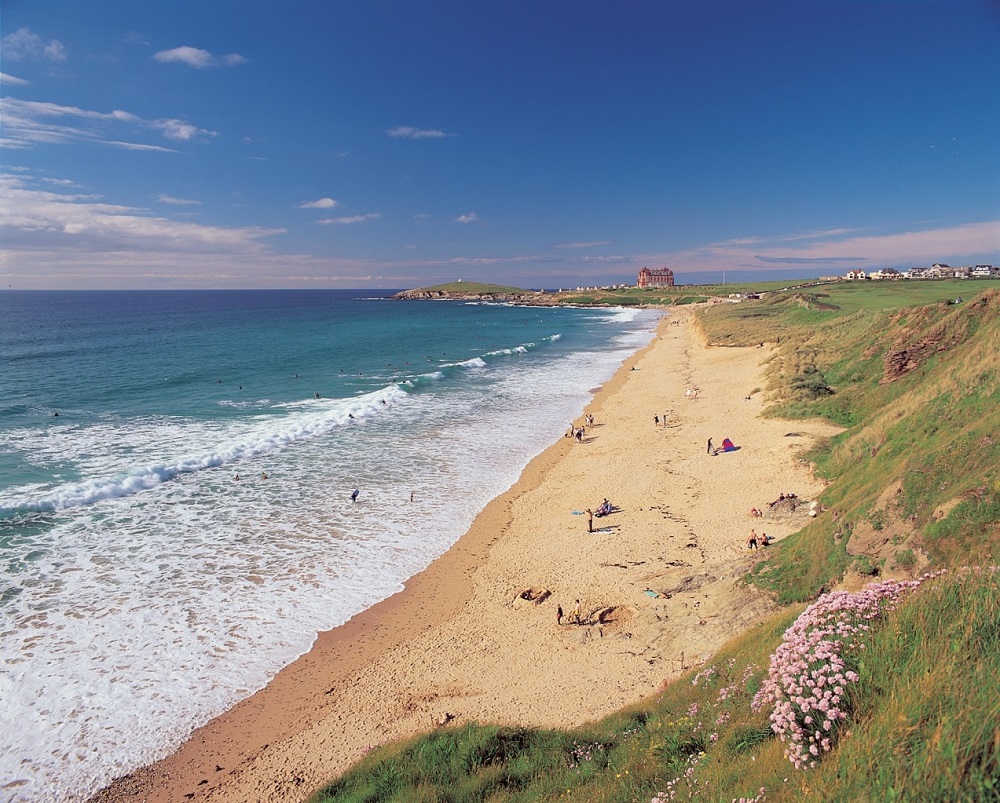 11.00am - Brunch in Style
Did someone say brunch? Depending on the time of year you are visiting (and the weather!), you can either take a pit stop on the sand and enjoy the sun, or if it's a bit chilly you can head inside for a cuppa. As you reach the end of Fistral beach you won't be able to miss the magnificent Headland Hotel perched on top of the cliff. Walk through the iconic vintage gates and indulge yourself in the luxury of the elegant restaurant, or you can relax with a cocktail on the contemporary terrace.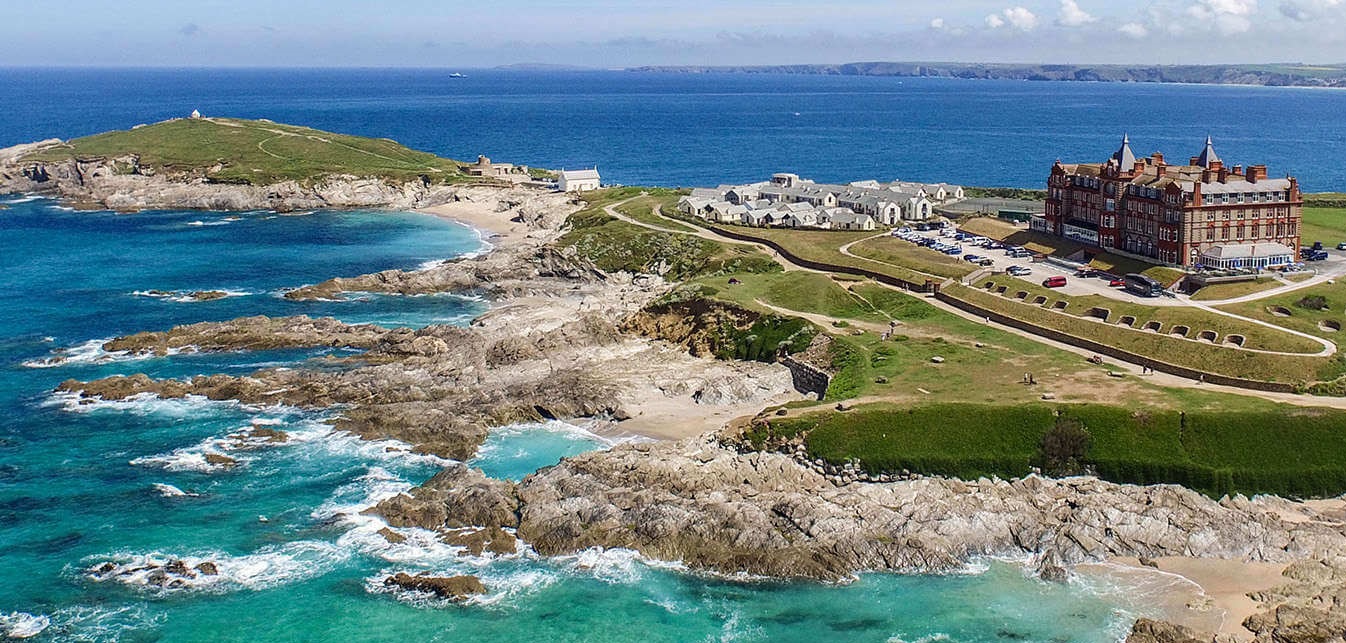 12.00pm - The Huer's Hut
So, you've re-charged your batteries… Time for another coastal walk around the Towan Head where you'll find more spectacular views! Then heading on up to Newquay's iconic Huer's Hut. Prominently overlooking Newquay bay, the newly restored Huer's Hut is a symbol of Newquay's large scale commercial fishing past. This small building was manned by the 'Huers' who would watch out to sea all day, and even on moonlit nights, for giant shoals of glinting pilchards or other fish passing by. Whilst the current building dates back to the mid 19th Century, there had been a shelter for a Huer since at least the 14th century! Impressive.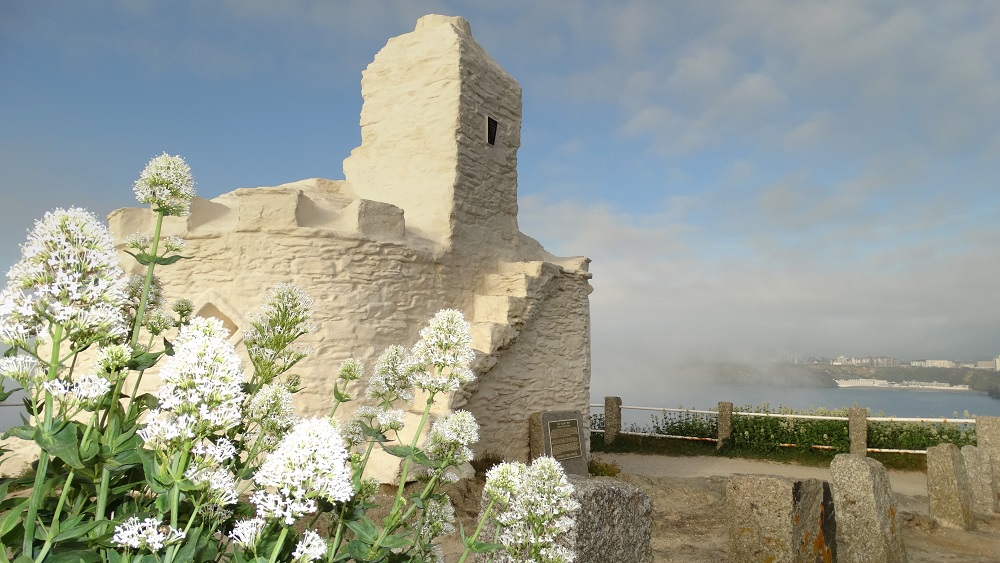 12.30pm - Newquay Harbour
You're now on the right track to Newquay's Historical Harbour. This is actually where Newquay got it's name - formerly known as Towan Blystra, the town built a new harbour, or 'quay' and the name came with it! We don't want to spoil it though so you'll find plenty more history to learn about once you get there. Small scale commercial fishing still exists at Newquay Harbour, but it mostly provides local restaurants with a selection of the freshest fish. You don't have to leave it to the professional fisherman to land your supper though, you can book yourself on a fishing trip and take home your own catch, or you can enjoy a leisure trip out to sea with Newquay Sea Safaris! You might also be lucky enough to spot our two resident seals following the fishing boats. That's all for another day though, we've still got loads to do today...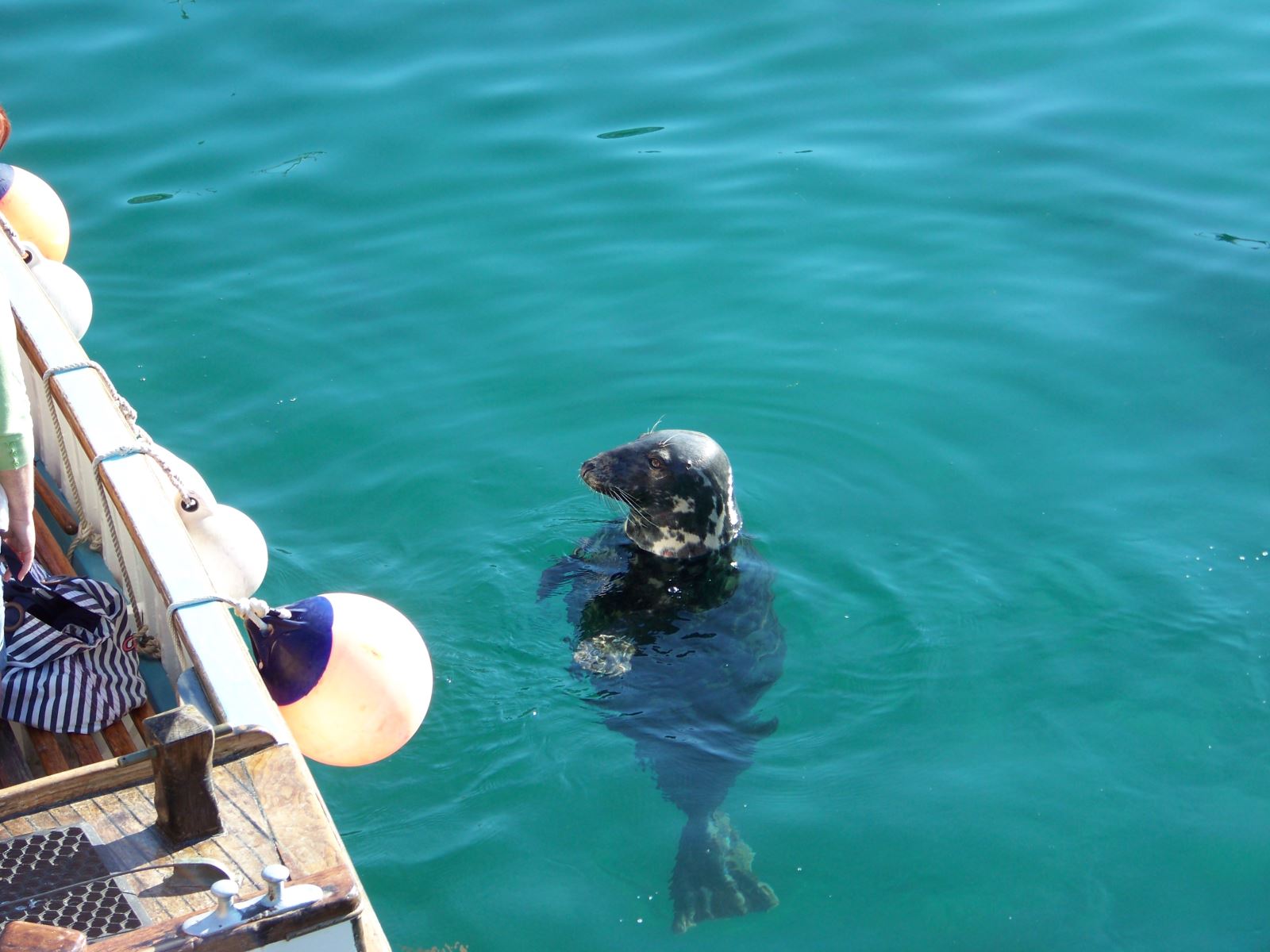 1.00pm - Lunch Time
You're probably getting a bit peckish now after all this walking we're making you do! If you're looking for a restaurant we recommend going into town for lunch at the Bush Pepper. It's a small, locally owned restaurant which combines Australian and Cornwall's finest ingredients to produce an array of dishes. Or if you want to sit outside or eat on-the-go, you could grab a proper Cornish Pasty from Morris Pasties. Their pasties are locally made and have been described by the Daily Mail as the 'finest pasties in Cornwall,' and we certainly agree! But if that doesn't tickle your taste buds, we've allowed some time for you to wonder through the town centre and scout out a restaurant, pub or takeaway of your choice. There's plenty to choose from!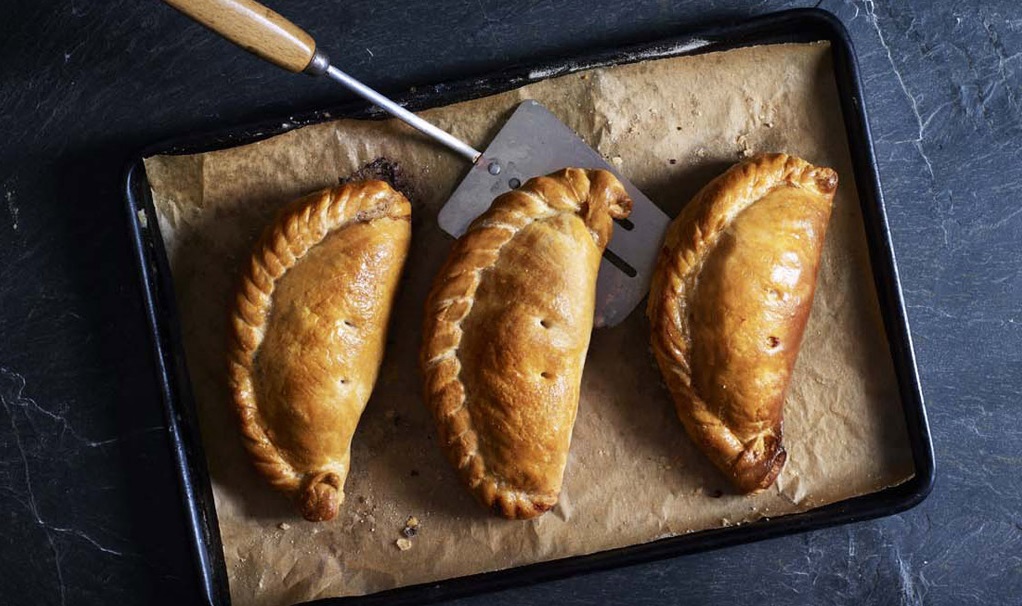 2.30pm: Trenance Gardens
Ok, so your belly's full, you've walked through the town centre, now we're going to walk down Trenance Hill to Trenance Leisure Park. Here, if you've got kids they can enjoy the play area whilst the adults have a little rest. There's Heron Tennis Centre if you're feeling active, or in the spring and summer months there's also a miniature railway, crazy golf and pitch 'n' putt. If you walk a little bit further, underneath the viaduct you'll come to the picturesque Trenance Gardens. You'll find beautiful rose bushes and colourful flowers, with a backdrop of magnificent old trees. If you pop into the Visit Newquay Tourist Information Centre at any point there is also a free Tree Walk booklet available to tell you all about the different trees and flowers within the gardens.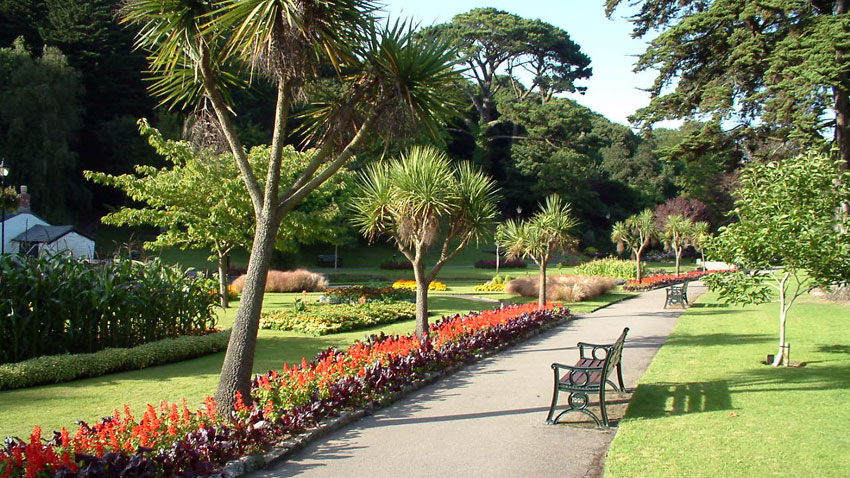 4.00pm: Cornish Cream Tea
How about a spot of tea? A trip to Cornwall wouldn't be complete without a typical Cornish Cream Tea, so in our itinerary we've decided to include one of the best places in town to get just that. Whilst walking through Trenance Gardens you'll find a charming little tea room hidden amongst the flowers, which is known as Trenance Cottages. The building dates back to the 18th Century, so you can also take a look around at the history of Newquay whilst you enjoy a gloriously Cornish, cream tea. Jam first, of course.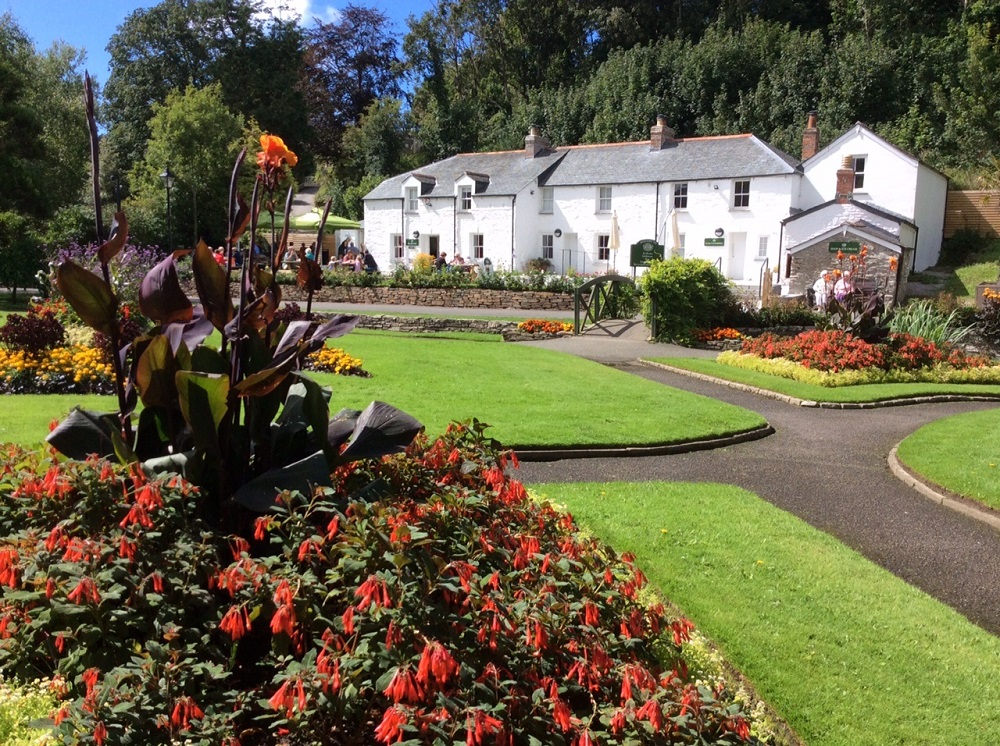 5.00pm: The Barrowfields
On your way to our final destination of the day, walk up through Edgecumbe Avenue and along the promenade over looking Tolcarne Beach. You'll then come across a large open field known as the Barrowfields, named after the 15 pre-historic Barrows that were discovered here. Our Celtic ancestors honoured this as a sacred site, as here was found the mortal remains of a Bronze Age Chieftan, who lived here some 3000 years ago! Close your eyes and feel the power of this ancient landscape, or if you follow the cliff-side footpath you can marvel at some of Newquay's finest coastal views.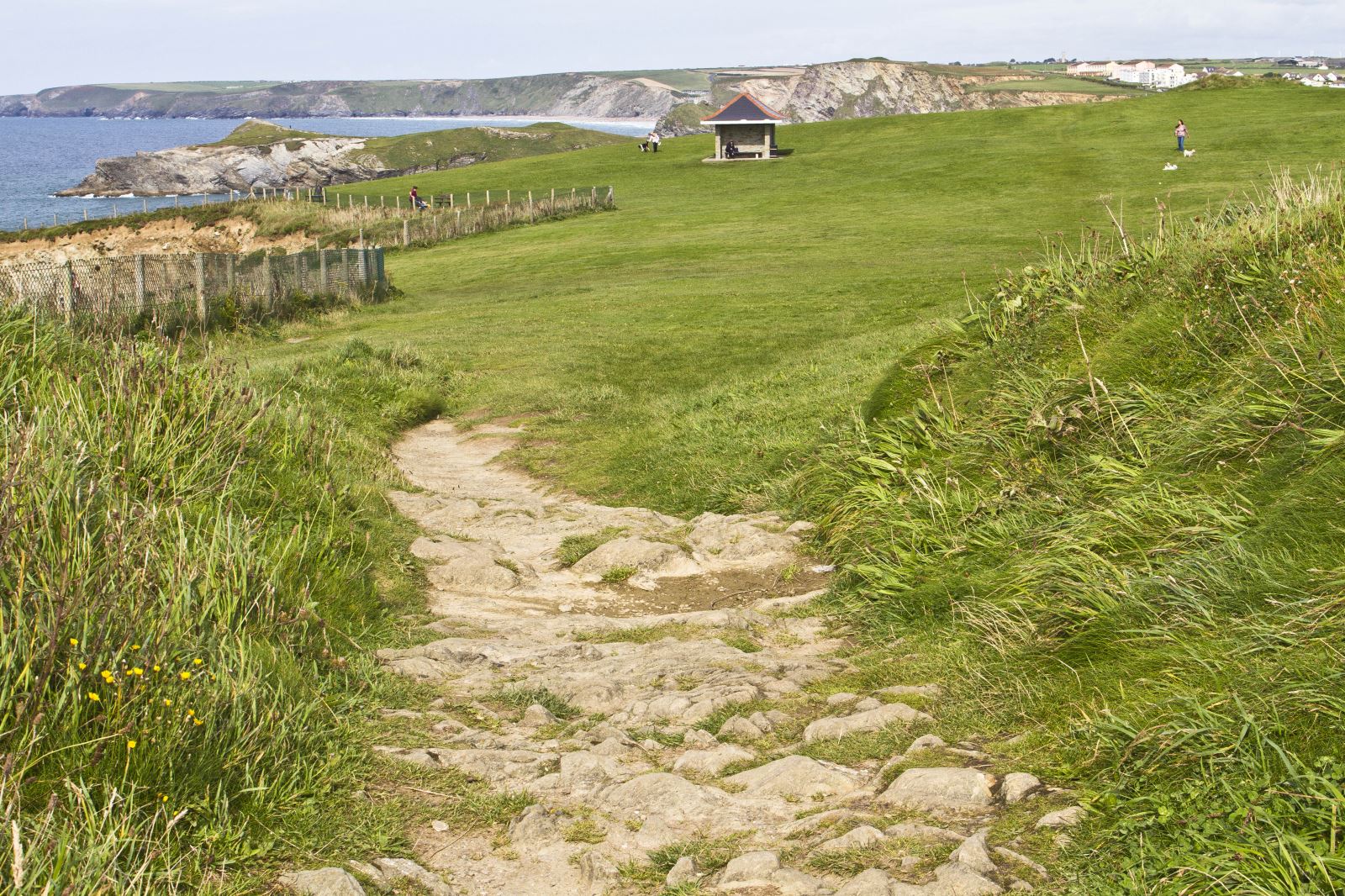 6.00pm: Dinner, Sunsets and Live Music at Lusty Glaze Beach
We thought we'd end the day on a high by taking you to another of our favourite beaches – Lusty Glaze. This secluded, privately-owned cove is a unique setting to enjoy a seaside dinner and watch the waves roll in. You can cosy up inside by roaring log burners if the weather isn't at it's best, or if it's been a clear day, at Lusty Glaze Beach Restaurant you'll be able to watch one of Newquay's best sunsets right from your table! It really is a little oasis on the side of town, with the entire restaurant adorned with fairy lights, and acoustic music nights to make the ambience all the more perfect. What a magical way to top off a busy day in Newquay!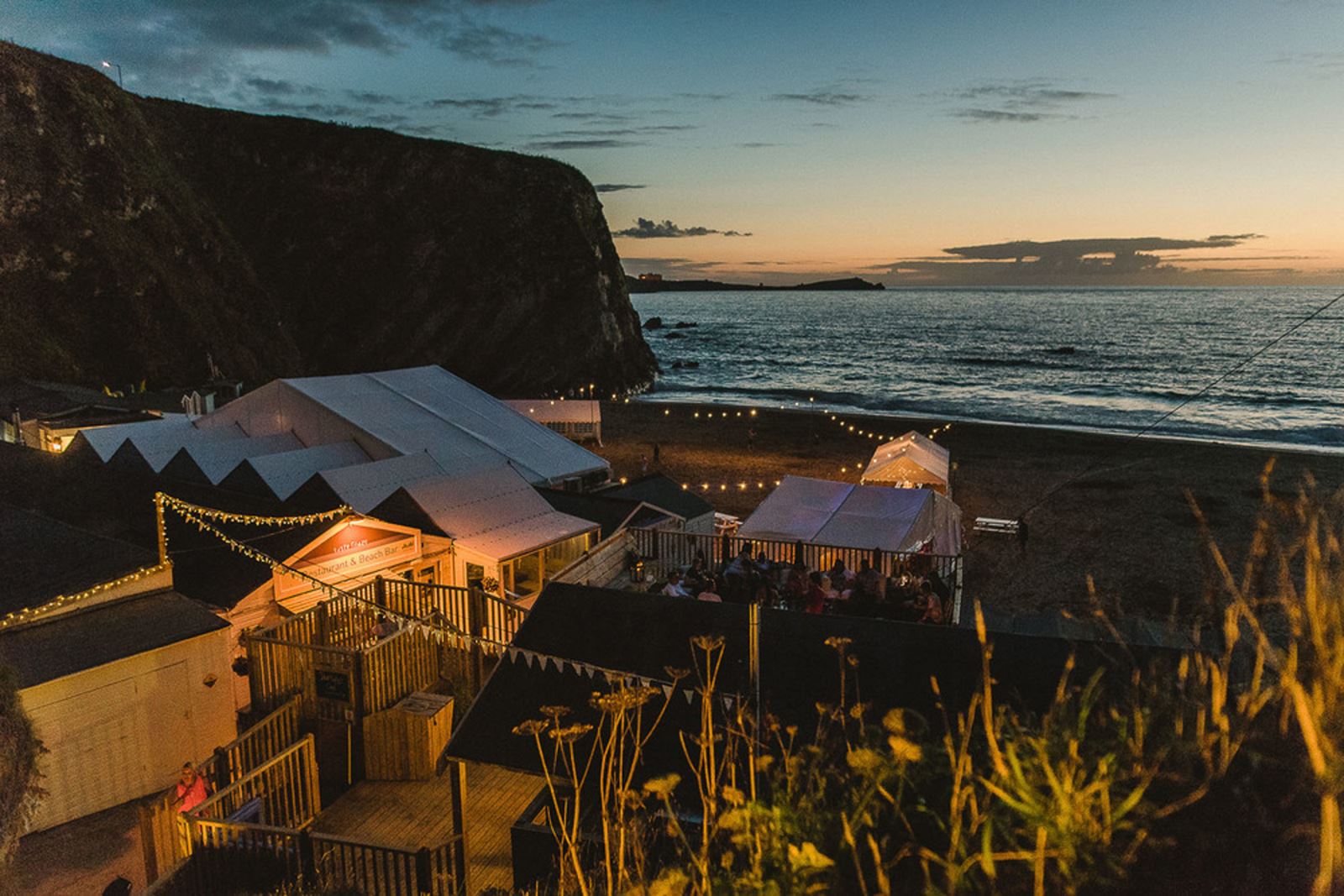 And Good Night…
That's the end of our one-day itinerary of Newquay. Of course, there is so much more to see and do. But we think we've included all of the main points of interest and best places to eat if you've only got one day to spend with us.
We've provided an image below of the route, which you can do in any order you like, or you can skip the stuff that doesn't catch your eye. You can also access the online version of the Visit Newquay Map, or pop into the Visit Newquay Tourist Information Centre to pick up a copy and take it with you as you go!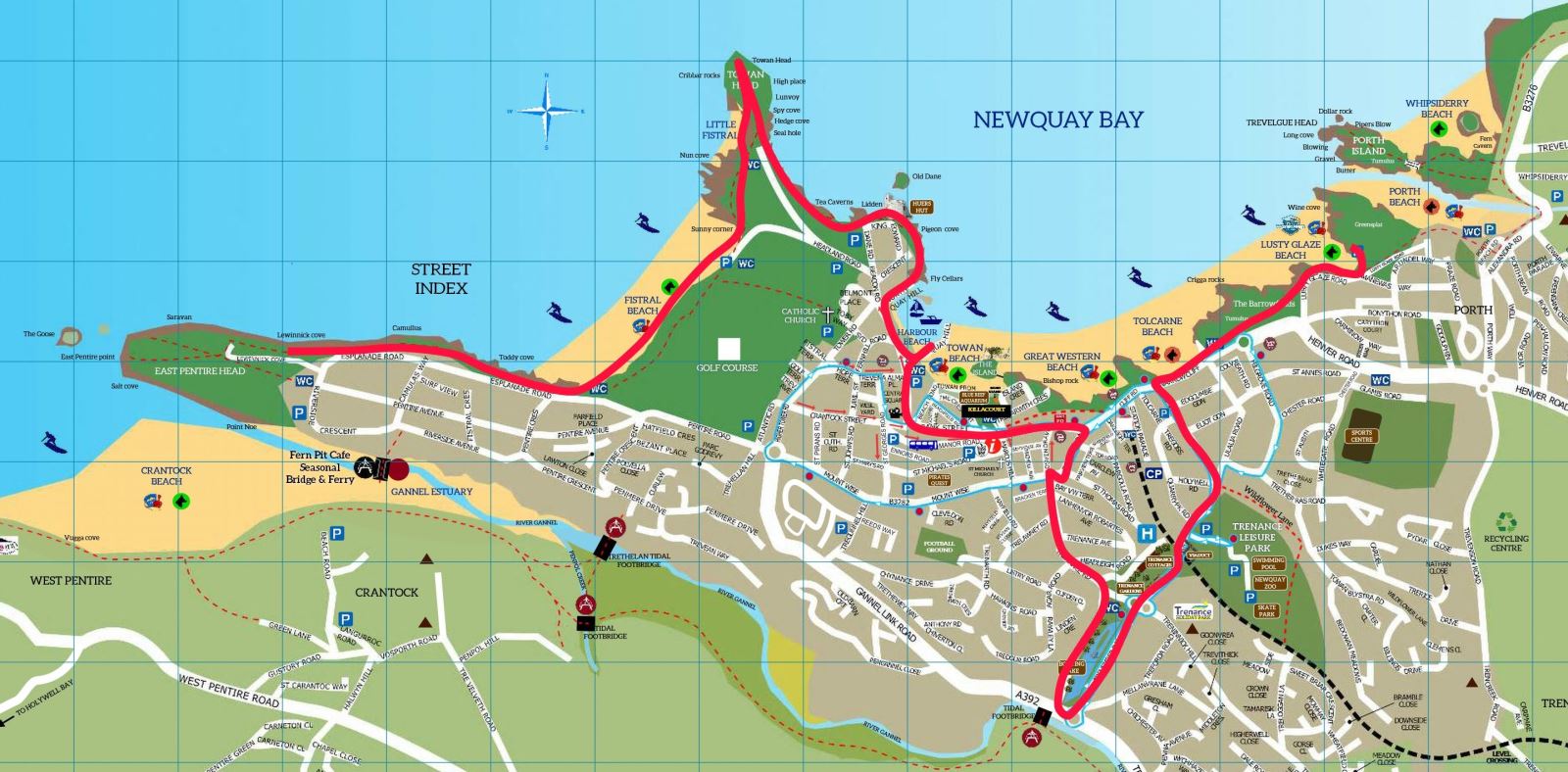 For those who have limited mobility or small children that won't want to do all that walking, you can follow a similar route on the Newquay Land Train! The Train runs from April – September, and embarks hourly from Bank Street in the Town Centre, taking you to many of the sights mentioned on this page. There's even a little commentary to keep you all informed about the town as you take in the sights.
Well, we hope you enjoyed our itinerary! Even if you have longer than a day with us, at least now you know some of the amazing must-see sights for your upcoming trip to Newquay. x