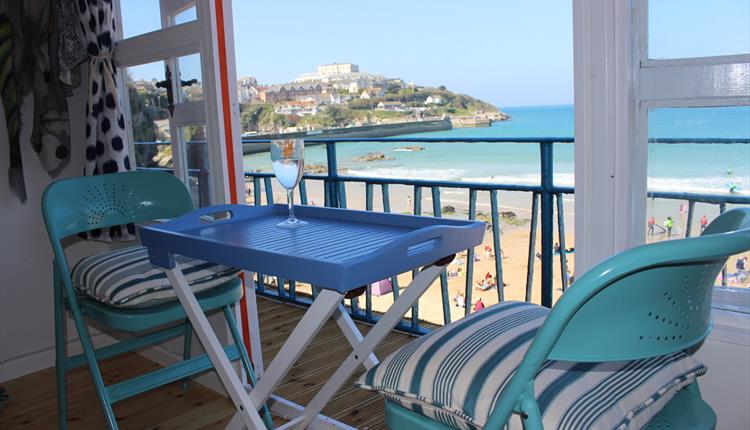 This accommodation does not have any available rooms
About
Little Escape is a luxurious beach hut, situated on Towan Beach, Newquay. available for day hire
Little Escape is what you want it to be: Its ideal as a base for a day on the beach with family. It could be the perfect romantic hideaway, watching the storms rolling in. Its an ideal space to chill out and relax with a book. Why not enjoy the view with friends and a bottle of wine?
Where is it?
Situated in an elevated position, on Towan Promenade, overlooking the spectaclar Towan Beach, Newquay, Little Escape is one of 8 large colourful beachhuts recently built. Access to the "complex" is via Beach Road.
What is Included?
Little Escape has been kitted out in a modern, yet retro style and colour scheme. Its larger than the average beach hut at 2.8 x 1.8 metres
It has electric lighting, power sockets and heating. Within the secure gated complex is an outdoor shower and tap suitable for drinking. There is also a communal seating area
It includes:
3 seater sofa, with cushions and throws to keep you lovely and cosyFold out table and 2 fold out chairs2 beach chairs (deck chairs)45 litre Mini Fridge - ideal for a few beers, a bottle of fizz and your snacksDAB radio, with Bluetooth connection and Aux inputsKettle, Cups, Plates, Bowls, CutleryComplimentary Tea, Coffee & SugarWine glasses, Tumblers and Hi-BallsWater Jug, Cafetiere, Small Tea PotSharp knife,, Chopping Board Scissors, Cork-Screw, Bottle OpenerTray, Coasters, PlacematsDog Water BowlA selection of Books and Magazines
There is also plenty of space for your own belongings, food etc, as well as hooks inside and out for clothing and wetsuits.
How Much Does it Cost?
Daily hire (9am to 6pm) - £40 per day (£50 in July and August)
Weekend Hire (any 3 days) - £100 (£120 in July and August) -
Week Hire (7 days) - £200 (£250 in July and August)
NOTE, Little Escape is not suitable for overnight accommodation
We require a refundable deposit of £100 for all bookings
We can upgrade your reservation to include:
Surf Boards, BodyBoards, WetsuitsA fully stocked fridge including beer, wine and milk
To book Little Escape, please email littleescapenewquay@gmail.com or call 07810 805624 or 07967497117
Map & Directions