Newquay Art 8 Festival
Newquay's annual festival of art and culture is returning to the town from 10th – 12th May 2019! Art 8 is Newquay's Arts and Culture Festival - bursting at the seams with events, exhibits and workshops involving film, craft, spoken word, dance, photography, theatre, music, literature and more.
What is Art 8?
It's a community festival with something for everyone - young and old, residents and visitors alike - with all activities free or low-cost. Supported by local organisations and businesses, the event is a celebration of existing activity in the town as well as an opportunity to welcome artists and performers from further afield. Central to the ethos of the event is a contribution to increasing Newquay's positive profile. It's also about developing the offering for those who are here. There's plenty to see and do during the festival - so get involved!

How did it start?
Art 8 was established in 2011 by a group of artists who wanted to create a supportive platform in the town where they could promote, display and perform their work and to engage with the local community. The festival has taken different forms each year, always providing a variety of workshops and events for local people to enjoy and get involved with, as well as the opportunity for Newquay's creative community to exhibit their work in local businesses.
Since 2011 Art 8 has become an annual celebration of all things creative that the town has to offer. It provides a platform for local artists of all varieties to show their work, some for the very first time, within a supportive local community. The festival also aims to offer workshops and events alongside the exhibitions to enable people to get involved with different creative disciplines and bring Newquay to the forefront as a key destination for arts and culture.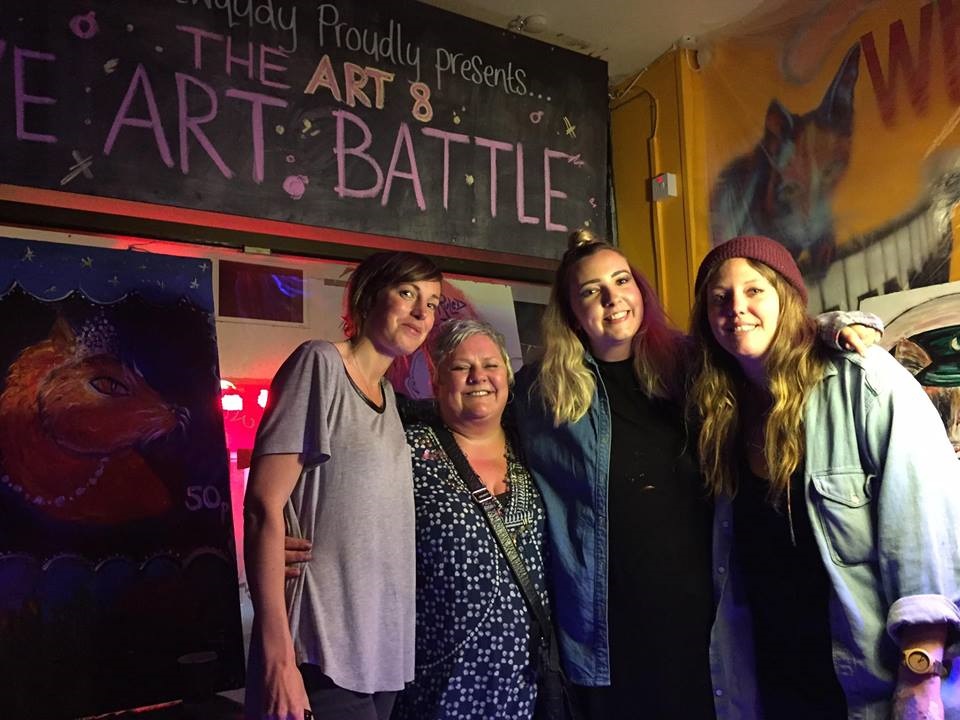 Art 8's Line Up
Pop Up Art Gallery
Pop Up Art Gallery at the Steam Bar, Great Western Hotel. Launch and private view will be on Thursday 9th May 7pm – 9pm.
The Pop-Up Art gallery will then we open daily 10-4pm.
Drink and Draw
Live art drawing class at Whiskers on Saturday 11th May 2-4pm.
Join experienced local artist Sam Millington for a live art drawing class. Learn how to size and plan your live sketch plus observe and measure to help with proportion and form.
Exclusive use of the venue plus the opportunity to buy drinks to help your creavite juices flow! Limited spaces available. £15 per person which includes first drink.
Contact Whiskers via their Facebook page @whiskersnewquay
Artisan Craft Fair
A great range of local makers will be selling their beautiful wares at the Art 8 Craft Fair, which will be held at Newquay's Steam Bar on Sunday 12th May from 10am – 4pm.
From homemade jewellery, candles and fused glass to sea kissed treasures and tarot reading. Support local craftmanship at this vibrant and exciting artisan market.
Health & Well -Being Fair
Celebrating all the fantastic groups and services available in Newquay that help to keep our minds, bodies and souls healthy.
Come along to the Steam Bar on Saturday 11th May between 10am and 4pm and meet the people who can offer support.
From hydrotherapy, counselling, dementia support and healthy eating to local meet ups and homeopathy; all available right on your doorstep!
Mask Making Workshop
Come and explore personal transformation within the expressive and sometimes surreal world of mask making at the Steam Bar on Saturday 11th between 10am and noon. All ages welcome.
Who will you be? Talented local artist Sam Millington will be on hand to inspire and guide you. Materials supplied.
Story Telling at Newquay Library
Come along to Newquay Library on Saturday 11th 11am to 12noon for an intimate gathering for children to enjoy some enthusiastic and enthralling story-telling. Suitable for children 0-7 years.
Get Creative Newquay Making Space
Come and get creative at Art 8's Making Space, with Bystra Arts at Newquay Steam Bar Sunday 12th May 10am – 4pm.
Draw, colour, cut, stick and create. Free fun for the whole family.
In Tune Choir
Enjoy this lively and engergetic woman's choir with their rousing, modern repertoire at the Steam Bar on Sunday 12th May 1-1:30pm and 2-2:30pm.