Events
This page is always updated with the most exciting events happening in and around Newquay, making it easy for you to plan your days whilst you are here.
Click on the 'highlight' events above for more information, or alternatively you can use the search bar to find events on specific dates. You can even search all of the events happening in and around Newquay throughout the year!
Beach Events
Newquay is surrounded by twelve beautiful beaches, hence boasting some of the best and most impressive settings for events that you have ever laid your eyes on. Known as the surfing capital of England, it comes as no surprise that many of the surf events and adrenaline water sports championships, such as Boardmasters, English National Surfing Championships, Thundercat World Series and the Jet Ski Rider World championships are all held in Newquay.
Having the beaches as such a stunning back drop makes it easy to host amazing and memorable music events. I mean, just imagine having the sand between your toes, drink in hand, listening to live music, whilst the sun is setting in the back ground… Well here in Newquay we feel so lucky that this is a regular occurrence - especially throughout the summer!

Newquay Town Events
Although, not all of these events happen on the beach. There are many events that happen in and around the town centre, for instance the Newquay Carnival. Picture a week long of family events which usually takes place in July. Or New Years Eve celebrations where people dress up in fancy dress and meet at Central Square for the count down to begin. There's also Newquay's famous Zombie Crawl where the children (and some adults too!) dress up in their favourite Halloween costumes and stop at various locations in the town for spooktacular fun.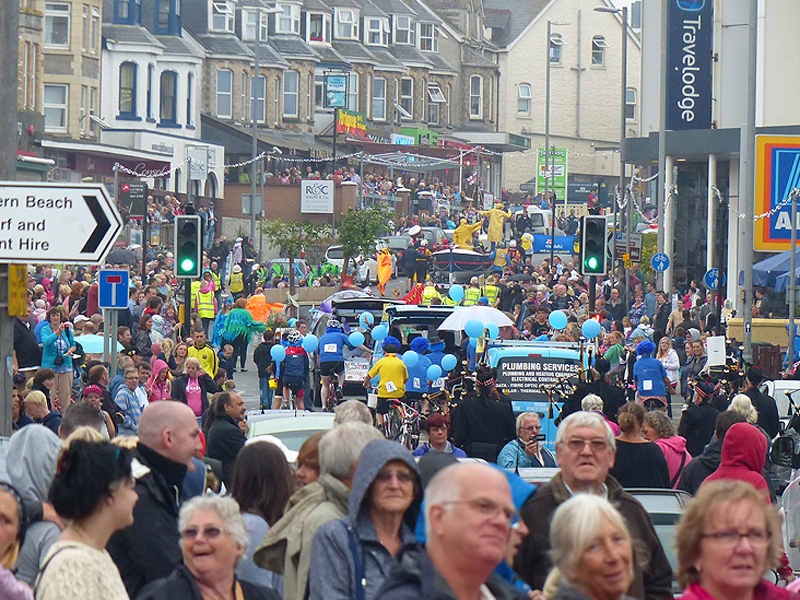 One of Cornwall's Best Event Venues
Throughout the year Newquay also plays host to some of Cornwall's largest events. From very popular festivals, such as the Newquay Fish Festival where many famous and local chefs show off their expertise in cooking demonstrations, to the big sporting events like Polo on the Beach or the Surf 7's Rugby Tournament. With such a wide choice of events happening all year round we are confident that you will find something for all age groups and interests.

Buy Newquay Events Tickets
For some of the events you can pre-purchase tickets online through this website. For tickets which are available please click here.
Newquay Events 2018
To see all of the events that are happening throughout the year please scroll down, or alternatively you can return to the main 'What's On' to view the event calendar for specific dates.

Number of results:
Number of results: 56
, currently showing 21 to 40.
Type

Type:

Competition/Game

When the sun sets on Fistral Beach and the day visitors have long since headed home, a group of intrepid international surfers will be suiting up and diving into the dark, moonlit waves.

Dates

From:

26 Oct 2018

to

27 Oct 2018

Type

Type:

Participatory Event

Children of Newquay are invited to join the Newquay BID's FREE Zombie Crawl on Saturday 27th October starting from 1pm. Wearing gory get-ups and ghoulish glad-rags they will parade through the town in a spook-tacular Halloween extravaganza not to be forgotten.

Dates

From:

27 Oct 2018

Open 13:00 - 18:30

Head down to the Royal British Legion on Saturday 27th October for their LGBT Halloween fancy dress party! 

Back by popular demand, Chris is returning to Lane with a new show which will be a mix of his own songs plus some of the popular music from John Denver and other famous country artists.

Dates

From:

27 Oct 2018

Open 19:30 -

We are a small group of passionate volunteers organising our biennial Diamonds Are Forever Ball at the Atlantic Hotel in Newquay on Saturday 27th October.  This year we are also celebrating 70 years of Marie Curie providing nursing care.

Whiskers and Carn to Cove present: Sarajevo Big Bang! Sunday 28th October from 7.00pm.

Newquay's Royal British Legion are having a childrens Halloween Party on Sunday 28th October between 2pm and 5pm with an entrance fee of £1 in aid of the Poppy Appeal. With super guest stars! 

Dates

From:

28 Oct 2018

Open 14:00 - 17:00

To celebrate one of the spookiest times of the year, head to Rick Stein, Fistral between 2-4pm on Sunday 28th October for an afternoon of Halloween family fun.

Dates

From:

28 Oct 2018

Open 14:00 - 16:00

Head down to Newquay Football Club on Sunday 28th October for their Christmas Fair from 10am-1pm! 

The zoo, partnered with NT Drama, from Newquay Tretherras Academy, invite you to an evening of terror on the 30th of October. Watch the frightfully spooky stories performed in the deepest darkest depths of Newquay Zoo, led by some of our supernatural story tellers. Enjoy a hot chocolate and a...

Venue

Dates

From:

30 Oct 2018

Open 17:30 -

Head down to the Royal British Legion every second Tuesday for their 'Ray of Light' spritual evenings. Tickets are £4.00 on the evening. 

Dates

From:

30 Oct 2018

Open 19:30 -

From:

13 Nov 2018

Open 19:30 -

From:

27 Nov 2018

Open 19:30 -

Type

Type:

Talk or Lecture

Head down to Sprout Healthfoods on Wednesday 31st October at 7.30pm for their open-mic spoken word night, with a Halloween special - 'Sprout-Spooken!'

Dates

From:

31 Oct 2018

Open 19:30 -

Type

Type:

Participatory Event

Come on down for some fun & games and try something spookily different as it's Halloween in the old cottages at Trenance on Wednesday 31st October 2.30pm - 8.30pm. Bring pumpkins for judging at 6pm!

Dates

From:

31 Oct 2018

Open 14:30 - 20:30

Head down to Jungle Jack's on Wednesday 31st October from 5pm - 7pm for their Halloween Disco Party! 

Dates

From:

31 Oct 2018

Open 17:00 - 19:00

An annual five day event celebrating the distinctive heritage of Cornwall's traditional music, dance, songs, storytelling and the county's links Brittany, Ireland, the Isle of Man and Scotland.

Dates

From:

1 Nov 2018

to

4 Nov 2018

"Floyd in the Flesh?" are a seven piece tribute to one of Britain's greatest bands, Pink Floyd.

Type

Type:

Food and Drink

Head down to the Great Western Hotel on Saturday 3rd November for Newquay Friends of St Petroc's Society's Coffee Morning. 

Dates

From:

3 Nov 2018

Open 10:00 - 12:00

Head down to St Columb Minor Church Hall on the first Saturday of every month, for the St Columb Minor Community Market and Craft Fayre! From 9.00am - 12.00pm.

Dates

From:

3 Nov 2018

From:

1 Dec 2018

From:

5 Jan 2019

From:

2 Feb 2019

From:

2 Mar 2019

From:

6 Apr 2019

WAX is once again putting on NEWQUAY'S BIGGEST EVER FIREWORKS DISPLAY this year! On Saturday 3rd November from 19:00 - 22:00.

Dates

From:

3 Nov 2018

Open 19:00 -

Remember, remember the 5th of November! Head down to Newquay Harbour on Bonfire Night where the sky will be lit up by a fantastic fireworks display.