Newquay Carnival 2018
Kindly put on and organised by the Newquay Lions, no summer in Newquay would be complete without the carnival and this year there will be a whole week of events and activities for you to enjoy!
The grand parade usually takes place on the last Saturday of Carnival Week, but there will also be an exciting line up of a week-long of activities and fun for all the family to enjoy.
If you would like to take part in the Newquay Carnival Parade all entries are welcome and 'Anything Goes!' You can download the entry form here: Newquay Carnival Entry Form
* Newquay Carnival Line Up 2018 *
We haven't got the full line up for this year's Carnival just yet, but keep an eye on this page as we will update it as and when we hear of any schedule updates. You can however take a look below at Newquay Carnival's official poster and map of the route!
~~~~~~~~~~~~~~~~~~~~~~~~~~~~~~~~~~~~~~~~~~~~~~~~~~~~~~~~~~~~~~~~~~~~~~~~~~~~~~~~~~~~~~~~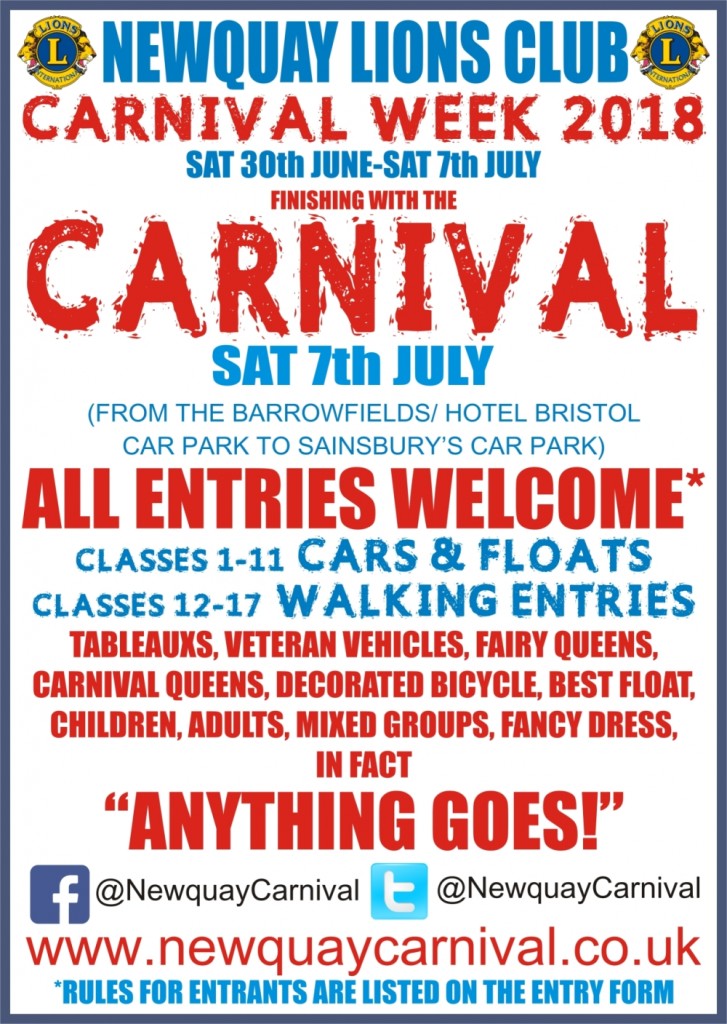 ~~~~~~~~~~~~~~~~~~~~~~~~~~~~~~~~~~~~~~~~~~~~~~~~~~~~~~~~~~~~~~~~~~~~~~~~~~~~~~~~~~~~~~~~
Newquay Carnival Route Plan