St Piran's Day
St Piran's Day (or Gool Peran in Cornish) is the national day of Cornwall. The name derives from one of the patron saints of Cornwall, Saint Piran, who was also the patron saint of tin miners.
The History of St Piran's Day
Legend tells that Piran was a 5th Century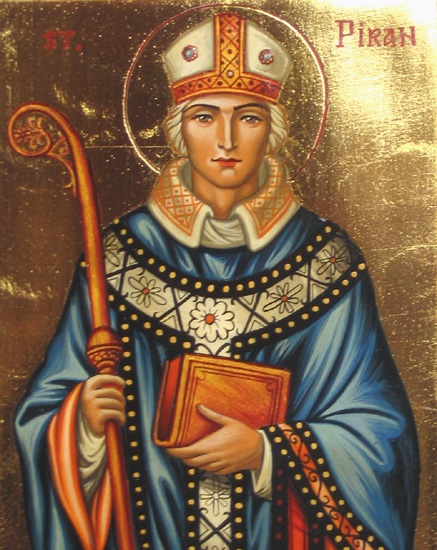 Cornish Abbot originally from Ireland. The Irish King was suspicious of his powers and cast him off a cliff and into the sea tied to a millstone. Piran survived the stormy seas and washed up in Perranporth, Cornwall, where he built an oratory to promote Christianity, and adopted disciples who were said to be a badger, a fox and a bear.
Piran then became famous for his accidental discovery of tin. A black stone on his fireplace got so hot that a white liquid leaked out of it, collecting in the shape of a cross. This became the first tin smelting and the St Piran's Flag (the white cross on the black background which is now the Cornish flag). This discovery earned Piran the title of 'Patron Saint of Tinners,' as tin mining then became the backbone of Cornish Industry.
According to legend, Piran was fond of a drink or two, but despite this he lived to the ripe old age of 206!
St Piran's Day Celebrations Today
In the late 19th and early 20th century Celtic revivalists sought to provide the people of Cornwall with a national day similar to those in other nations. Since the 1950s St Piran's Day celebrations became increasingly popular and since the start of the 21st century almost every Cornish community holds some sort of celebration to mark the event! The Saint Piran's Flag is also seen flying throughout Cornwall to this day. This year St Piran's Day will be held on the 5th March 2018, and will see many exuberant celebrations take place all over Cornwall to honour Saint Piran.
St Piran's Day in Newquay 2018
Newquay will play host to lots of Cornish celebrations this year! You can see the itinerary so far below:
*****
Leading up to St Piran's Day
Saturday 24th February - 6th March: Children's postcard colouring competition and vintage postcard display at Newquay Library.
Saturday 3rd March:
From 11.00am head down to Walkabout for their St Piran's family surf festival! There will be a surf competition, BBQ and charity raffle in aid of Surfers Against Sewage/Say No To Plastic. There will be prizes for the best ride, best wipe out, most stylish, best outfit, best trick & top grom. £5 entry for riders with a free goody bag & BBQ included.
12.00pm - 2.00pm Cornish themed lunch, with Cornish Choral entertainment at the Great Western Hotel with Oll an Gwella Choir.
*****
Sunday 4th March - St Piran's Eve
10.30am - Anglo-Cornish Eucharist Service at St Michael's Church led by Rev. Canon Jane Kneebone with Kernewek-Cornish language.
7.00pm - St Michael's Church for Cornish Concert, with perfomances from Newquay MVC, Oll an Gwella Choir and Newquay Rowing Club Singers.
*****
Monday 5th March - St Piran's Day
4.00pm - St Piran's Day Parade
The parade departs from the Killacourt and progresses down through Gover Lane. Bring your St Piran's Flags and/or Cornish wicker sculptures and follow our Cornish Piper through Newquay! There are also opportunities for children and adults to show off their black, white, gold or Cornish tartan clothing waving St Piran's flags to take part in a Flora or Heva dance. Maggie Biddle and the U3A dance group offer workshops to assist with learning a simple local dance. Contact Maggie to take advantage of this offer.
4.30pm - Parade Finale
The parade finale commences in the lower bar of 'The Cribbar' for the Heva Dance and a performance of the Newquay Heva Song (again please contact Maggie if any school groups would like to learn the Heva Dance, or contact Oll an Gwella Choir for any school groups who would like to learn the Heva song). After the dance and choral song there will be a welcome from the Mayor and Grand Bard, school choristers with Oll an Gwella will sing some traditional Cornish songs, followed by other performance pieces.
7.00pm - Cornish Ceilidh
Everyone is welcome at Newquay Rowing Club for a Cornish Ceilidh. There will be a fun evening of Cornish dancing, singing and an illustrated talk with 'Trelawney Shout' at 9.00pm.

Newquay - in the heart of Cornwall, celebrating all things Cornwall with one and all.