A Trip out to Sea with Newquay Sea Safaris & Fishing
19th August 2021
Last week we were lucky enough to be invited out on a magical Sea Safari to Seal Cove with Newquay Sea Safaris and Fishing! Keep reading to find out what it was like before you book an invigorating trip for you and your family.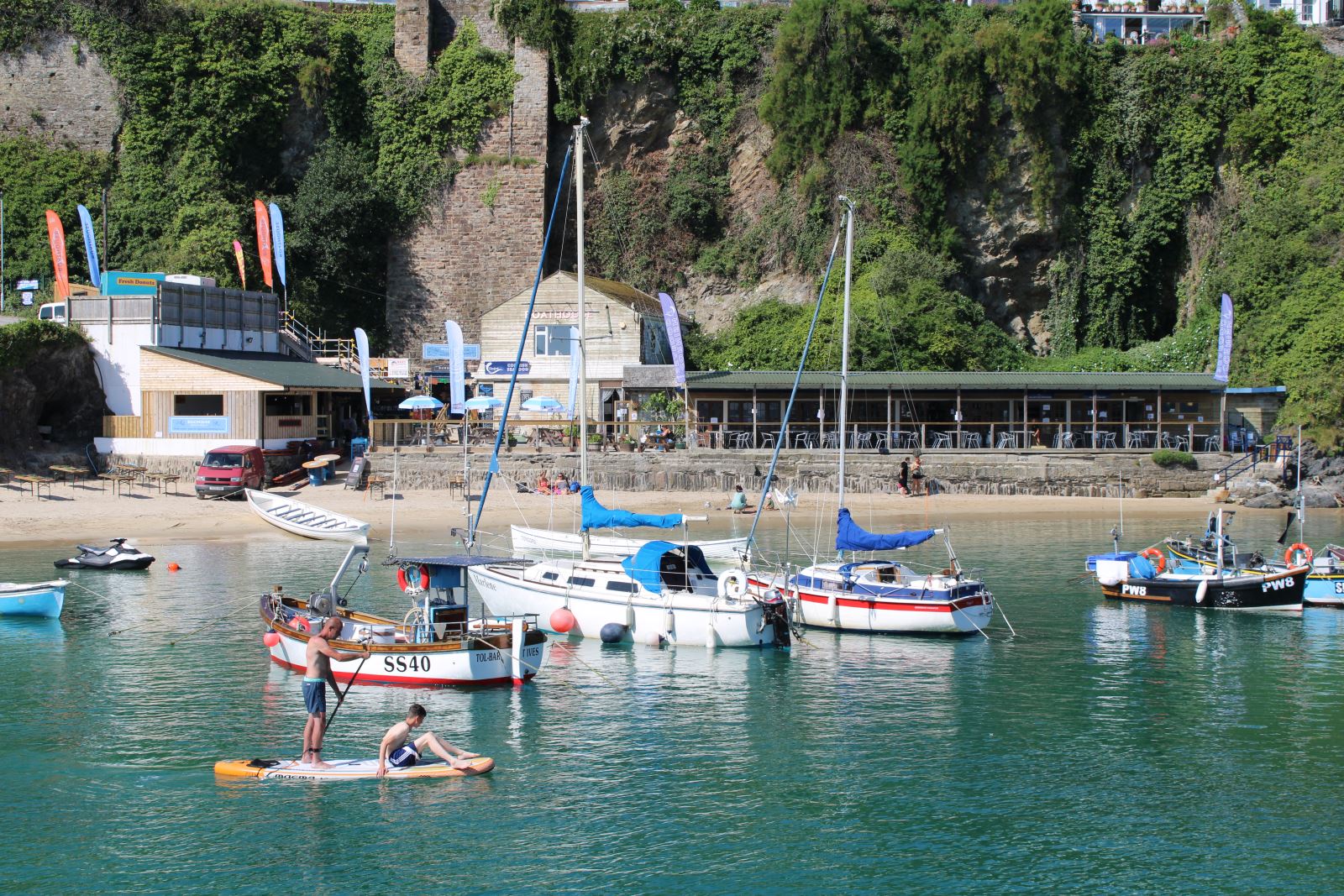 Arrival at the Harbour
When we arrived at the historical Newquay Harbour we headed towards Newquay Sea Safari's kiosk – a huge Shark's Head in the centre of the Harbour. You couldn't miss it! We were directed by a member of the friendly team down to the end of the quay to board the "Atlantic Diver" boat. The sea was glistening 50 shades of blue and green as we walked along, and paddleboarders, kayakers and swimmers were making the most of it. Once on board we were greeted by Cap'n Chris – our expert sea guide for the morning!
Setting Sail
The boat took off out of the Harbour at 10:30am sharp and we stopped at various points around Newquay Bay to view the different birds, marine wildlife and crabbing boats whilst learning all about Newquay's maritime history and our marine habitat. We were especially interested in identifying the hiding places in the rocks where smugglers would have hidden their ill-gotten gains many years ago!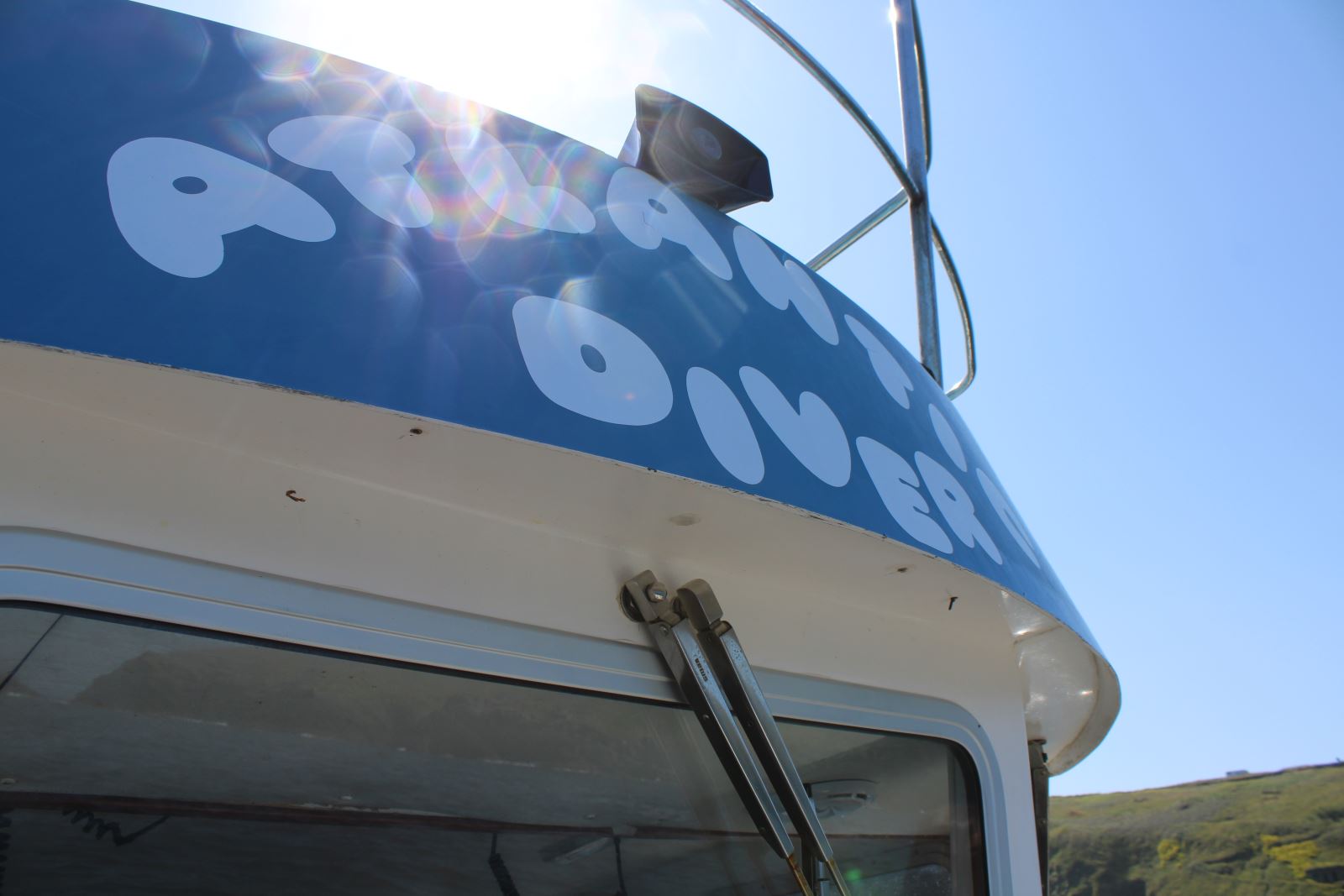 Sightseeing
Cruising along the rugged Cornish coastline we were lucky enough to pass by some of the most famous spots in Newquay. Including the Huer's Hut, the world-famous surfing beach Fistral, and the Headland Hotel. It's incredible to see these sights from a different perspective, out at sea, with the wind in your hair.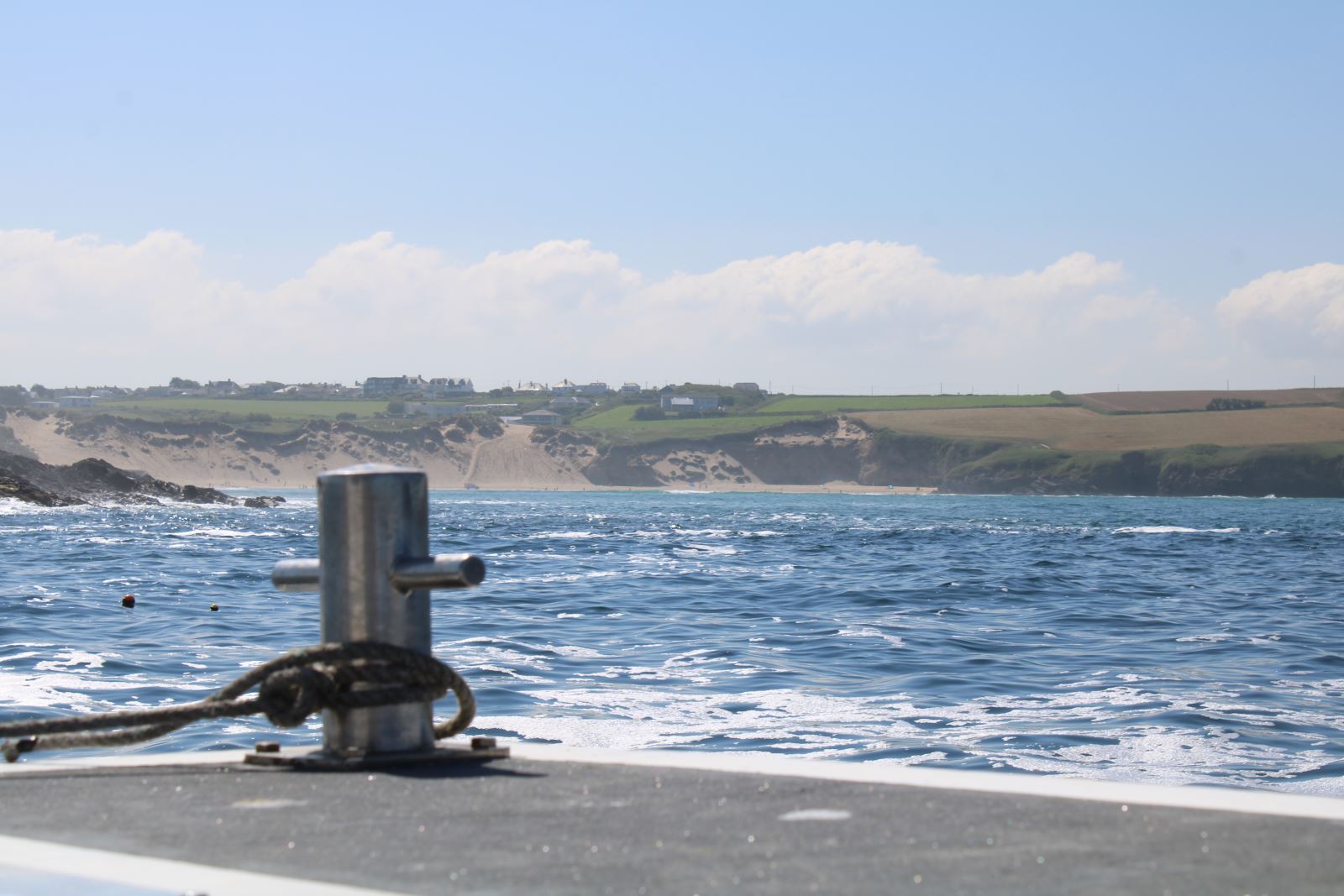 Environmental Work
Whilst we continued our boat ride, we came across an empty milk carton floating in the sea. Cap'n Chris stopped and managed to fish the carton out of the water, and with this highlighted the dangers of microplastics in the oceans. He then went on to inform us that Newquay Sea Safaris won Gold in the 2018/19 Cornwall Tourism Awards in the Wildlife Friendly category and that they are business Members of Cornwall Wildlife Trust. As Cornwall's leading local wildlife charity, the Trust carries out vitally important conservation and educational work throughout the county. Newquay Sea Safaris are involved with various research projects and conservation work in Newquay, and it made us happy to be supporting a local business working so hard to protect the local marine environment.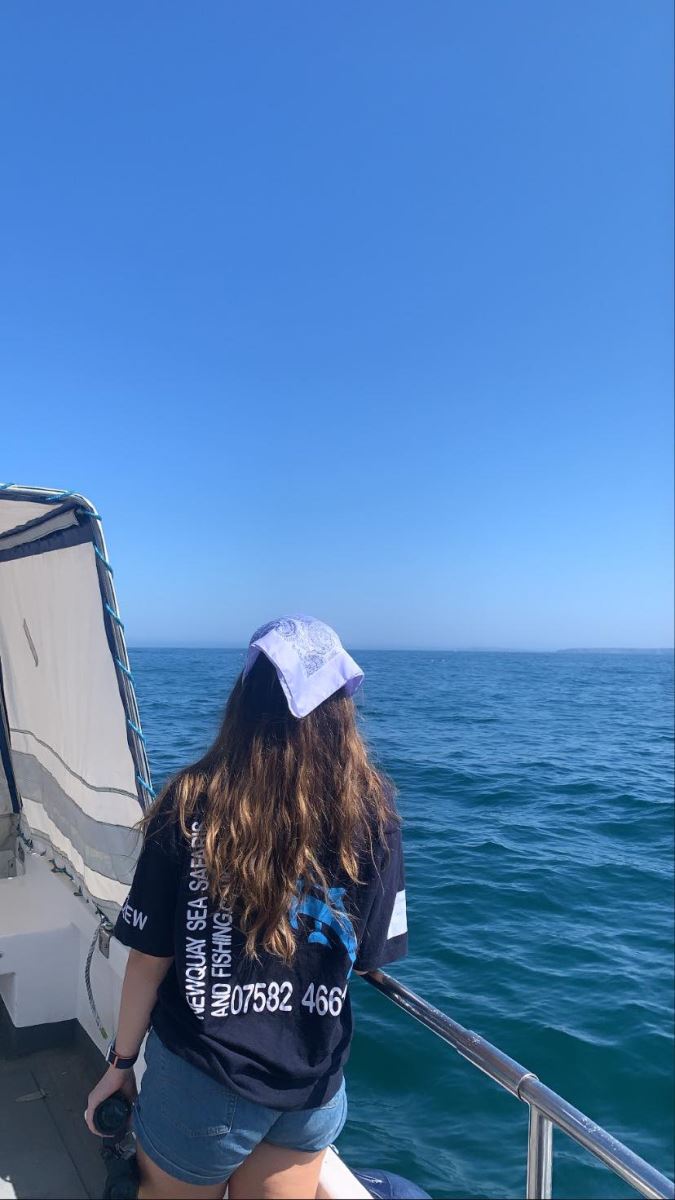 Seal Cove
After about an hour of taking in the sights and listening to the interesting facts about the wildlife around Newquay's coastline, we arrived at Seal Cove. We were lucky enough to spot a couple of seals in their natural environment, their heads bobbing around the waters and in and out of the rocks. We didn't manage to see any up close, but little did we know what was about to happen…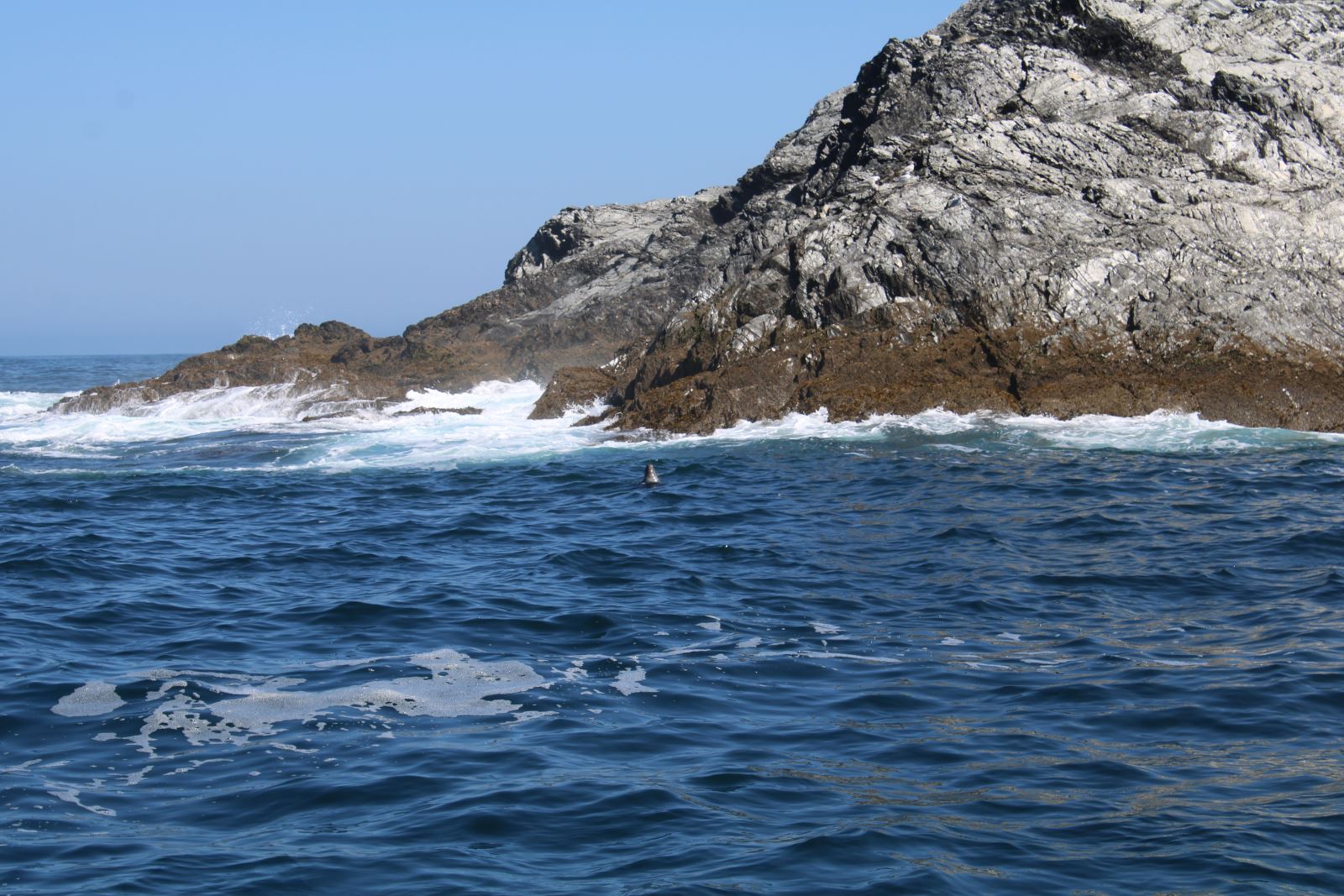 Dolphin Searching
Cap'n Chris had informed us at the beginning of our trip that there had been dolphins sighted that morning a few miles away from Newquay, but that it wasn't certain we would find them so we didn't get our hopes up. After seal cove, Cap'n Chris was determined for us to see some wildlife up close. So, with his binoculars in hand, he sped out to deeper ocean in search of more off shore wildlife encounters.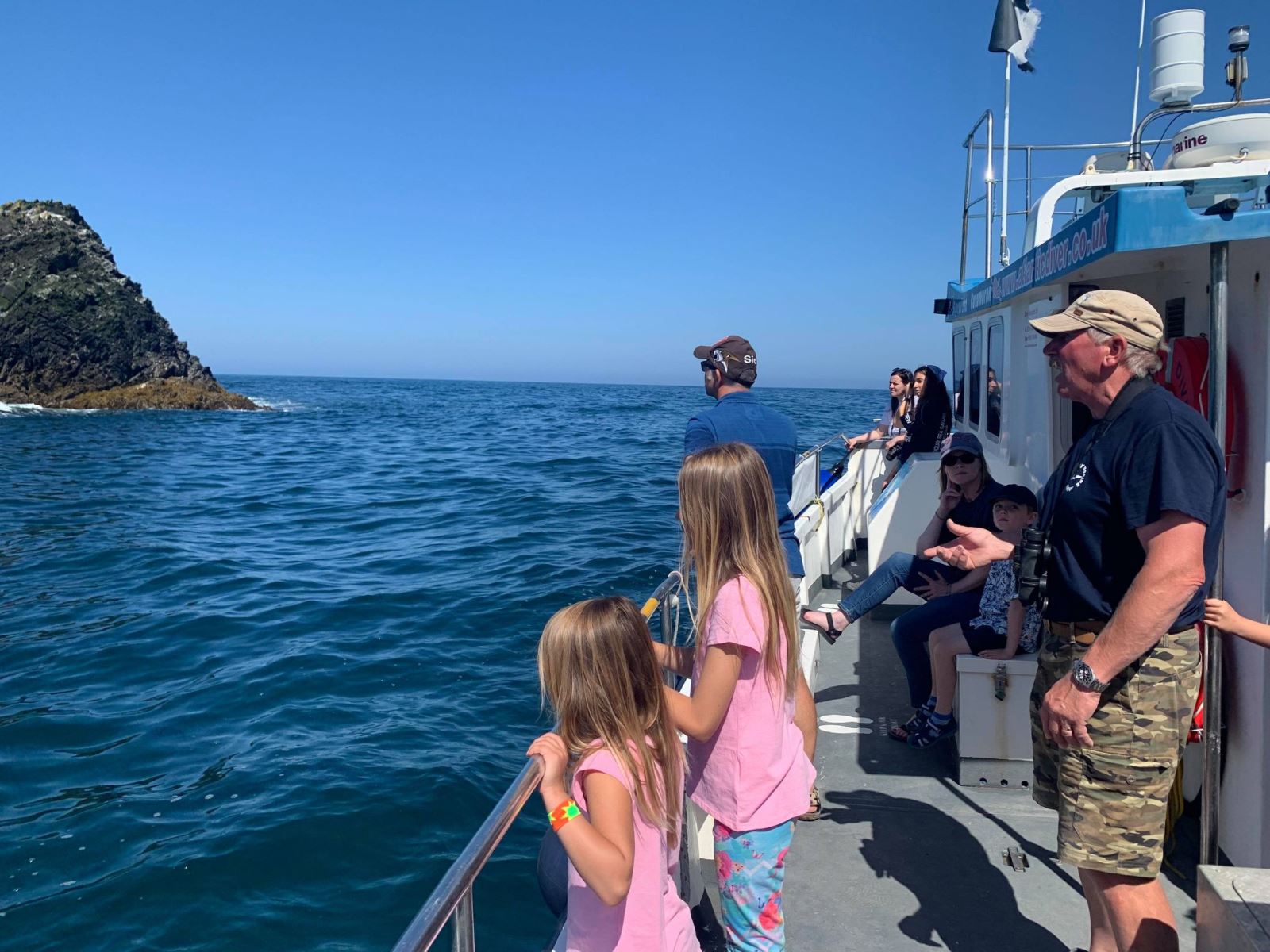 Dolphin Spotting
After a little while of searching, a little girl on the boat suddenly pointed out to sea and shouted, "look, a dolphin!" Everyone raced to the front of the boat and out of nowhere a huge pod of around 20 dolphins had surrounded the boat. They were jumping out of the water, weaving in and out of each other and following the waves. It was a magical sight. Cap'n Chris continued to give us some interesting facts about the dolphins, including that these were common dolphins, one of three species found in this area. Seeing these majestic animals really completed our thrilling adventure with Newquay Sea Safaris and Fishing.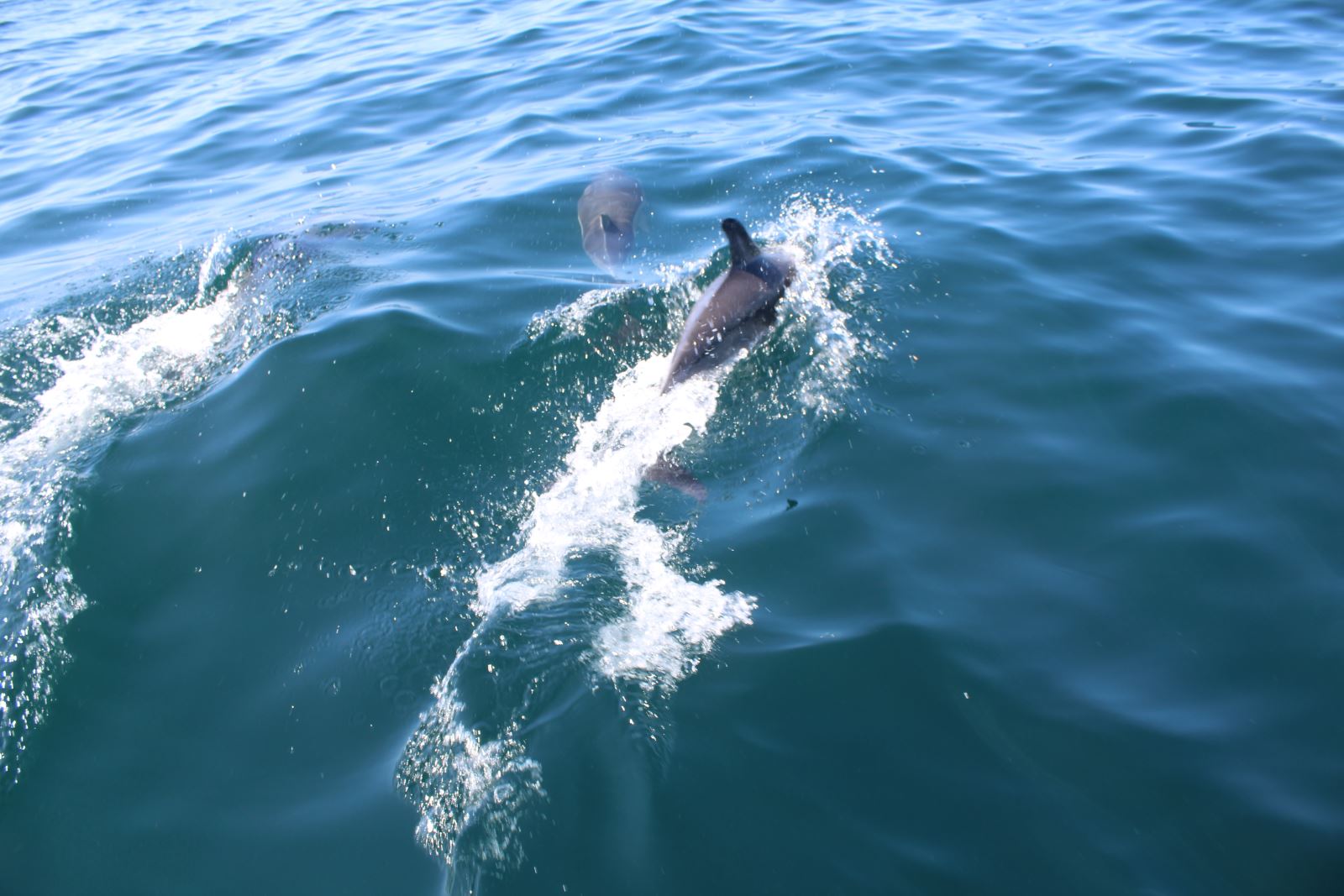 Sammy the Seal
After about 20 minutes the dolphins had dispersed and we began making our way back to Newquay Harbour, counting our lucky stars for what we had just witnessed. Just as we thought the trip was over, as we came into the Harbour, "Sammy the Seal" popped up! Cap'n Chris informed us she was a female grey seal, commonly found in the Harbour and was not dangerous. She loves coming into the Harbour in the hope of a snack from one of the fishing boats. We got to see her right up close in the stunning blue waters of the Harbour, and it just topped off our trip! What an incredible day.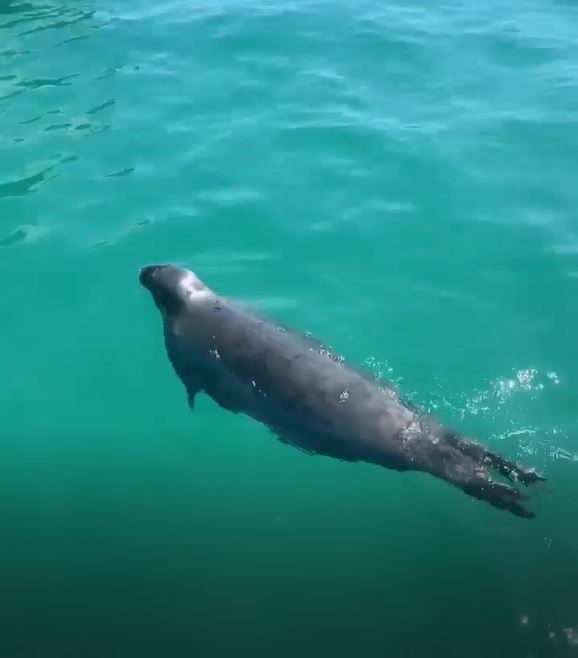 Book your own trip with Newquay Sea Safaris and Fishing
Who knows, you might see some dolphins or even a basking shark!
The following trips are running throughout summer 2021:
• 2 HOUR SEAL COVE SAFARI - Adult £20/child £15
• GENERAL FISHING TRIPS
• 2-HOUR SNORKEL SAFARI: £30
• 3-HOUR BASKING SHARK ENCOUNTER: Adult £50/child £40 (viewing only £45)
• 8-HOUR SHARK CAGE DIVING TRIP: £95 (June, July, August September)
Contact the award-winning team who will be delighted to take you out to experience Newquay's wildlife below:
Web: www.newquayseasafarisandfishing.co.uk/newquay-sea-safaris
Tel: 07582 466 122
Or visit the Shark's Head booking kiosk at Newquay Harbour!
Thanks for an amazing day Newquay Sea Safaris and Fishing
The Visit Newquay Team x